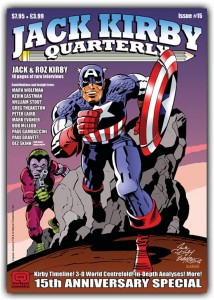 Coming out of the UK later this summer is JACK KIRBY QUARTERLY #15 (for those confused by the numbering, I don't think #13 and #14 were ever widely distributed outside the UK. See comments for clarification on numbering). Copies can be pre-ordered now via ebay, and it will reportedly be available through comic shops via the usual distribution channels, but not for several months after it's available for mail order.
Details below, many scans of interior pages at the links.
---
GET IT FIRST!
Early orders are now being taken for this landmark title, available late August
From the originating publishers of Warrior, Comics International, Halls of Horror, Comix: The Underground Revolution, Miracleman, V for Vendetta and lots of other fine stuff, comes the 15th anniversary special of the world's first-ever magazine devoted to the work of the King of Comics: Jack Kirby.
Chrissie Harper's Jack Kirby Quarterly #15 is a special 68-page full-sized magazine, overviewing the entire 60+ year career of the master of US comicbooks, with contributions and insight from top comics creators and specialist journalists including Kevin Eastman, Mark Evanier, Paul Gambaccini, Paul Gravett, Nigel Kitching, Peter Laird, Bob McLeod, John Morrow, Dez Skinn, William Stout, Greg Theakston and Marv Wolfman.
** Cover art by Jack Kirby and Bob McLeod
** Turtle Power! Kevin Eastman's memories of Jack, plus Kirby's version of TMNT
** Big Jack's Pack: William Stout recalls one of Jack's lesser-known art jobs
** The King of Comics and the King of Horror: Would ya believe: Kirby's version of Dr. Phibes?!
** Opening Shots: A brief 1993 Kirby interview on Topps Comics and beyond
** Tune In, Man! Kris Brownlow looks at Kirby, drugs and hippie culture
** Kirby's Mob: Nick Caputo dissects the crime classic In the Days of the Mob
** "I Always Tried To Do My Best": The ULTIMATE Kirby interview, 12 fact-packed pages!
** A Final Chat: One of Kirby's last ever interviews, January 20th 1994
** Life After Jack: Jack's widow, Roz, speaks after Kirby's passing in April 1994
** San Diego 1995: Convention memories with Roz, August 1995, plus a superb photo gallery
** Battle for a 3-D World: 1982 stunner by Kirby and Mike Royer (glasses not needed!)
** Twice-Told Tale: Paul Gravett investigates Lee & Kirby's Western, Rawhide Kid
** Drag Your Battered Bones: Mike Hill's subjective, in-depth analysis of New Gods #8
** Heroic Grandeur: Fabio P. Barbieri assesses Kirby's place in 20th Century art
** Undiscovered Particles: James Romberger plunges into Kirby's psychedelic interzone
** Not Quite Definitive: Karen Hellman finds DC's Fourth World Omnibus series flawed
** He Still Rules: Marv Wolfman talks about Jack and their almost-collaboration
** Fantastic Four #1 Inker: Not-So-New News! The George Klein theory's an old one, as Mike Lake explains
** Life and Truth: Tim Bateman reviews the philosophy of Mister Miracle #9
** London Tales: The April 2008 "Live From Kirby Plaza" event at the Institute of Contemporary Arts
** Cult Horror: Chrissie Harper examines the depths of 1983's Silver Star #2
** Sez Dez – A Legend Hits Lucca: The return of comicdom's best-loved column!
** Finishing School: Illustrated essay with Nigel Kitching on inking our back cover
… and even more. Hour upon hour of fascinating reading, with lots of rarely seen Kirby artwork.