This issue opens with Reed and Sue finally announcing the name of their son, Franklin B. Richards. Ben's reaction to what the B. stands for is probably one of the handful of greatest Ben Grimm scenes in the series.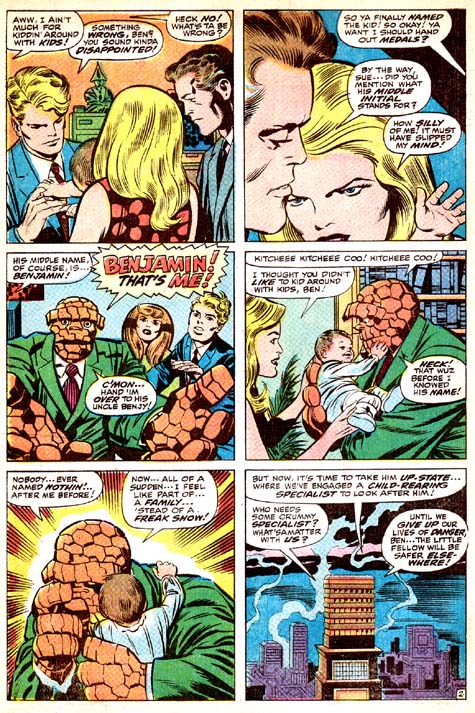 The rest of the issue has the FF travel up-state to drop off Franklin with his new nanny, Agatha Harkness. At the same time, the Wizard reunites the Frightful Four to get revenge on the FF. Unfortunately, though he's found a way to spy on the FF, he apparently didn't keep up with recent events and included Medusa in the reformed team. So much for leaving nothing to chance.
Kirby really goes to town drawing Agatha's home, a massive gothic mansion full of elaborate spooky furniture. The Frightful Four attack the home, and actual manage to incapacitate the FF and Medusa before facing down Agatha Harkness who shows why she's a good nanny for young Franklin. Really good moody pages evoking the old BLACK MAGIC stuff.
Joe Sinnott inks the 20-page story, with some assistance from Herb Trimpe according to the Kirby Checklist, which also credits Trimpe with inking the cover (see comments for another opinion).
Published 1970