An intruder enters the Valley of Flame in this issue, a giant human-like being wearing the skull of a thunder-horn and rampaging through the forests.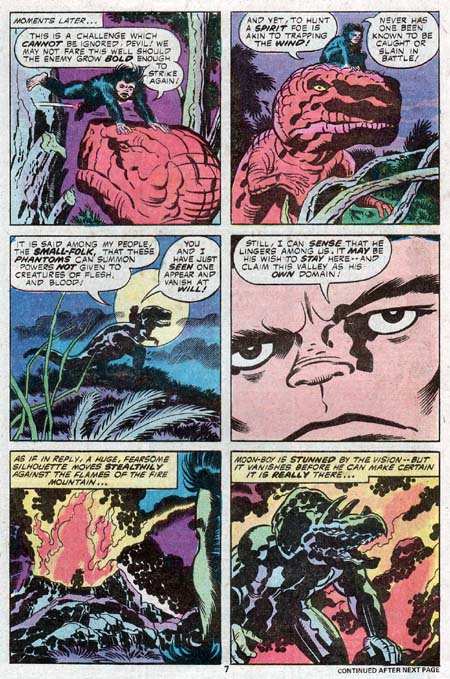 Moon-Boy goes to find out what kind of creature this is, and gets captured by the object of the giant's search, his son who had wandered into the valley. Of course, neither father or son, despite their giant frames, are any match for the cunning of Devil and Moon-Boy. Fortunately for them, Moon-Boy puts everything together in the end and convinces Devil to rescue the Giant and re-unite the pair to leave the Valley in peace.
This is my favourite issue of the short run of this series, a good solid complete adventure with a lot of action, some clever planning by Moon-Boy and a nice ending.
Mike Royer inks the 17-page story and cover.
Kirby also writes a one-page text piece, "The X Age… A Comic Book Bonanza", about how filling in the blanks on pre-history is a fertile ground for comic book creators, or "Comic Bookeroos" as Kirby calls them. I'm surprised that name never caught on…
Published 1978