Lead story in this issue is a reprint of the 7-page Kirby/Ayers "The Living Shadow" from Strange Tales #79 [1960]. The story begins with Philip Lawson, mystery writer, talking about his UFO theories, which are dismissed by most. As luck would have it, he encounters an actual UFO, with shadow creatures at the aliens. Seems they come from that mysterious planet on the other side of the sun, and developed shape shifting powers (and look not entirely unlike Skrulls…).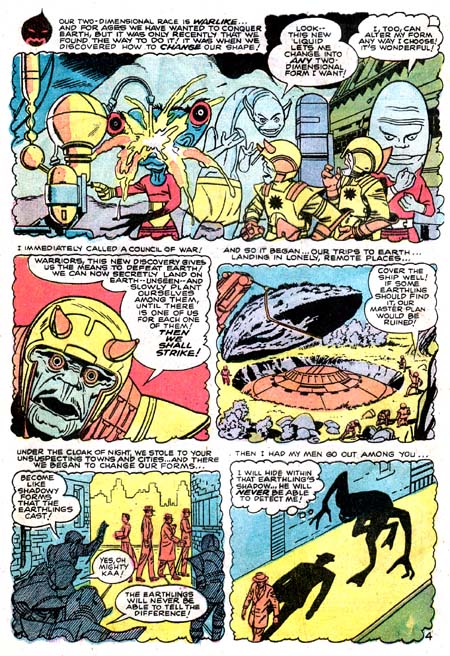 Their leader Kaa's typically convoluted plan for conquering Earth is to infiltrate the planet by hiding one of their agents in the shadow of every human. Lawson is able to escape their mountain headquarters using one of the Shadows as a parachute and alerts the UN about the aliens. All of them are rounded up except Kaa, who escapes and vows to return.
Short and kind of silly, but this has some great visuals making it one of the stories I'd include if I was doing a best of Kirby's sci-fi list. The Shadows are very evocative in their simplicity and the action sequence of Lawson grabbing a shadow and leaping from the mountain is just poetry.
The MonsterBlog entry for the story discusses some of the earlier "living shadow" stories that might be linked to this, as well as later super-hero stories with Kaa.
Also, one "world balloon" in this story.
Published 1974