"Hell at Hialeah" is the action-packed middle of the "Sackers" saga in KAMANDI finds out hero enslaved at a racetrack in what was once Florida, part of the empire of the snake trader Sacker (people have read some allegorical bits into this story about Kirby's feelings towards DC at this time, and they're probably there, but at its core it's an action story). Lots of fun, as Kam goes from being almost trampled in a horse-race to witnessing a motorcycle race with an odd prize and violent rules: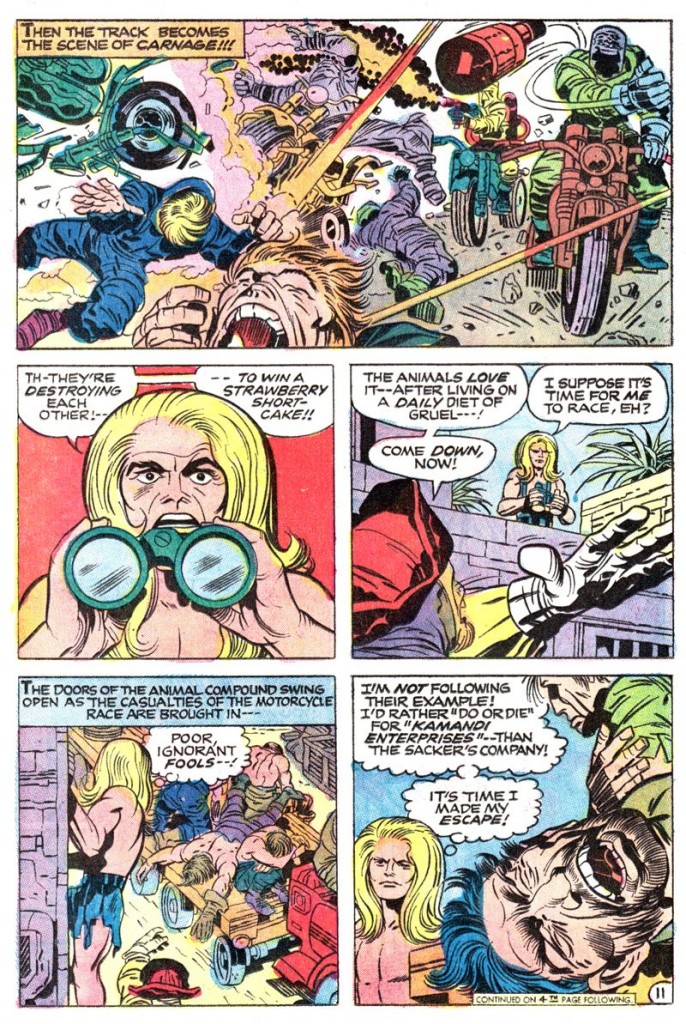 Somehow Kirby can sell dialogue like "I'd rather 'Do or Die' for Kamandi Enterprises' than the Sacker's Company".
The story just gets more exciting with Kamandi chased by helicopters while riding his giant grasshopper pet Kliklak and then finally being drawn into battle with one of the savage humans, Bull Bantam, who sees Kamandi as a rival for Spirit, the sister of Kamandi's recently deceased love Flower.
Mike Royer inks the 20-page story and cover.
Published 1974
And thanks to James Burns for the new logo uptop, inspired by Kirby's wayout tech designs