This anthology includes three Kirby stories. First up is the requisite Captain America story, this time the 13-page "An Ear For Music" from CAPTAIN AMERICA #7 (1941) (the table of contents mis-credits it as "Horror Plays the Scales", another story from that issue. Also, this story is usually listed as "Captain America and the Red Skull", but I think the title is "An Ear For Music"). In this story, the Red Skull returns, using Chopin's funeral march as a calling card, planning to kill some military leaders. As this is going on, Steve and Bucky get recruited for a play with Betty Ross, and have to constantly get out of that when duty calls. A nice story, the design for the Red Skull is a highlight of the early Captain America stories. I also liked the Skull's attempt to frame Cap in this issue, leaving a note reading "Captain America, I got away with General King… Too bad you were nabbed… If you're shot for this I'll avenge your death — The Red Skull". Even worse, that works. The art for this story is by Kirby/Shores.
Next up is the 7-page Vision story from MARVEL MYSTERY COMICS #25 (1941). Unfortunately they used the 1968 reprint from MARVEL SUPER-HEROES #13 as a source, as you can see from the huge vertical gaps between panels.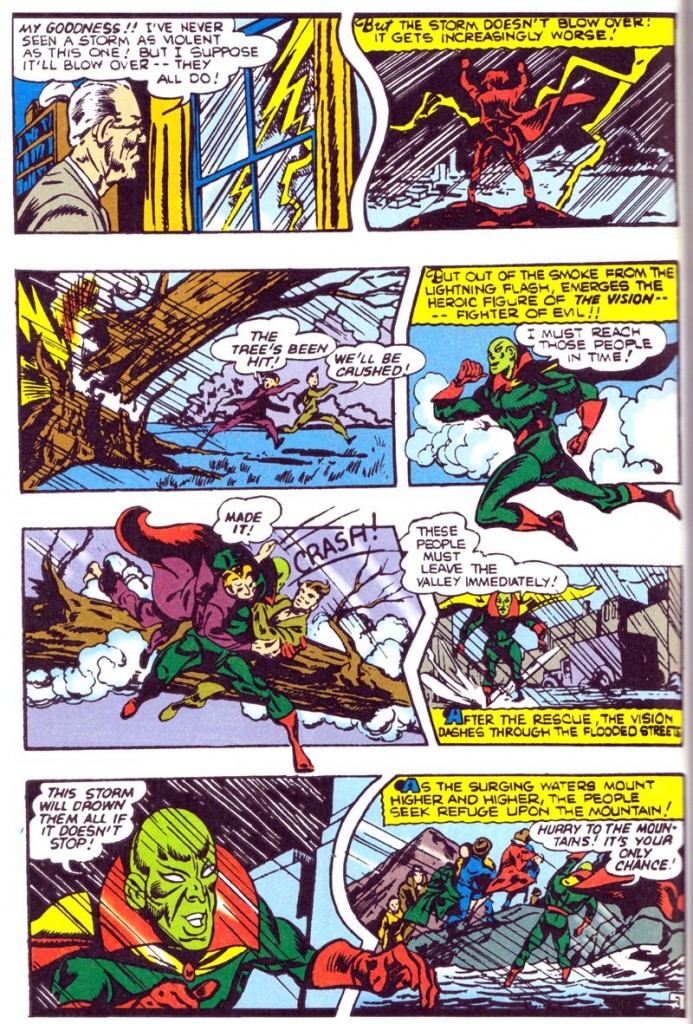 This story features a disgraced professor using a book of black magic to call forth a massive storm. The Vision appears in the smoke from one lightning strike, rescues some people and then takes the battle to the mountain where the professor is controlling the storm. A light story, but very dynamic art, Kirby was very rapidly getting more bold and confident during this year at Marvel.
The last story in the book is "The Microscopic Army", a 5-pager from YELLOW CLAW #3 (1957). As usual for the short Claw stories, the plot is sparse but the art is brilliant, including a great splash page. In this story, the Claw uses a kidnapped scientist to create a shrinking device, sending in some of his soldiers as spies. FBI Agent Jimmy Woo is called in to a mysterious break-in and notices little tiny footprints, and uses a prototype of the device to shrink himself. A quick battle that includes a giant type-writer and Jimmy using a pen as a lance follows, and the Yellow Claw is forced to flee before his base can be found.
Published 1997