Following his first adventure, where Buddy Black was changed to OMAC by Brother Eye, OMAC went to Electric City to meet the designer of Project OMAC, Professor Forest. He found the city closed, rented for the night by criminal mastermind Mister Big for a party, actually a cover to kill Forest and destroy Project OMAC. OMAC manages to fail in a spectacular fashion, and Forest is killed by agents of Mister Big in costume.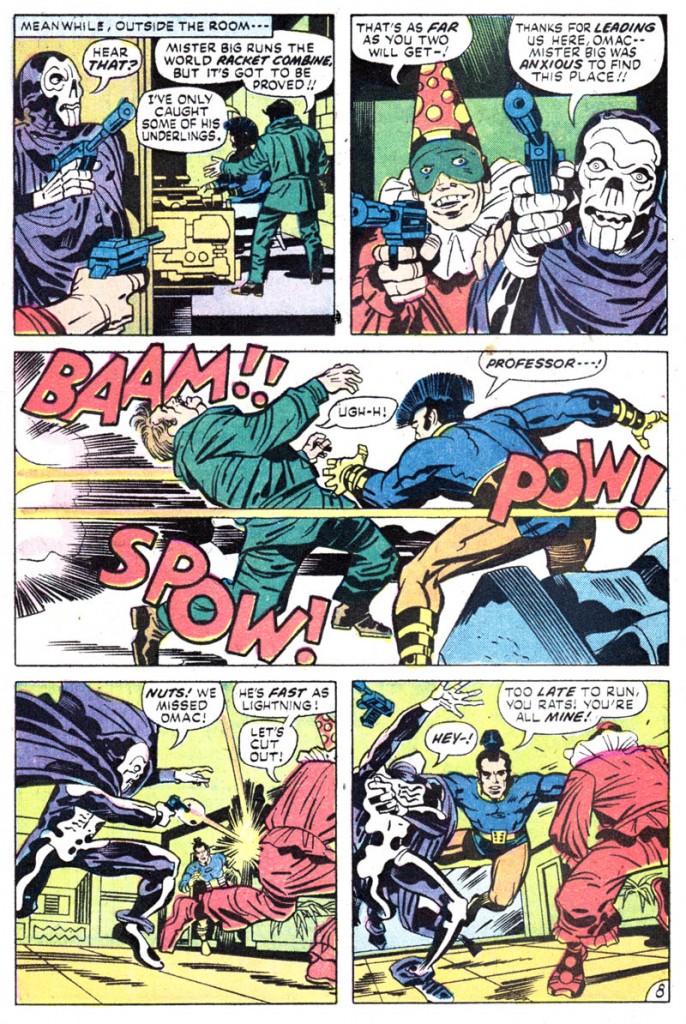 You'd have to wonder about why criminals would be so afraid of Project OMAC when guys in those get-ups can carry out an assassination right under his nose. Anyway, OMAC continues into the city, and after a few more fights winds up dead and brought to Mister Big, only to reveal that his death was a ruse to allow Brother Eye to gather evidence.
OMAC was one of those books where it felt Kirby never quite managed to get all the ideas in his head down on paper, which is a shame. I'm sure he had some interesting things to do with the whole Buddy Blank identity, which were never realized. What was published was still fun.
Inked by D. Bruce Berry, one of his first inking jobs over Kirby (so early that Royer was still the letterer at this point).