Six 1940s Kirby reprints, a total of 52 pages, among the stories in this volume, a few never otherwise reprinted.
First up is the first Vision story, from MARVEL MYSTERY COMICS #13 (1940). I'm not sure if there ever was a coherent origin or explanation for the Vision, but he was apparently an extra-dimensional being who pursues justice. In this story he comes to Earth, apparently as the result of a scientist's experiment, and takes care of a mobster who was planning some revenge against scientists for laughing at his stupidity back in school.
A trio of stories from CAPTAIN AMERICA #1 (1941) follow, beginning with "Meet Captain America", the classic and oft-reprint origin of Cap.
More interesting, "Murder Ltd.", featuring Hurricane. I'm not sure if I've ever heard an explanation for exactly why Mercury from RED RAVEN #1 became Hurricane in CAPTAIN AMERICA, but it led to some odd mix of mythologies, as you have Hurricane, son of Thor, yet called a Greek immortals, fighting Pluto and using the the identity "Mark Cury". Anyway, it's a neat story, if a bit haphazarly written, with a nice scene in the beginning of Hurricane taking a cab and a fight at a masquerade party.
Also from CA #1, the first Tuk, Caveboy story, "Stories From the Dark Age". In this one, we meet Tuk, living in 50,000 BC, as he hears the story of how his dying guardian Ak, last of the Shaggy Ones, witnessed his parents being exiled from the island of Attilan. All of which begs for a connection to the Inhumans, doesn't it? Anyway, at the end of the short story, Tuk gets rescued by another man who seems to be of his species, Tanir the Hunter. Very fun story, I'm curious about what the Atlantis promised in the next issue is like.
Later is the previously discussed "The Case of the Hollow Men" from ALL-WINNERS COMICS #1 (1941). Different colouring from the previous reprint, I like it slightly better.
Another Vision story rounds up the book, with the story from MARVEL MYSTERY COMICS #23 (1941)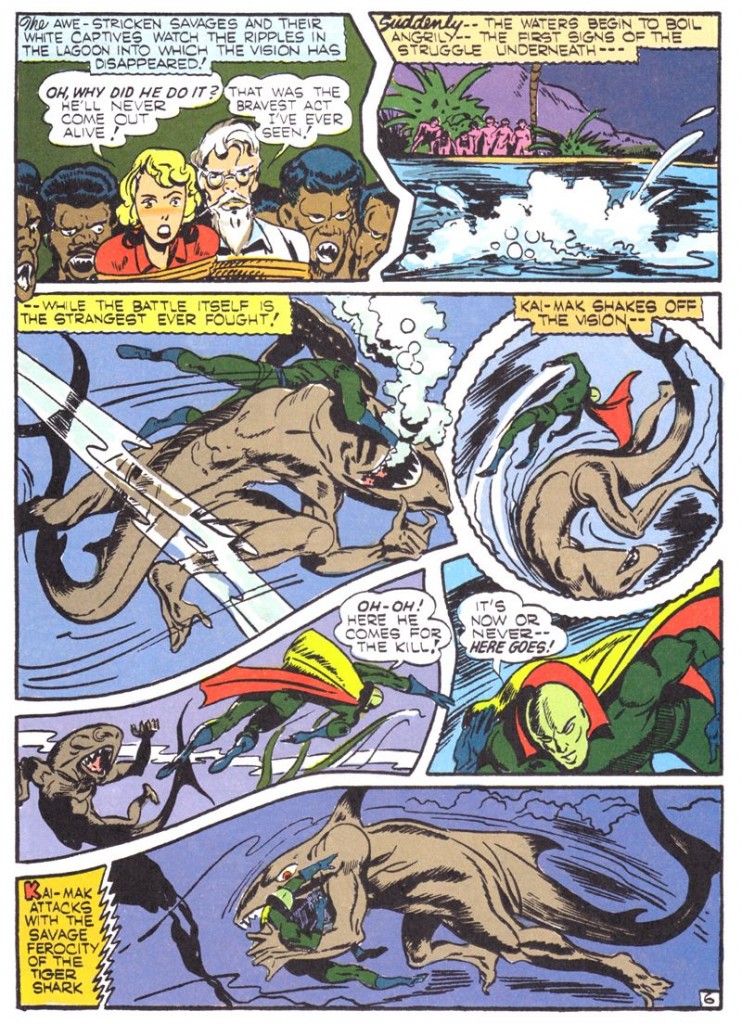 Interesting story about a tribe in Africa which worships a killer man-shark as a god, sacrificing people to it. As a group of explorers are captured, the Vision appears from the smoke and battles the shark, who looks neat.
The cover is a painting by Greg Theakston, mixing Kirby character poses from various sources for a new image.
Published 1999