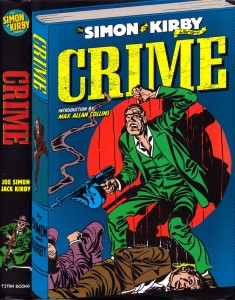 Just got my copy of THE SIMON AND KIRBY LIBRARY: CRIME hardcover published by Titan, with over 300 pages of vintage S&K comics, mostly published from 1947-1949 (with a pair of later Mainline stories).  Copies should be making their way through all standard channels, including comic shops and bookstores, in the next few weeks.  A gorgeous book, with a lot of action-packed and violent adventures of criminals and the law-enforcement professionals tasked with their capture.  Because as you know, "Commit a crime and the world is made of glass".
Also apparently showing up in comic shops this week is DC's DC COMICS PRESENTS THE JACK KIRBY OMNIBUS SAMPLER #1, for those who didn't want to commit to the recent THE JACK KIRBY OMNIBUS VOL. 1 – STARRING GREEN ARROW hardcover sight unseen a marginally cheaper way to get a look at about a third of the book.  And Pure Imagination has the second and final volume of Greg Theakston's JACK MAGIC biography of Jack Kirby.
And, since a couple of people asked, I'm currently not mentioning Marvel books in the new/upcoming Kirby posts, for the moment I'm still listing them on the announcement page if you're curious about them.