This unique story from the Kirby oeuvre was drawn in 1983, but not published until 1990, in the second issue of Richard Kyle's revival of the genre fiction magazine ARGOSY. It's 8 pages, written and drawn by Kirby, reproduced straight from the pencils.
Kirby's working class youth in 1920s New York obviously inspired a lot of his work over the years, in particular the kid gang classic Newsboy Legion and the various crime books from HEADLINE up to IN THE DAYS OF THE MOB, but here it was given a chance to move out of the background. This story is as rich with atmosphere as any Kirby ever drew, like the rich detail of the apartment in this page.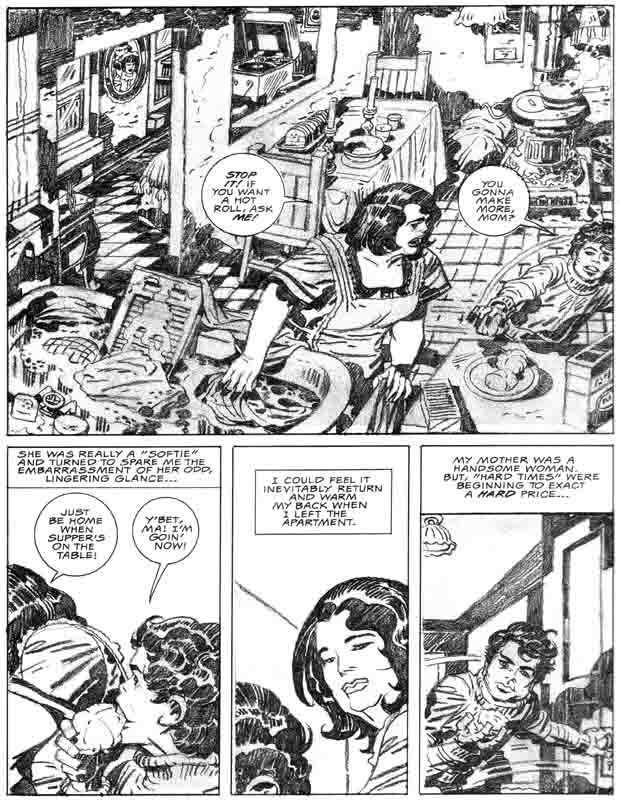 I like how he fills every corner of the drawing with a small detail, obviously emulating how crowded it felt, and how full of affection it is.
Latter in the story is one of Kirby's best two-page splash panels ever, showing a street scene from his youth. Again full of details, small touches of humour and interesting action, a great image of the past.
While more a vignette, or perhaps an opening chapter in a never-produced graphic novel, than a complete story, it's a very satisfying piece, with interesting insights into what growing up in that kind of atmosphere meant, how people related, and how the followed the self-imposed "Street Code" of the title. There are some interesting moments of violence in it, probably no worse than in his many crime, horror and super-hero stories through the years but somehow much more brutal and real because of the context.
The story was reprinted, re-lettered and with slightly better reproduction of the pencils, as the lead piece in the TwoMorrows published autobiography themed anthology STREETWISE in 2000.
Published 1990