I might be biased, because this story was one of the first handful of Kirby stories I read (in an early 1980s digest reprint), but I think THE DEMON #1 is one of Kirby's strongest art jobs in the 1970s. It's just a gorgeous book, with Kirby really throwing himself into the job. Starting off with a splash page of Merlin, then an amazingly detailed double page spread leading to the fall of Camelot, onto great scenes in the modern age, including the antiques in Jason Blood's home and the gargoyles in Merlin's lair.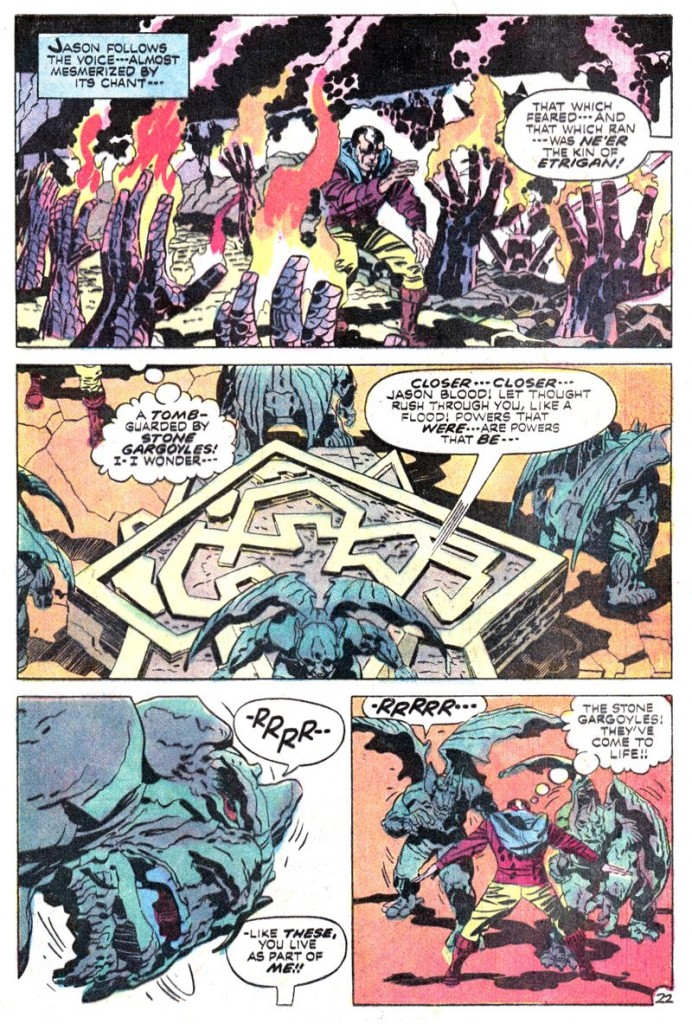 This is a great first issue, setting up some of the background of the character in the mythic past, then launching in the modern age. Lots of great new characters, in particular Jason Blood, who promises a rich history, and Etrigan, who just seems to move in such a unique way when drawn by Kirby. Morgaine Le Fey is also a nicely ornate Kirby villain design.
Fortunately by this time Mike Royer was handling all the inking for Kirby, and had really gotten into the swing of things. Also helping out here, at the time DC was giving a few more pages of story, 24 in this issue, and that really let Kirby's work breathe more than the incredibly shrinking counts of the later years.
Kirby also writes a text page for this issue, "A Time To Build", mostly about the cancellations of the Fourth World books, as well as plugging this new one and the upcoming KAMANDI. It's an odd but interesting piece about myths and storytelling.
Published 1972