Kirby's final stint on Captain America was one of his longest of the 1970s, behind only KAMANDI, with 22 issues, 2 double-sized annuals and a big tabloid comic. 553 pages in all. It was an uneven run in some ways, but it had a lot of fun stuff.
#208 had one of those fun moments with the introduction of Arnim Zola, the Bio-Fanatic. He's just one of those crazy Kirby villain designs, like Modok, that just make me smile.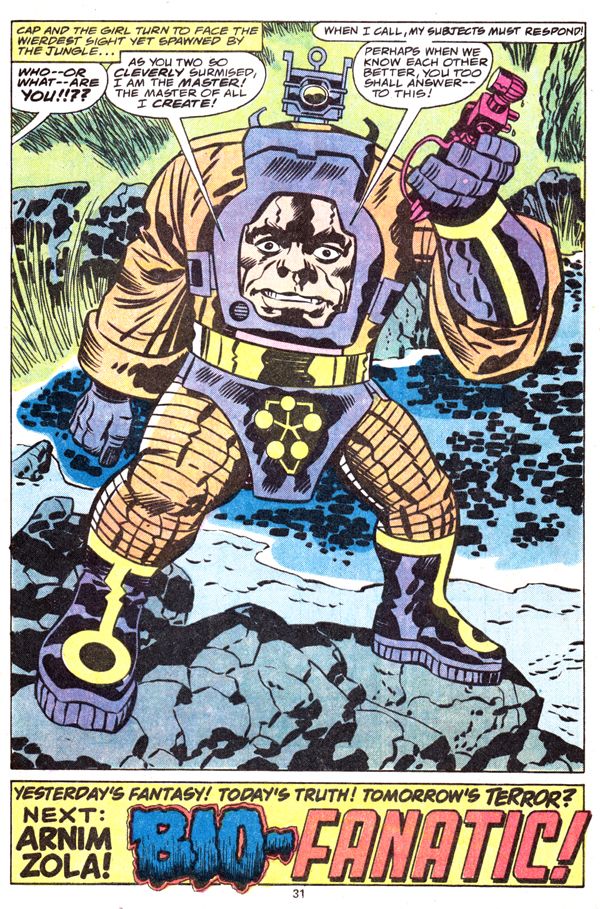 While it ended on an incredible up note, this otherwise isn't one of the highlights of the run. It features Cap in South America, having just escaped from the Swine's prison. He's attacked by a large red monster we get to know as the Man-Fish, which is the (at this point in Kirby's career) obligatory two-page splash, which is one of the weaker ones. I generally like the ones with detailed backgrounds you can get lost in rather than just two figures fighting. Cap then gets recaptured by the Swine and his men, and is about to be killed in a pit along with the Swine's cousin Donna Maria when the Man-Fish returns, killing the Swine (which seems like a rather anti-climactic end to his story) and then fighting Cap until his master, Zola, shows up and calls him off. In the middle is a short subplot about SHIELD and the Falcon looking for Cap. While it mostly looks good, the story is just a bit light and unfocused.
Frank Giacoia inked the story, while Joe Sinnott inked the cover.
Published 1977