Ah, one of Kirby's final contributions to the Marvel Universe, Devil Dinosaur and Moon-Boy. The brief nine-issue run of the book, ending when Kirby left Marvel to devote his time to animation, is often maligned, mostly by those who haven't read it. Certainly I didn't really approach it with any expectations when I got around to getting the back issues. Turns out it's a fun adventure comic, where Kirby was free to let his imagination roam, with some genuine heart. One of the charming things about Kirby comics is his almost complete lack of pretension and his obvious enthusiasm for the work, which manages to sell some of the wildest concepts that wouldn't work with less.
In this debut issue, we meet Devil Dinosaur, a bright red dino, presumably a T. Rex (although Kirby wisely doesn't use actual dino names for most of the series), and his young companion, Moon-Boy of the Small-Folk, residents of the dangerous Valley of Flame, a heavily volcanic area. After a battle with Thunder-Horn, Moon-Boy remembers how he first met Devil, when the Killer-Folk killed Devil's family and seared his flesh, and they rescued each other. After that, Moon-Boy's people fled in fear of Devil, while the Killer-Folk plot revenge.
This all works a lot better in comics form, of course, and later issues got even weirder, as Kirby threw in science-fiction concepts with wild abandon.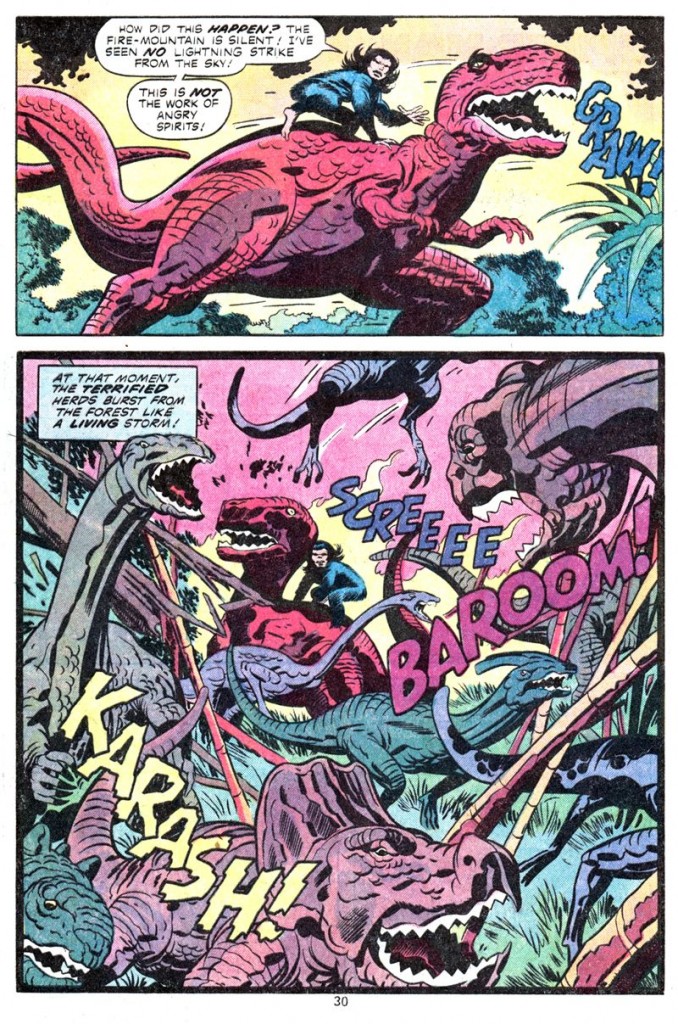 Mike Royer inks the story, Frank Giacoia inks the cover and Kirby also writes a text page introducing the series.
Published 1978