THE MAMMOTH BOOK OF BEST CRIME COMICS is a thick new anthology edited by Paul Gravett, part of a large series of MAMMOTH BOOK OF… collections which seem to be mostly prose but have also included …BEST WAR COMICS, …BEST HORROR COMICS, …BEST NEW MANGA and the upcoming …ZOMBIE COMICS (oddly not the "Best" zombie comics…). The books I've seen of the series are far from perfect, and obviously rights issues keeps them from being really comprehensive, but they're a good value for the money (generally $12-$14 purchased on-line for about 500 pages) and good samplers of the genres, not restricted to just American comics.
THE MAMMOTH BOOK OF BEST CRIME COMICS has been the best of the collections I've seen so far, because it includes some Simon&Kirby, namely the 14-page story "The Money-Making Machine Swindlers" from JUSTICE TRAPS THE GUILTY #6 [1948].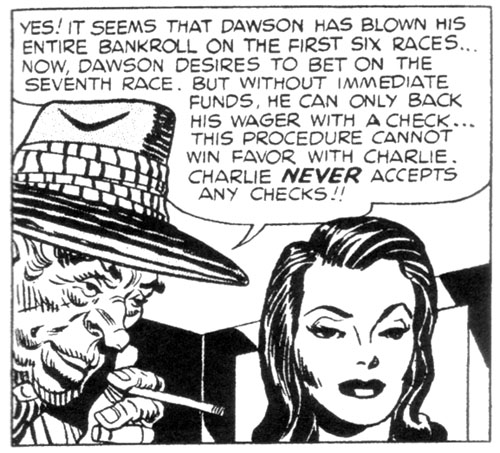 The reproduction is in black and white from a printed copy, and looks pretty good for that. There are some remnants of the colouring, but light enough that they provide some shading without distracting from the linework.
The story is a confessional type, told by Prisoner 235079, Stella Brady, about how she came to be a guest of the state, your typical story of a young girl looking to escape from the drudgery of working life, witnessing a scam gone wrong involving selling gullible fools a share in a phony counterfeiting machine. Sensing that she can work the scam better, she gets in on the action and helps to set up a hotel owner with a gambling problem as the next mark. Little does she know, crime does not… oh wait, wrong company. Little does she know, justice traps the guilty.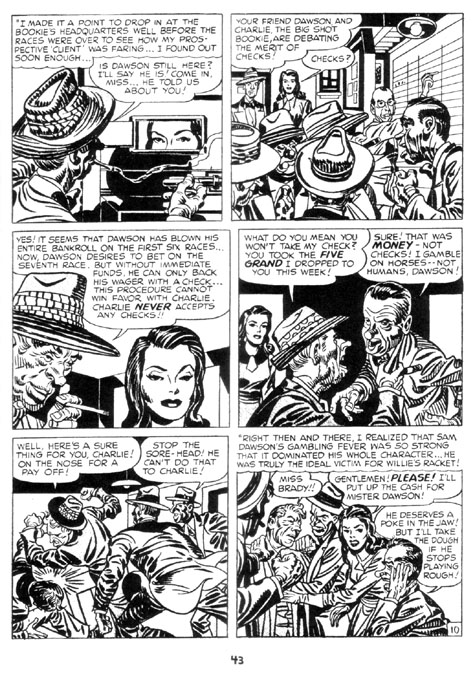 Great little story, some prime S&K from the period when the romance comics were just taking off, with a lot in common with those stories, from the confessional narration to the attention to detail in the various characters and settings, some great storytelling punctuated by moments of sudden violence that S&K excelled at.