The recently released collection of the first four issues of ADVENTURES OF THE FLY from 1959/1960. The first issue is all Simon&Kirby, as is half of #2.
Mostly very good reproduction on the Kirby stories, except for one story which is clearly taken from a printed copy and is a bit wanting. The covers (only the first by Kirby) are also taken from printed copies, but look pretty good since obviously they were on better paper.
"The Hide-Out"
A quick two-page feature from THE DOUBLE LIFE OF PRIVATE STRONG #1, introducing the character. Nice preview (the first of two, the second by Joe Simon is also in here), where Kirby gets to draw his trademark thugs getting punched by a briefly seen Fly.
"The Strange New World Of The Fly"
The origin of the Fly, which is about as silly as you'd expect, with orphan Tommy Troy getting sent to live with an old couple, finding a ring which summons Turan, emissary of the Fly People, and transforms him to a super-hero. Fun stuff.
"The Fly Strikes"
The conclusion of the origin, with the Fly rounding up the bad guys who were shaking down the orphanage.
"The Fly Discovers His Buzz Gun"
Hard to believe it took him this long to discover it, it's right there strapped to his leg. Also introduces Tommy's neighbour, Dolly Lake.
"Come Into My Parlor"
Great opening, which would have been a centerfold page in the original, but is printed on a single page sideways here. Not sure about that display choice, but it still looks nice. This is the best story in here overall, with great art and the introduction of Spider Spry, a great looking deformed Kirby villain.
"Magic Eye"
Very silly and quick story about a fight with a robot, and I'm still not sure what the title means, but this has some great fighting
"Marco's Eyes"
The only weak reproduction of a Kirby story in this collection. Still not too bad, just a bit splotchy with the linework and lettering after the double page spread (again printed sideways on one page) that opens the story is great, and it does appear to be from the original art, fortunately. Anyway, it's a nice story about a hypnotist turned evil, very much with the feel of old Fawcett Captain Marvel stories, I thought.
"The Master Of Junk-Ri-La"
This time the Fly takes on Hans Yunkman, a junkman inventor who makes a safe robbing plane out of junk. Yeah, it looks that silly, too.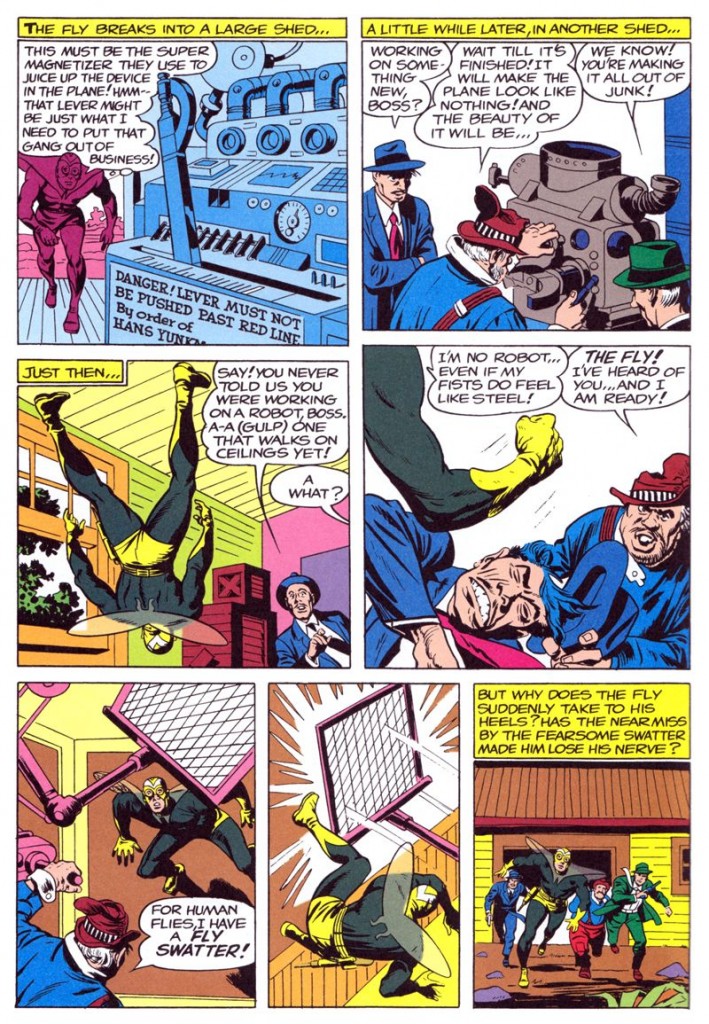 Non-Kirby work includes Joe Simon (including a new introduction), Dick Ayers, Al Williamson and others, a cover by Joe Staton and Bob Smith.
Published 2004