Six great covers from six different genres, all of which Kirby did classic work in for many years.
FOXHOLE #1, 1954. – This is just an amazingly brutal war cover. Very strong concept, amazingly detailed rendering, and very good colour (I'm not sure if Kirby had a hand in the colouring, but the watercolour stuff from the late 1960s and 1970s that he apparently did solo show a similar colour sense to this).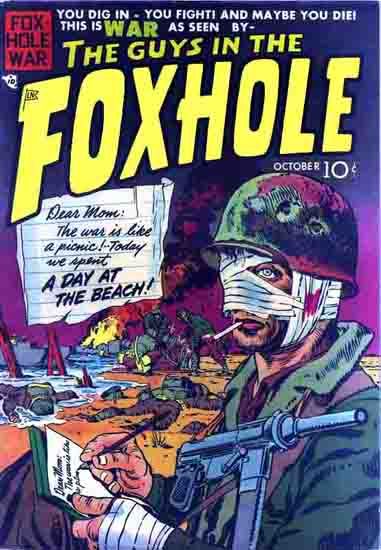 POLICE TRAP #3, 1954. I wonder if an alternate name for this title was POLICE BRUTALITY? Anyway, a nice real-world version of the hard hitting action that Kirby pretty much defined in the super-hero books. Man, all those Mainline books look nice. It would have been interesting to see what they'd have become if the timing was better (as discussed in TJKC #25).
FIRST LOVE ILLUSTRATED #70, 1956. Here's a nice quiet romance cover, with the usual tension under the surface. I want to draw particular attention on this one to the rendering on the woman's hair and the flowers.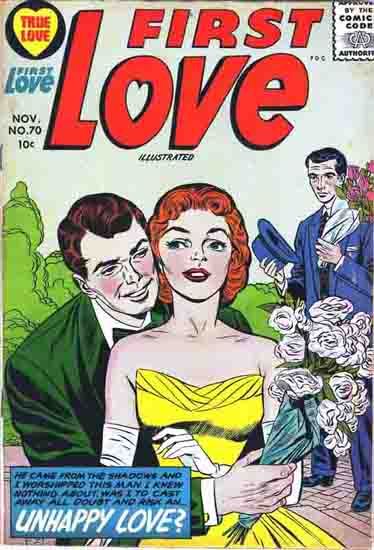 KID COLT OUTLAW #83, 1959. Unlike some other major western stars of the Marvel/Atlas line, Kid Colt continued on without a Kirby re-design. Kirby did draw a whole bunch of covers for the book (including on GUNSMOKE WESTERN which also featured Kid Colt), though, starting with this one. Inked by Christopher Rule according to the Kirby checklist.
WORLD OF FANTASY #17, 1959. More Rule. A fun science-fantasy scene designed to draw you in. An amusing looking robot, and I like the cape the guy is wearing.
AMAZING FANTASY #15, 1962. Almost certainly the most famous cover-only Kirby book, it's well known that Steve Ditko did a similar cover solo first, from an angle above the action. Both are great covers, but I prefer this one. It just leaps right out. I do wonder why Spidey is announcing his secret identity to that guy he's carrying (which is a problem on both versions).