This issue starts what is my favourite of Kirby's SPACE ODYSSEY series, with "Norton of New York 2040 ADa tale of the near future. First we start with Harvey Norton, who participates in some live action super-hero roleplaying as White Zero in Comicsville. In the middle of the game he encounters the Monolith, which awakens a sense of wonder in him that makes the unreality of the game stand out in sharp contrast.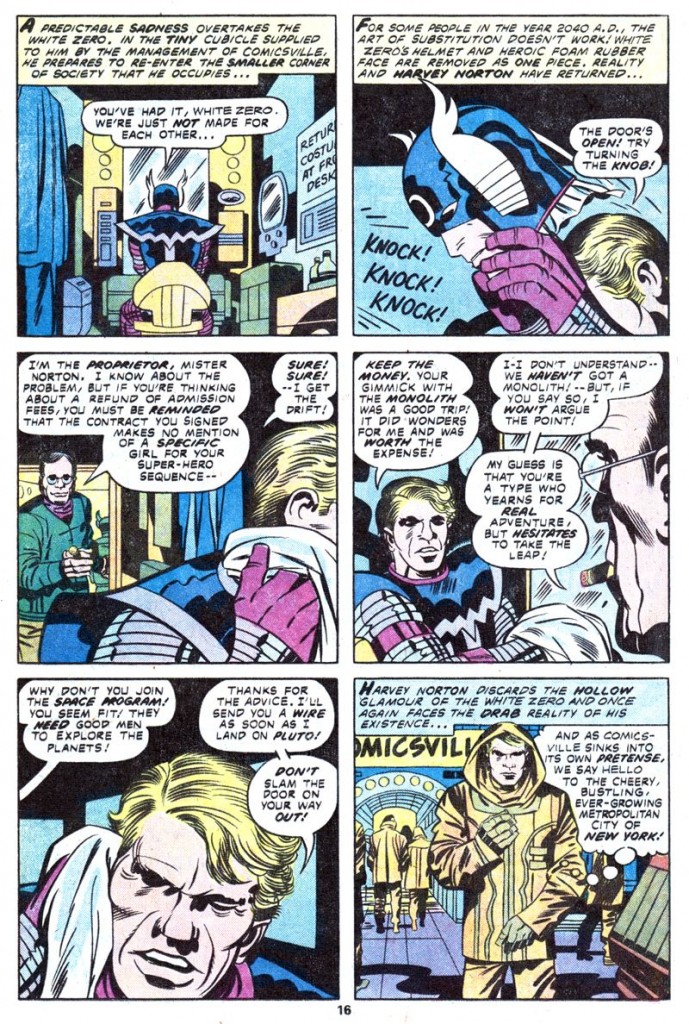 Later he's at an artificial beach, opening his eyes to the fact that the whole world he lives in is just as fake as the game. "It's a comfortable Hades — and not without beauty — but is it enough for Harvey Norton?" is what he's driven to ask, and the answer is clearly no, as the Monolith appears again and pushes his curiosity in the direction of space, so that two years later Norton is in orbit around Neptune when an alien ship is detected, and they encounter a strange beautiful alien woman. Soon after they see her, their ship is confronted by a giant alien ship.
Wonderful story progression, echoing the original movie without mimicking any of the story beats, and a lot of thought clearly went into the "comfortable Hades" of the future that Norton was eventually driven to escape.
Mike Royer inks the cover and 17-page story.
Published 1977 AD