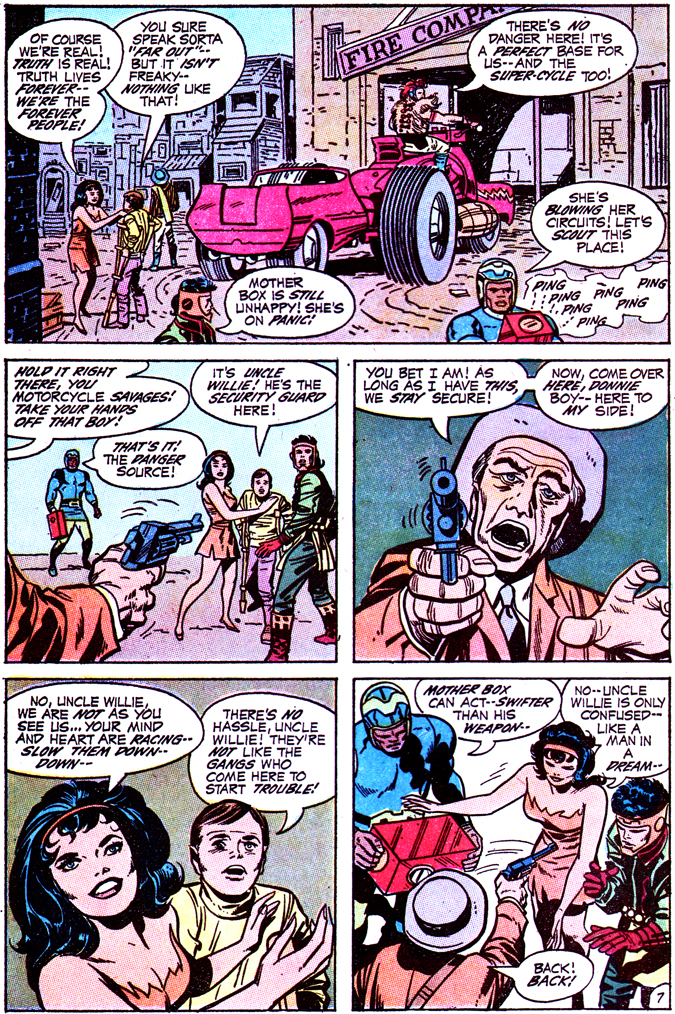 When first we encounter The Forever People in this story, the gang is creating a ruckus on a busy intersection in (it appears) downtown Metropolis, with their Super-Cycle parked amidst a cacophonous traffic jam. The new-agers are merely hoping to "establish proper coordinates," says Mark Moonrider to a flustered traffic cop, who replies, "Joke's over, kids! Now find a parking lot for whatever that thing is!"
Passers-by stop to observe the colorful, smiling group, with one wag starting to heckle them. "Doo ya dooty, officers! Why don'tcha bust dose hippies before dey tie up da whole town!" And the smart-aleck doesn't stop there, as after a young lady suggests the crew be airlifted, the yuckster ripostes, "Yeah! Get dose hippies up in de air, an' mebbe dey'll cancel out the smog!"
Big Bear takes an interest in the jerk, observing, "The dialect is primitive, brother! But the humor cries out for a straight man! Tell me, Mister Corn! What's a hippie?" Busting a gut, the man dubbed Corn answers, "Ha, ha — Dat's easy! All ya gotta do is show him a bathtub — an' if he runs — he's a hippie!" Laughing himself, the Super-Cyclist grabs the citizen and gaffows, "Ha ha ha ha! It's like direct involvement with ancient vaudeville!" And, with that, Big Bear gives a spine-crushing… ummm… bear hug to the monsieur — CRUNCH! — and says, "Thank you for the experience, brother!" The comedian collapses to the ground as Big Bear exclaims, "Even the brother was overcome by this joyous emotional release!"
Well, the fuzz order the hipsters out of there and they "phase out" of "Mad Avenue" and reappear in the more low-rent end of Metropolis, on what Serifan jokes is "Desolation Row," a place the lovely Beautiful Dreamer still finds peaceful. Mother Box pings distressingly but Serifan says, "But I see nothing that could harm us!" Vykin answers, "He can!" indicating a young boy cautiously advancing toward the group. As Mark Moonrider protests, "But he's only a child! An invalid child!" the kid inquires, "A-are you guys U.F.O.'S?"
That youngster, immediately enamored with the Super-Kids, is Donnie, who gives voice to our questions to learn more about the fascinating five. He's about ten or eleven and, as Mark notes, is an apparent cripple who uses crutches to get around the decrepit proximity. He also endowed with intense curiosity, an active imagination and appreciation of the bizarre. "I saw that!" the youngster gushes. "A flash — and you guys coming out of — thin air!" The team's de facto leader then explains the aerodynamics of the Super-Cycle, "We call it 'phasing'! I hope it didn't frighten you! It's just another way to travel!! Here, men build roads from what they see — We build roads from what our sensors see!" The boy is enthralled. "Oh, wow! I've hit the jackpot! You're from outta this world — and you're real!"
As Beautiful Dreamer explains the quintet to Donnie, her hands on his shoulders for emphasis — "Of course, we're real! Truth is real! Truth lives forever — We're the Forever People!" — Big Bear parks the cycle, and Vykin and Mark puzzle over Mother's Box's anxious signals. There's obviously danger in the vicinity…
Suddenly an older gent waves a shaky handgun and barks at the newcomers, "Hold it right there, you motorcycle savages! Take your hands off that boy!" This paranoid geezer is Uncle Willie, Donnie's apparent relative and the slum's security guard. Sensing the man is distraught with this strange looking group, Beautiful Dreamer begins to use her empathetic powers, creating the illusion for Willie's perception that they are a wholesome bunch of average teenagers dressed in old-fashioned garb.
Having won over the boy and old man, the crew seek lodging in the run-down neighborhood and Willie offers them a place to stay in his building. Big Bear hauls in musty old furniture as if it were made of balsa — "This is pure camp! It'll be great in our room!" — and Serifan is mesmerized by the "early, post Atomic, middle class home visuals!" (Willie's teevee) but Donnie is startled to see the set working as "it's a mess inside." The cowboy shows the lad his special Cosmic Cartridges, which can fix broken boob tubes and commence to give the boy a decidedly trippy experience. (More on those pill-shaped beauties tomorrow, sport fans!). Uncle Willie breaks bread with the remaining Forever People when, having seen a news flash about Mantis's siege of Metropolis, Serifan calls the Super-Kids away to attend to the Apokolips scourge.
While that's the last we see of Uncle Willie, Donnie appears in the third issue, being manhandled by one of Glorious Godfrey's Justifiers, who threatens the boy with death — "you little garbage!" — if he doesn't say where The Forever People are (who are standing right behind the thug). Mother Box saves Donnie after the Justifier flings the hapless cripple and the group grabs the kid and hauls out of the apartment. This zealot is revealed to be a suicide bomber, almost killing the gang with his Omega Ray Bomb and, as he was climbing out the window when he detonated, the Justifier was successful in destroying Uncle Willie and Donnie's digs. As the smoke clears, the team decides to investigate Glorious Godfrey.
Two of the Forever People take the time to say farewell to their new friend:
Beautiful Dreamer: We must leave, Donnie! We will be back — if we can —

Donnie: B-but what will happen?

Mark Moonrider: Donnie — life is good! Live it for others — not against them! In that way, you will always be close to us!
And, to ensure Donnie will be safe from another attack, Mark instructs, "Barrier this place, Vykin! A Justifier may come again!" Holding the protective sentient computer, Vykin replies, "He'll be a target for deadly micron particles! Mother Box fills the air with them! The particles are computed not to harm the boy!"
Then, as they climb aboard the Super-Cycle, the team has last words for Donnie, who implores, "You must come back! You must!"
Beautiful Dreamer: Good-bye, Donnie! We leave you what cannot die — Love! Friendship!

Serifan: It is so in New Genesis! It can be here!
It's hard to say if pathetic little Donnie, a handicapped kid living in abject poverty on skid row, is better off or not having encountered his New Genesis acquaintances. In the few days the lad was in their company, he watched his Uncle Willie have a conniption, was exposed to a mind-altering experience, was threatened with death by a gorilla-sized brute, and lived through a doubtless traumatizing suicide bombing that destroyed his place of residence… and here's hoping Uncle Willie wasn't in the flat at the time of its destruction! That would really suck!
But given the Cosmic Cartridge view he shared of a completely harmonious universe and the vital words of wisdom about love and friendship given to him by the Super-Kids, it is likely the boy benefited immensely from the short but intense visit, maybe a life-changing event for him…
When Beautiful Dreamer defines reality, truth and The Forever People, and Donnie replies, "You sure sound sorta 'far out' — but it isn't freaky — nothing like that!" it's an endearing moment, one I could relate to as a kid not much older than the briefly-seen character. To me, the team was "far out"! "Freaky"? Well, I liked freaky but I found that kind of stuff in those intentionally trippy comix…