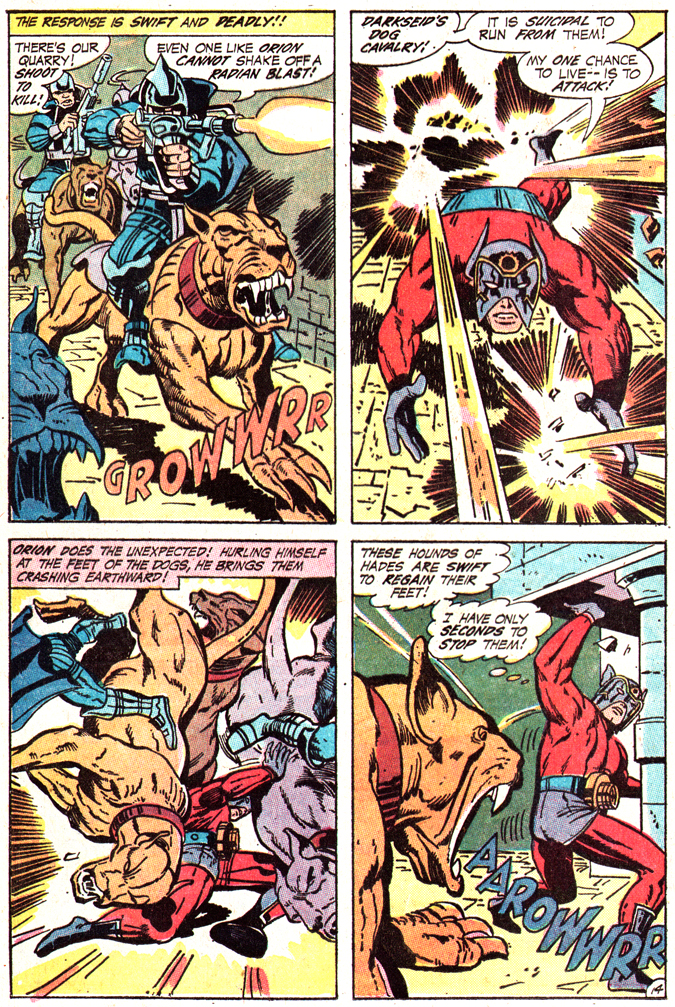 Imagine an armed force atop huge, ferocious canines pursuing you through the hellacious avenues of sinister Apokolips, snapping and snarling at your heels, threatening to rip the very flesh from your bones with razor-sharp fangs set in impossibly muscled jaws… If you can picture that, you've got a good idea of the Demon Dog Cavalry of mighty Darkseid.
Having battled the Para-Demon sentries in the smoke-filled skies over that dread and dismal world, and shaken off an armed horde on the ground, Orion suddenly faces Darkseid's mounted troops riding… ummm… dogback against the arrival from New Genesis. Firing their radian blasters, the dragoons charge toward their adversary, who exclaims, "Darkseid's Dog calvary! It is suicidal to run from them! My one chance to live — is to attack!"
Orion dives to the ground, tripping dog and rider (the latter seem knocked senseless), but the mastiffs are tenacious, hungry for the blood of a new god. "These hounds of Hades are swift to regain their feet!" thinks Orion, and "Marshaling his colossal strength loosens a nearby stone pillar!" The column's collapse spooks the mutts and they flee…
It's apparent that the elite of Apokolips venerate canines twice the size of earthly Great Danes, as we see Granny Goodness walking her huge "darling demon-dogs" in a "Young Scott Free" vignette and there's a trio of oversized hounds (doubtless used for hunting) among the poaching interlopers that begin "The Pact." Mostly though, they seem, like every other life form on Apokolips, bred for war.
Baskerville Hall has nothing on these beasts when next we see them in "The Pact," as "Raid upon raid is made everywhere on New Genesis!! From one such threshold leaps a snapping unit of dog calvary!! — Led by Steppenwolf!!" The creatures look like giant, ferocious rats in Jack's depiction, and "When Steppenwolf leads, the carnage mounts until the battleground whines beneath the weight and agony of mass death!!! Nothing lives in his path!" One can only shudder at such butchery…
In "Himon," the epic's other "background story," we see young Scott Free being chased briefly by the dog calvary but, of course, the lad escapes…
As one who was scared of big mongrels as a kid, I can attest Jack's dog cavalry was an inspired nightmare vision, perfectly apropos to kennel in his nightmare world of Apokolips. Hounds of Hell, indeed…