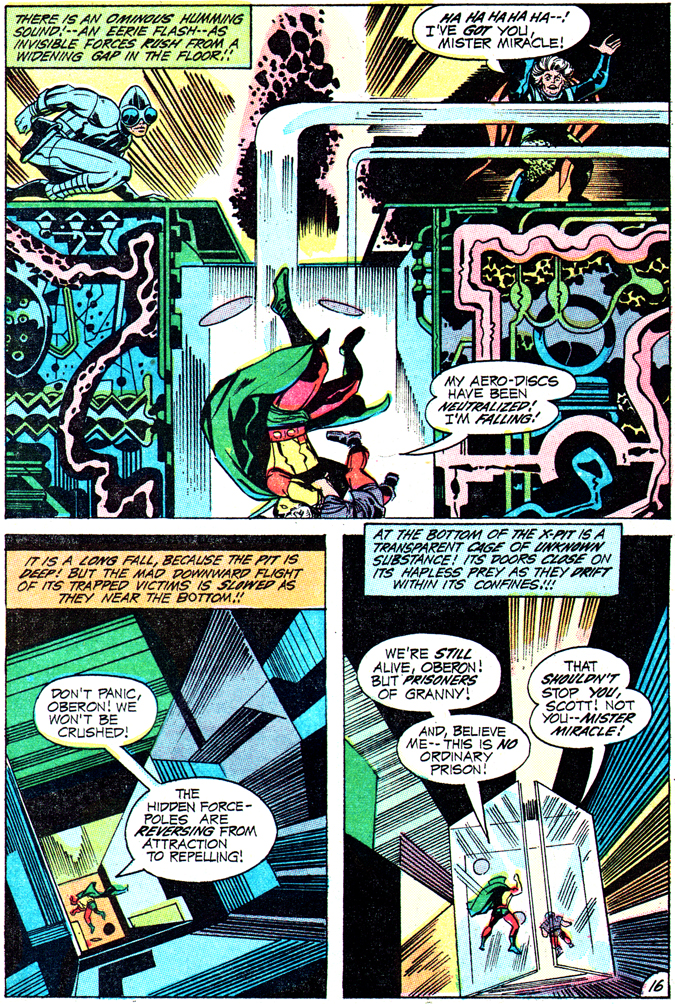 The ill-fated Overlord created the X-Pit, a trap to ensnare and punish Scott Free, at the behest of Granny Goodness. "[Overlord] needs no discipline like my pouting, jealous soldier boys! Overlord is also creative! He makes things for Granny Goodness! That's why Granny asked him to build the X-Pit! She has lost her patience with rebellious boys! Granny Goodness wants to kill Scott Free! He was the first to run away from her institution!"
Granny threatens her underlings: retrieve Mister Miracle or else… "But we know where he is now, don't we?" screams the old battle-ax. "Get him! Get Scott Free! Bring him to Granny! — Or take his place in the X-Pit!" The minions kidnap Oberon and what they think is Scott Free (it's just a Follower) and deliver to Granny, and when the real Mister Miracle comes by to rescue his assistant, Granny springs the trap. "I'm here, Granny! But I can't stay long! Just to pick up a friend!" Granny demurs, "You'll stay! You'll stay for eternity! Open the X-Pit, Overlord!" She then pushes a button and Scott and Oberon plunge into the X-Pit!
There is an ominous humming sound! — An eerie flash — as invisible forces rush from a widening gap in the floor!!

Granny: Ha ha ha ha ha –! I've got you, Mister Miracle!

Scott Free: My Aero-Discs have been neutralized! I'm falling!

It is a long fall, because the pit is deep! But the mad downward flight of its trapped victims is slowed as they near the bottom!

Scott Free: Don't panic, Oberon! We won't be crushed! The hidden force-poles are reversing from attraction to repelling!

At the bottom of the X-Pit is a transparent cage of unknown substance! Its doors close on its hapless prey as they drift within its confines!!!

Scott Free: We're still alive, Oberon! But prisoners of Granny! And, believe me — this is no ordinary prison!

Oberon: That shouldn't stop you, Scott! Not you — Mister Miracle!
The pair then brainstorm and Scott ponders what he knows about Granny Goodness and concludes, "She'll sacrifice anyone and anything — for gifts — rewards! On that premise — and with these studs — we must stake our lives!"
There appear to be 15 tiny buttons — five rows of three — in the transparent container and Scott pushes one.
Oberon: You pressed one of those buttons — and, now, we're frying!

Scott Free: Hang on, Oberon! I know this for what it is — a Torment-Circuit! Made by the creator of this pit for Granny's pleasure! [Pushes another button] Steel yourself, Oberon! This is the Electro-Shock Cycle!

Oberon: I feel like I've swallowed a thousand hot needles!
Pressing yet another stud, Scott and Oberon are suddenly engulfed in muck.
Scott Free: I must continue the cycle! I must press another of the studs!

Oberon: Do it! No matter what happens next — It'll be better than this! Whew! This is a welcome break! But I don't suppose Granny rigged this to last too long!

Scott Free: No! Look about you, Oberon! Look at the quickly-rising mud!

Oberon: Scott! Do something! Before this mud covers us!

Scott Free: It will smother you first! This way, friend!
Using his right hand, Scott lifts Oberon above his head, keeping him out of the rising mud.

Oberon: It won't help, Scott! Try to press the next cycle!

Scott Free: Can't — The mud is hardening! Tough to move —
At this point, like Granny, readers think Mister Miracle and his assistant are doomed… but, taa-dah! The Super Escape Artist reappears to explain to Granny how the two got out of the X-Pit! After Granny threatens to kill Scott with her bare hands, she demands, "How did you do this? How?"

Scott Free: Fair enough! Once I knew the Overlord created the X-Pit, I knew the make-up of its structure! Every atom of the X-Pit was linked to Overlord himself! Even the studs of the Torment-Circuit! I activated each terrible cycle —
We see Scott pushing a new stud, telling us, "The mud is hardening fast — holding my arm — but my finger is free — touching the next stud –"
Scott Free: Then the mud was gone — as if it had never been there — because Overlord was transforming its atoms into another form of torment!
Oberon struggles to his feet and asks, "W-what next, Scott? What next?" Scott opens his shoulder access to Mother Box, replying, "Mother Box signals — radiation!" Then, jamming his shoulder into the studs, he declares, "And that makes her strong! Strong! Strike at the enemy, Mother Box!"
Scott Free: I jammed Mother Box into the Torment-Circuits — felt her power race with vengeance toward their insidious source! Somewhere, I could feel the power strike Overlord! Somewhere, I could hear his silent scream — somewhere, I felt him — die!"

Granny: You killed Overlord! You had him killed by a damnable Mother Box!

Scott Free: I earned many things when I left your institution — like these Aero-Discs — on which Oberon and I rose from that now useless pit!
And so the demise of Overlord's malevolent trap, the ex-X-Pit!