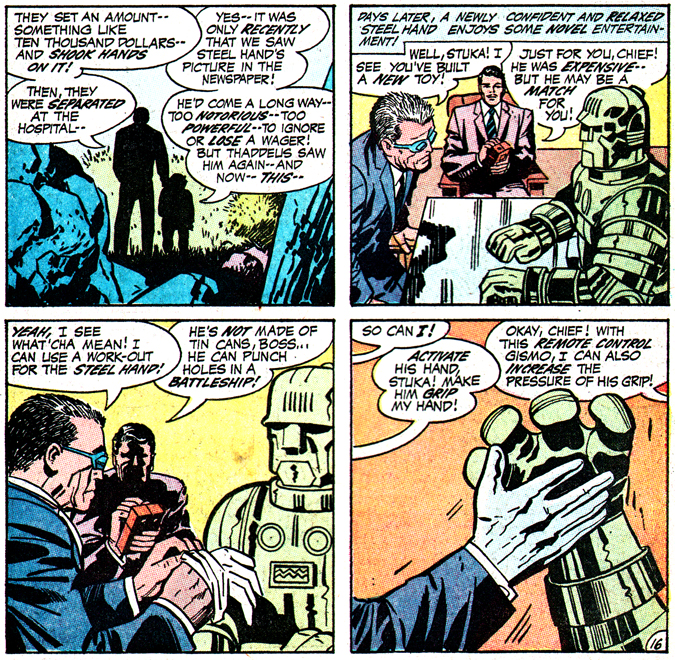 Having ordered and witnessed the assassination of The Great Thaddeus (because the crime boss doesn't want to be seen by peers and underlings as a welsher or is it as a small-time bettor? I'm not precisely sure the root of the villain's lethal insecurity), Steel Hand looks for some recreation time by exercising his super-powerful hand. His main henchman, Stuka, apparently an inventor as well as assistant, has created a nameless robot for arm-wrestling bouts with his boss. "Well, Stuka!" says Steel Hand, "I see you've built a new toy!"
Looking like a life-size Rockem Sockem Robot — a very imposing sight from across the table, no doubt — is Stuka's creation, an automaton (albeit rather shortlived!) with right hand significantly larger than the kingpin's.
"Just for you, chief!" replies Stuka, holding a small device. "He was expensive — but he may be a match for you!"
"Yeah, I see what'cha mean! I can use a work-out for the steel hand!" says the Inter-Gang regional chief. (It's an interesting visual here as Steel Hand is either putting on a glove or taking one off. In both the original comic and the Omnibus reprint, the hand is colored as skin and the glove white (or silver), begging the question is the transplanted appendage organic flesh — a human hand — that was mutated to possess super-strength, or is it a chrome-plated mechanical hand? I always assumed the latter, but this panel hints at another possibility. Or was he just wearing a glove to protect (or disguise) a prosthetic extremity and the scene is simply miscolored?)
After Stuka says, "He's not made out of tin cans, boss… He can punch holes in a battleship," and as Steel Hand snaps back a reply — "So can I!" — the head gangster orders the robot activated. Naturally, an arm wrestling bout ensues, and both man and machine battle for dominance. "Not bad, Not bad! He's powerful, all right!" observes Steel Hand. Stuka suggests, as he is manipulating the "remote control gismo," "Shall I 'up' the pressure?" Steel Hand replies, "Yeah! That's it! I wouldn't be surprised if he could crush a building! But my steel hand is something else again! Nothing can match its strength — No power on Earth!"
Then, with a "KRAK," "CLINK" and "PLONK," Steel Hand renders the "Robo-Arm Wrestler" utterly useless, its hand completely shattered into metal shards. "My steel hand has made me a giant, see?" says the Edward G. Robinson wannabe as he stokes up a cigar, "This was just child's play!" Stuka, observing the remnants of his invention, sucks up to his employer, "No one but you could have done this, boss! This metal hand is a wreck!"
Then, with the final word on Steel Hand's defeated mechanized adversary, the crime lord says, "Well, he was good for a laugh! You can junk him now!" What an ignominious fate for Stuka's expensive device!
Just then, leaping through the window is a figure from beyond the grave arriving to haunt Steel Hand once again…