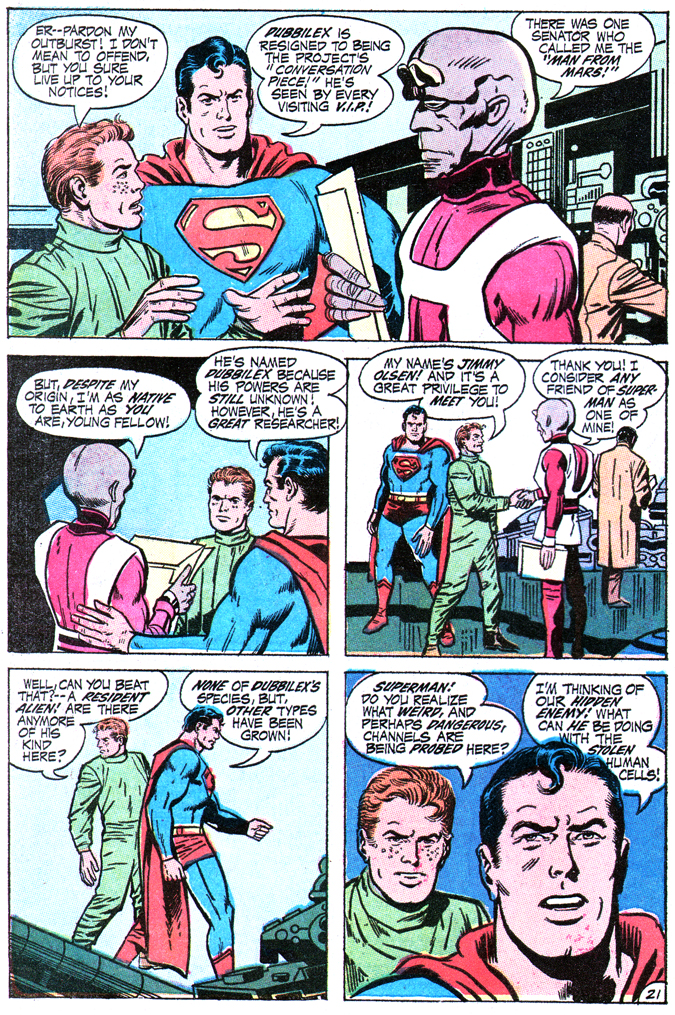 During Superman's guided tour of The Project, the Man of Steel points out the three categories of clones being grown: Normals, Step-Ups and Aliens.
Normals, I guess it's safe to assume, are the rank and file who work at The Project and have been reproduced from the DNA of living, "normal" people (i.e., regular folks of average intelligence and abilities), including the Jimmy Olsen guards at the Duplication Section and Communications Division Gabbys. It may also be proper to include in this category those in the "Miniature Replica Files," such as the Scrapper-Troopers and the miniature Supermen, Jimmy Olsens and Newsboy Legion members (both those at The Project and grown at the Evil Factory from stolen cells). The Guardian likely fits with this grouping, as do the "beasts of burden" at the Evil Factory and Floyd "Bullets" Barstow's clone.
Because the duplicates seem to be of the same age as the "originals," there has to be some age acceleration taking place and, with the D.N.Aliens (which may pertain to all products of both facilities), such a development is hinted at in the "Strange Stories of the D.N.A. Project" vignette, "The Alien Thing!!!" (The presence of the daycare facility may indicate some Normals are allowed to age at the normal rate.)
Step-Ups include The Hairies, the youthful and industrious technological geniuses of The Project ("They have evolved hair-triggered minds!" Superman tells Jimmy, "And they can come up with mechanical wonders like the Mountain of Judgment!"). The category may also include scientists, possibly Professor Packard, the surrogate father of Arin, the Armored Man. (I don't recall any others being specifically referred to as a Step-Up…)
Aliens are actually a misnomer, as those in the category being discussed do come from people (or animals). Superman says, "The human cell has been subjected to a wide range of conditions — and has yielded some strange developments!"
There actually appear to be three different varieties of D.N.Aliens:
• Original creations developed by manipulation of human DNA, such as the original Alien Thing, Dubbilex, the Four-Armed Terror, and Arin, the Armored Man

• Mutated humans based on a specific individual's DNA, including the Giant Jimmy Olsen

• Those people and animals subjected to Regressive Gene Induction, about which Simyan tells us, "Each animal become[s] its remote ANCESTRAL image." This bunch notably includes the Loch Trevor Beastie, Angry Charlie and Jimmy "Homo Disastrous" Olsen
Let's have a closer look at those three groupings:
Original D.N.Aliens
In the "Strange Stories of the D.N.A. Project" two-pager called "The Alien Thing!!!" we learn about the very first "Original D.N.Alien," and it's worthy of replicating Jack's story verbatim:
The first genetic structuring to run wild in the laboratory almost proved to be the last!!!

When it quickly evolved to adolescence, The D.N.A. Project found trouble on its hands!! The battle with it lasted a day!! It was the first 'D.N.Alien' The Project had produced!! It grew fast! — And hostile! Nothing seemed to stop it!! Tranquilizing gas seemed to slow down its movement — but not the maturing process!! Somehow, its metabolism was wildly accelerating!! — Emitting great bursts of bright, searing, damaging energy!!

The disruptive force affected thousands of circuits — and cut off communication between The Project and the outside world!! Great shocks followed!! And cracks appeared in places where subterranean waters broke through to cause critical emergencies! And on the Zoomway itself, large fissures opened and yawned! The low casualty rate was an incredible part of the strange events!!! Then in a last, terrifying burst of body energy, the alien caused an aurora effect that could be seen for miles!!! It proved to be the last of him! He had literally burned himself out!! — And with such devastating force that his powdery remains shocked witnesses into silence!!!

The D.N.Alien, however, didn't die in vain!!! His brief life left vital clues on how to keep succeeding D.N.Aliens alive!!!
Dubbilex, as we found in the previous entry, serves as a researcher at The Project and is developing his latent telekinetic powers, aiding Superman in the Cosmic Carousel affair.
The Four-Armed Terror, and his multitudinous brethren called Homo Usurpus, was bred by the Evil Factory from samples stolen from The Project. Superman says, "Among the living human cells [the Evil Factory] stole from The 'Project' was a special batch which had been treated in a manner to simulate Atomic War conditions! He could be bred for surviving Atomic War!" Whether these were mutated by Mokkari and Simyan with their Beta Gas is open to question, but the Terrors are apparently different than The Project's prototypes as they actually consume radioactivity.
Arin, the Armored Man, was developed for interplanetary travel without the need for life support or artificial environment as he can travel in deep space as if swimming. His singular mission is to go live on a distant asteroid and protect the contents of his back-pack: Superman's cell tissue and genetic code.
Mutated D.N.Aliens
Unless those miniature clones I've listed as Normals should be classified as such, I can only find the Giant Jimmy Olsen to belong under this heading. It appears that Mokkari and Simyan pilfered Jimmy's miniature DNA (so to speak):
Simyan: With our superior equipment, we have rapidly established a project to rival their own! Now, from living cells we can produce what they do — human beings!

Mokkari: Of course, we stole the first samples from the Earthmen — but now we can make our own! We shall breed them in all sizes — as small as we want them — and as large as their destinies demand!
It is interesting that the closing "next issue" blurb in JO #135 is phrased as follows, illustrating the Guardian clone emerging from his Life Chamber: "Don't miss his clash with the renegade replica! These are not ordinary humans in combat! This is a new breed spawned by a new concept! The DNAliens!" Is Jack telling us the Jim Harper relica is actually a D.N.Alien…?
Regressed D.N.Aliens
Technically, I wonder if these even belong under a D.N.Alien heading, but chromosome manipulation is in play here, so I'm going to take the chance. First, I'd like to point out the raison d'etre of The Evil Factory was initially to steal research from The Project and replicate their successes in cloning life and manipulating DNA. As we know, Mokkari and Simyan run the facility for Darkseid:
Mokkari: It is what we came here to do! To replace the Earthmen's project — with ours! The Earthmen experiment for progress. But we work for Darkseid, ruler of Apokolips!

Simyan: Our off-spring shall bring Apokolips to Earth! Chaos in place of order! And from that chaos will arise the new masters of Earth — with the great Darkseid as their exalted leader!
Again, the primary purpose of the Evil Factory is to eliminate and replace The Project, as Simyan says while he and his partner overlook a scale model of The Project, "Yet, all this we must destroy! It shall become again as it once was — Empty! Silent!" Adds Mokkari, "We shall do it with the proper creations of the life we have bred here!" While they fail in "The Big Boom" to wipe out the government complex, they do The Project one better by introducing a new process to the game: Regressive Gene Induction.
(You know, despite the fact their plans typically fall through and thus repeatedly face the wrath of angry Darkseid, for only two guys, Mokkari and Simyan have made remarkable improvements on the discoveries of The Project, a "Manhattan Project" type endeavor that must employ hundreds, if not thousands, of specialists. The duo manipulates miniature DNA to make any size humanoid they desire; they improve on the Atomic War "survivor," as Superman says, "Our rivals at the Evil Factory have produced another 'first!' That thing is absorbing and feeding on radioactive energy!" Plus there's this new development…)
Mokkari: Regressive genes have proven a delight, haven't they, Simyan!!

Simyan: Yes, it's been exciting to see each animal become its remote ancestral image!!
It appears the Evil Factory, which we find is located in the highlands of Scotland, is letting loose the results of their Regressive Gene Induction research. Mokkari and Simyan, y'see, are able to turn any animal into its evolutionary predecessor, and many into hitherto before considered to be mythological creatures! The Apokolips scientists turn out a "'way out 'Animal Farm!!" including the Loch Trevor Monster, Griffin, Chimera, Unicorn, some Basilisks, and (who is to become Gabby's personal pet) Angry Charlie (the antecedent of, what, a flea?), plus other beasties that emerge at the conclusion of this storyline. Natch, Jimmy O. gets the treatment and becomes a caveman Olsen! Zapping sinister rays on our hero, the two cackle:
Mokkari: Millions of gene nuclei shot through his open pores!!

Simyan: They develop like wildfire! Olsen will change rapidly!! Becoming what the gene dictates!! Sad to say — these are regressive and powerful!!
But, as always seems to happen, the hapless Evil Factory proprietors lose control of their creation but this time there's no handy matter transmitter to get rid of the culprit, Jimmy "Homo Disastrous" Olsen! This Neanderthal Jimmy is fantastically powered and in perpetual rage, beating the crap out of an enormous saber-tooth tiger and short-circuiting the electric fencing that sets free an entire menagerie of monsters, including dinosaurs, huge sloths, wholly mammoths, gigantic rhinos, and innumerable other prehistoric creatures, all creations of Regressive Gene Induction…
Back when he was a mere homo sapien, Jimmy wondered about the implications of all this genetic engineering, "Superman! Do you realize what weird, and perhaps dangerous, channels are being probed here?" You said it, chum.