Part Two: In the Beginning…
The story so far: Jack "The King" Kirby is dissatisfied with his arrangement at Marvel Comics and, negotiations having failed, signs up with rival DC Comics (a.k.a., National Periodical Publications). Let's now join our story already in progress: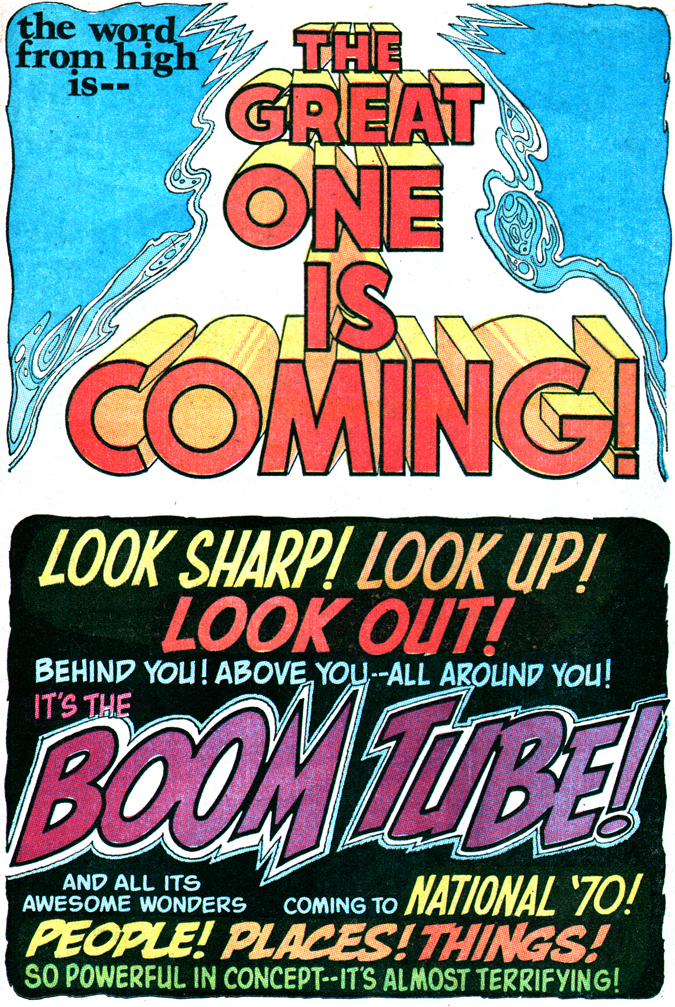 The bombshell news of Jack's "defection," as big a story in comics publishing as there ever was, hits the street in March, 1970. His intention at the House of Superman is to establish a DC Comics West, with Jack serving primarily as a sort of California editorial director of the outfit, writing and drawing a title or two, but mostly launching ideas into the hands of creative teams. Kirby's idea is to initially launch three titles that encompass a "New Gods Trilogy" — The Forever People, Orion, and Mister Miracle — a wide-canvassed, interlocking epic to run over many, many issues of said comics, which he hopes, down the road, to be trimmed and edited into a huge graphic novel (to use modern parlance). Obviously, Jack's concepts regarding comics publishing are as far-ranging as his imagination for the stories themselves: The King envisioned over-sized comics, magazine-sized comics, hardcover comics…
Carmine Infantino had been known much of his career at DC as the quintessential artist on The Flash and on "Adam Strange." His art style was not unlike Kirby's in some ways — it was kinetic, always in motion, well-designed and vibrant — and you can sense in the work a passion for the sleek and the modern, epitomized by his futuristic cityscapes in Mystery in Space and exploits of the Scarlet Speedster. When DC Comics, flush with Batman TV show merchandising money and buyer Kinney National Services' hunger for "leisure time" industries, was sold, big editorial shake-ups were already in progress at the Lexington Avenue offices. The artist ("Enfant Rouge" was his self-styled nickname) was not only supremely talented, he was also ambitious to establish himself on the business side of things.
Carmine became close with Irwin Donenfeld, son of one of the publishers and a manager, and together they started planning for the future. Comics sales, despite the 1966-67 Batman bump, were plummeting (for whatever reason — Competition from TV? Shrinking newsstand distribution? The exodus of female readers?), needed a powerful jolt after the Era of Camp: A New Age of Relevancy. Whether by design or accident, Carmine hit upon a "daring and different" concept: Installing a new regime of "Artist as Editor." In short order, a swath of the old-time editors either met with retirement, health issues, office intrigue or even death, and some of the field's finest artists, each with tremendous storytelling ability, came on board as the new editorial staff. Among them were Joe Kubert, Mike Sekowsky, Dick Giordano (top-shelf talent recruited from bottom-tier Charlton Comics), and Joe Orlando (ex-Mad man, with whom Carmine had an especially tight bond), and they individually brought a refreshing graphic sensibility to the books (and Ye Blogger's favorite era in DC Comics' history, if you care to note). Suddenly double-page spreads opened invigorating and dynamic stories, and new, resonant and exciting characters abounded. Titles were revamped, staid characters re-invented for modern times… (Of course, some of the preceding events overlapped, but in general this was the case.) Young writers and artists were increasing allowed in to contribute, particularly Neal Adams (whose arrival predates the upheaval a bit, but the superb creator seized the opportunity to virtually reinvent the super-hero comic book), Marv Wolfman, Len Wein, and three of "The Studio" quartet, Berni Wrightson, Michael W. Kaluta and Jeffrey Jones. Veteran artists saw new freedom and hit the ground running, especially Gil Kane and Russ Heath, among others. It was, at least to this kid, a golden age…
Anyway, DC Comics' new owner, Steve Ross of Kinney National Services/Warner 7 Arts, had confidence in giving his managers wide freedom to run their divisions. He thrived on his "people" skills and a refreshing hands-off attitude came from on-high. Carmine was intent to show the Big Guys that he had what it could take…
So, naturally, considering Jack Kirby was responsible for co-creating a vast majority of upstart Marvel Comics' "universe" of characters and concepts, Carmine's acquisition of The King's services must have appeared quite the feather in the editorial director's cap. (Note, too, that in 1968, Marvel had finally broke free of the yoke of Independent News, the distributor of Martin Goodman's line, which was owned by the Distinguished Competition — DC to you and me — after being acquired by Perfect Film and joining up with Curtis Circulation Company to get on the nation's newsstands. Marvel was flooding the market, finally free of the eight-titles-a-month limit imposed by IND, and was snapping at DC's standing as industry leader. The game, as the good detective said, was afoot.)
Jack Kirby's grand scheme to revitalize the comics marketplace — with new formats and an entire line of new books and magazines — was reined in by DC's bean-counters. It was settled in New York that The King would write and draw the three inter-connected titles, plus take on an existing DC comic, which was Superman's Pal, Jimmy Olsen. But you knew that already…