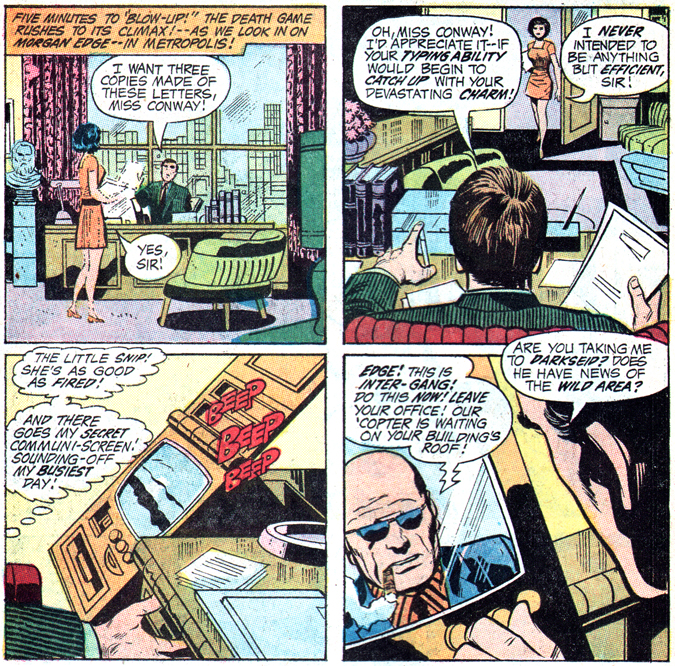 Miss Laura Conway is Galaxy Broadcasting CEO Morgan Edge's personal secretary and she formerly served as the enigmatic Dabney Donovan's "most trusted employee," a fact revealed during the "Transilvane" storyline, where she was a more active player in the storyline than previously.
Just before Inter-Gang orders Morgan Edge out of his office and to escape Metropolis because the Four-Armed Terror was about to set off a nuclear chain reaction that would destroy the city, we catch the executive in a mundane situation with his new secretary. Barking orders from his desk, Edge says, "I want three copies made of these letters, Miss Conway!" To which a young, slender and attractive woman replies, "Yes, sir!" As she closes his door, he adds, "Oh, Miss Conway! I'd appreciate it — if your typing ability would begin to catch up with your devastating charm!" Her retort: "I never intended to be anything but efficient, sir!" As he attends to his Inter-Gang communication, Morgan Edge thinks, "The little snip! She's as good as fired!"
Later, after Metropolis was not vaporized in an atomic explosion and Miss Conway was not relieved of her duties, Morgan Edge returns to his office. As he enters the door…
Morgan Edge: Well, everything seems just as it did before I left! Any messages, Miss Conway?

Miss Conway: Mister Edge! I didn't expect you back so soon — you did leave rather hurriedly, sir!

Morgan Edge: Well, you see, I learned that Metropolis would suffer an atomic explosion!

Miss Conway: Oh, er — Clark Kent called! He said that Jimmy Olsen is back — and they both want to see you!

Morgan Edge: [Thinking] I'd have favored the atomic explosion! [Out loud] Miss Conway! If Kent or young Olsen calls again — tell them I'm still out! They can wait! I've got bigger fish to fry! How are we progressing on those contracts for Don Rickles?

Miss Conway: Oh, Mister Edge! I just hope Don signs with us! He's such a funny man!

Morgan Edge: Never fear! I'll reel him in!

Miss Conway: That's wonderful! We'll have two of them now! Don — and his "look-alike!"

Morgan Edge: Look-alike?

Miss Conway: Yes! Goody Rickels! He's on our research staff — a sweet, lovable soul —
Later, Clark Kent and Jimmy Olsen ask Miss Conway some questions. Says Clark, "Is Mister Edge back yet, Miss Conway? Jimmy and I must see him!" Jimmy leans on her desk with a warning, "And don't con us, Miss Conway! Some of the staff have seen Edge return!" Miss Conway is unfazed. "Then those same busybodies should have told you he went out again! However — Mister Edge left this for you both!" She hands Clark a small piece of paper. Jimmy says, "That looks suspiciously like an assignment slip!" And the boys are sent off to check a possible U.F.O. landing in Cronin Park.
Next, Miss Conway interrupts her boss. "Yes, Miss Conway! What is it now?" The secretary responds, "Oh, Mister Edge! You have been busy! Don Rickles just phoned to say he'll be here soon! It's so exciting! Oh — er — there's been no calls from Goody Rickels! I do hope he can be of some help on that UFO story!" Taking a drag off his ever-present cigarette, Morgan Edge says, "Miss Conway, I'm extremely confident that Goody Rickels will fare no better or worse than the others!"
A short time later: "Meanwhile, in the sumptuous office of Morgan Edge, the chief executive of the Galaxy Broadcasting System…" Miss Conway bursts in on her boss. "He's coming, Mister Edge! He's on his way up in one of the elevators now!" Morgan Edge replies brusquely. "Contain yourself, Miss Conway! After all, this network does business with many stars!" But the woman continues to gush. "Oh, but Don Rickles is such a treat!! I just can't wait to get insulted by him!" Lighting a smoke, Morgan Edge says, "Yes! I'm anticipating something like that myself!" Miss Conway adds, "Wouldn't it be just immense if Goody Rickels would return from his assignment to confront Don!?"
After the real Don Rickles is mobbed in the Galaxy offices — Miss Conway laments, "OH! Poor Mister Rickles" she and her boss help the comedian into the executive's office, "There, there, Mister Rickles! You'll mend rapidly in here!" Don gives her a look. "Who's this broad? What is she playing? — "Nursey-nursey"? Morgan Edge offers, "That's Miss Conway, my secretary!" Then, in a classic panel, while the curvaceous young lady walks out of the room, the comedian's eyes glued to her sash-shaying figure in a form-fitting dress, Don quips, "You're great, honey! You're wasted here! You deserve something better than a typewriter and this sneaky crumb! Get yourself a bikini and start a chain of heart attacks at a garden party!" Miss Conways beams and replies, "Will do, Mister Rickles! I'm so thrilled!" She leaves and Don tells Morgan Edge, "'I'm so thrilled,' she says! Working for a guy like you — Morgan 'Watch the Small Print' Edge!!"
The beginning of Jimmy Olsen #142 begins ominously. "Amid the strange sounds at midnight, this classic horror figure never fails to emerge and haunt our dreams with terrible effectiveness! So here he is again — But wait!!!! — Your writer advises you to expect something more than the same old routine from The Man from Transilvane!" A sinister looking fellow and his werewolf companion look into the moonlit night. "The night is the same on any world, eh, Lupek?!! Ahead lies the city — and the one we seek!!" Mouth agape, fangs are revealed, and eyes glowing with no pupils, the vampire is ravenous. "Ahh! I sense her! I've found her! I call her name!! Laura! Laura Conway!! — Even as you sleep — you can hear my call!"
Like some sinister instrument locked on its invisible target, the man from Transilvane stands rigid!! Then–!!
Rays emanating skyward from his eyes, the monster boasts, "From my eyes soars the power!! It will reach her — and create the mark which will make us — as one!!
The power knows no distance! It projects for miles — to the city! To a building — to a window!! And beyond the window is Laura Conway — sleeping — sleeping — as the mark appears on her neck — to change her body chemistry! What has been done — is now done!! The reults of it will rival the most awesome events ever recorded!! When Laura Conway takes up the threads of her life the next day, at the offices of Galaxy Broadcasting System, her transformation is not ignored by Jimmy Olsen and his super-sonic sidekick, Superman, seen here in his other identity — Clark Kent!
Laura Conway is staring intensely at her desk , phone in one hand, pencil in the other. The reporters are looking at her with concern. Clark says, "You look a bit peaked this morning, Miss Conway! So we'll try to make it short! –"" Jimmy adds, "Yes! When do we get to see Morgan Edge? He's put us off long enough! We've got to talk to him!" Laura says, "Boys — boys — give me a moment–!"
Jimmy is annoyed, telling the secretary, "If Morgan Edge is dodging us, I can tell you it's for a darn good reason!" Adds Clark, "That's true! We've got questions to ask him that could put Mister Edge in a very embarrassing position!" Looking demur, Miss Conway responds, "Perhaps that's why he's out! Oh, I don't know! At any rate, he isn't here!" Then, in a startling moment, Miss Conway gives an open-mouthed smile that reveals — gulp! — prominent fangs! "And that, boys, could mean minutes, hours, days — You name it! Mister Edge left no departing word!" Jimmy blurts out, "Miss Conway! Y-your face –! I-I mean — are you okay??" Clark brushes past his pal to take charge. "One side, diplomat! Don't you see she needs help?!" Jimmy leans forward on her desk as the veteran Daily Planet reporter takes the woman in his arms. Jimmy says, "She needs sorcery prevention, if you ask me — did you see –??" Clark responds, "I saw! I saw! But I can't believe it! Easy, Miss Conway –" and he picks her up, carrying her. "What do you make of it, Clark?" asks Jimmy. "This is no 'put-on,' Jimmy!! She's doing the vampire bit — down to the very 'marks on the neck'!!"
And the power — when it has fully taken hold — controls the body chemistry — controls the very body atoms — so that a pattern is followed — a complete and total pattern!
Hold her curvy and unconscious body before the office mirror, Clark exclaims, "Oh, my God! The mirror! Jimmy! Look in that mirror and tell me if what I see — is so! I mean — tell me, if what I don't see is so! No! I — mean –" Replies the cub reporter, "I know what you mean! Miss Conway casts no reflection! And you know what that means!" Clark places the unfortunate woman on a couch. "Shouldn't we call a doctor or something, Clark?" asks Jimmy. "Of course! Only here, in Morgan Edge's empty office, we can at least make her comfortable!" Jimmy is incredulous, "Make her comfortable? Make a real vampire comfortable? Clark, she's liable to get up and bite us both on the neck!" Clark is searching for a pulse and dismisses his comrade. "Oh, quiet! Let's get our bearings!"
The next caption reads, "And the total pattern must remain fixed!! And nothing that belongs to it must ever be excluded!" A small mammal suddenly flies through the room. "A bat!!" says a shocked Olsen. "Here in the city — in the office!! Don't tell me what happens next!!" Clark is stoic, adding, "Yeah! I saw the movie, too! Keep your cool, Jim!" Reads the caption, "–Even into the final materialization!" A new voice: "Good afternoon, gentlemen!!" A new figure in the room: "Allow me to introduce myself! Count Dragorin of Transilvane!" (Jimmy mutters, "It figures!") The caped, pale-faced intruder continues, "I regret the intrusion upon your many activities in this place!! However, I am pressed to carry out my own, you see!!" Retorts Clark, "If your business is with Miss Conway, I suggest that you talk to us about it!" Jimmy steps in to wag a forefinger at the Count. "I second Clark's motion! Now, what's this all about? How do you work this gimmick — and why?" The newcomer is momentarily bemused. "You do have a certain charm, young man! But you try Dragorin's patience!" Jimmy is pugnacious: "Oh, yeah? Well, why don't you drop the act and help Miss Conway? It was probably you who caused her illness!!" Clark resumes his diplomatic stance, "Er — All we're trying to say, Count, is — that we're concerned! We're friends of Miss Conway!"
But the white-visaged creature is on a mission and, giving the boys a nasty glare, tells them, "I said that I'm pressed by urgent action! And so it must be!! Behold the Evil Eye, gentlemen! It's not a myth! For in it is power! And in the power there is irresistible force!" His right eye increasingly radiates until a burst of energy explodes from his pupil and there's a giant ZZAPP! and the fellows are knocked off their feet.
The next sequence in this episode is captioned: "And back in Morgan Edge's office, the power of the Evil Eye has taken its toll!!" Jimmy and Clark are sprawled on the floor, and the Man of Steel's alter ego ponders, "The Count's strange power sure packs a potent punch! Jimmy is completely stunned! But I have more effective protection! It's called Superman! Now to see what the Count is up to –" Dragorin is advancing towards the woman. "Laura! Laura Conway!" Clark is ready to spring, as the interloper raises his arms in the air in a classic vampire pose. "If he tries to harm that girl –" thinks the reporter. "Rise, Laura! You have — the power!" And Miss Laura Conway rises off the couch. The Count is ever so slowly enveloping the secretary into the folds of his cape. "It is I, Laura! Dragorin! I've come because you are ready! You and I, Laura — we share the same power!" Miss Conway agrees, "Yes, Dragorin! We share the power! We share every secret within us!"
And now, we finally begin to understand the vampire's singular pursuit of the female, as Dragorin reveals, "All but one, Laura! Where is Dabney Donovan, Laura!? Where is he? Where?" The secretary replies, "I-I don't know! nobody ever knows where Dabney Donovan is!!" His hot breath on her neck, the Count replies, "But you were once his personal secretary! His most trusted employee! I'm listening for your answer!" Clark sneaks up behind the pair, thinking, "She's angering him! I think it's time to act!" Dragorin is insistent: "Don't defy me, Laura! Answer!" Miss Conway blurts out, "Science Research Center –"
A wave of relief washes over the vampire. "Of course! The NASA Science Research Center! Dabney must have left records, files — a trail!! Donovan is an evil, clever one! But I'll hunt him down!" Miss Conway explains, "I worked there for Donovan! But knew him only as a voice — dictating note from a tape recorder!" Then Clark springs at the vampire, thinking, "Here goes! –" Dragorin turns to exclaim, "Demons! This man has withstood the power!! incredible!" Clark retorts, "I'll tell you more about it, Dragorin! When I have you subdued!"
But Count Dragorin vanishes in a vaporous puff — as Clark Kent seizes a handful of air — and loses his balance!!
"Gone!" says Clark. "That Dragorin is as slippery as the man he's hunting!" Sudeenly, Miss Conway comes to her senses. "What's happened? What am I doing here? I-I feel so — weak–" Jimmy is also coming to, telling her, "Exactly my thoughts, Miss Conway!" Clark thinks, "Miss Conway's face! — It's losing the vampire characteristics! Dragorin's power over her is fading!"
Subsequently we learn, as Jimmy and Clark drive to the research center, that Miss Conway "snugly relaxes for a few days at the clinic." And, the last we hear of Morgan Edge's erstwhile and loyal employee, she's still stationed outside the CEO's office, as the "smiling cobra" tells Jimmy to report to her for details on the Scotland trip. "See my secretary, Miss Conway, on your way out, Olsen! She'll brief you on the details!"
Yeah, there's a ridiculous amount written here on her albeit few appearances in Superman's Pal, Jimmy Olsen, but there's not a whole lot to actually say about the character herself. She's pretty but relatively nondescript, seemingly lives alone and appears devoted to her job and her current boss (even if he confesses though he heard the city was going to be disintegrated, she apparently wasn't worthy enough to be privy to that knowledge… that "Oh, er –" response from her is precious!). Her old boss? She sells him down the river to a blood-sucking vampire pretty quick, don'tcha think?