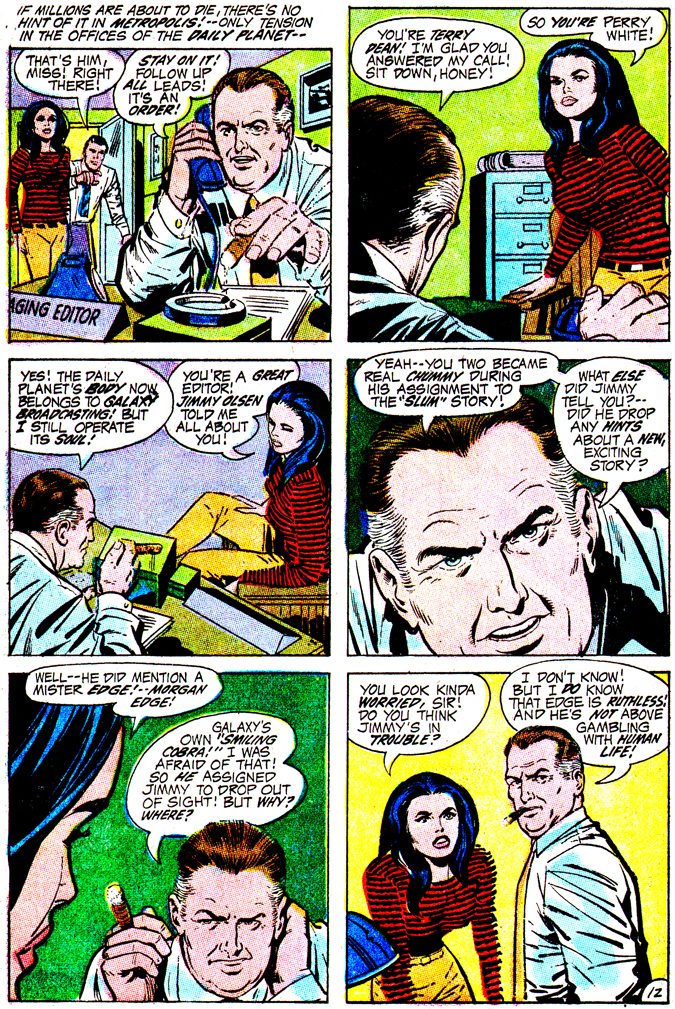 Terry Dean, proprietor of the Metropolis discotheque Cosmic Carousel and chum of Jimmy Olsen, is a friendly, vivacious and beautiful young lady who, for a brief spell, assists Superman and the D.N.Alien Dubbilex investigating the mystery of a underground tunnel beneath her dance club. In the Fourth World epic, we first meet the twenty-something woman (perpetually dressed in red blouses with black stripes of varying necklines) when Terry enters the newspaper environs of The Daily Planet, where she has been summoned by editor-in-chief Perry White. As she enters the legendary journalist's office we hear him on the phone: "Stay on it! Follow up all leads! It's an order!" Hanging up, Perry turns to the woman, who is taking a seat. "You're Terry Dean!" says Perry, "I'm glad you answered my call! Sit down, honey!" She looks at him with a wary eye, replying, "So you're Perry White!" Holding his ever-present cigar, the newspaperman nods. "Yes! The Daily Planet's body now belongs to Galaxy Broadcasting! But I still operate its soul!"
Terry Dean: You're a great editor! Jimmy Olsen told me all about you!

Perry White: Yeah — you two became real chummy during his assignment to the "slum" story! What else did Jimmy tell you? — Did he drop any hints about a new, exciting story?

Terry Dean: Well — he did mention a Mister Edge! — Morgan Edge!

Perry White: Galaxy's own "smiling cobra!" I was afraid of that! So he assigned Jimmy to drop out of sight! But why? Where?

Terry Dean: You look kinda worried, sir! Do you think Jimmy's in trouble?

Perry White: I don't know! But I do know that Edge is ruthless! And he's not above gambling with human life!
Terry Dean is actually a character first introduced in Superman's Pal, Jimmy Olsen prior to Jack Kirby's tenure as editor, in the "socially relevant" story "The Secret Slumlord of Metropolis" in #127, credited to Leo Dorfman, writer; Curt Swan, penciller; George Roussos, inker; Mort Weisinger and E. Nelson Bridwell, editors (http://www.comics.org/issue/23363/), and while it's tough to argue her personality was expanded much by Jack since this debut, Terry's presence is sufficient enough, I reckon, to warrant a "Kirby version"… Though I must confess her red with black stripes shirt and white slacks ensemble was first seen in that March 1970 issue! (Perry's emphasis on "slum" and a vague recollection of that story prompted me to check…)
This one-pager feels dropped-in, so to speak, included maybe at the request of the DC offices to remind us that Perry White is still in the series and to give us a regular female character in the series. Maybe, maybe not.
The young woman is much more involved in the plot when next she appears, JO #144, upon Superman and the Guardian traveling to "Suicide Slum" by invitation. "Imagine those kids!" says Superman, "Putting an ad in a newspaper — inviting us to their discotheque!" The Guardian responds, "If it'll help their attendance, I don't see the harm in going!" The pair arrive at the entrance to the dance club. "The 'Cosmic Carousel!'" exclaims the Guardian. "These young people are as colorful with their language — as with their dress!" Superman replies, "With our costumes, we should blend in well with this crowd!"
But Superman forgets his public identity!! Both he and the Guardian are besieged by autograph seekers!
The pair sign autographs and answer questions when a beautiful face appears. Superman greets her with, "Terry Dean to the rescue, I presume!" The smiling young lady responds, "Oh, I'm so glad you came!! When Jimmy Olsen suggested I contact you, I never dreamed that you'd really respond!!" After the super-heroes check out the dance floor, a caption reads: "Terry Dean fusses excitedly over her guests!! She points out everything that might interest them!! That's how the strangely garbed entertainers gain their attention!!" A group of odd-looking guys are playing bizarre instruments. "This is the San Diego Five String Mob!" says Terry to Superman and the Guardian, who are now seated in the nightclub. "They're our very own discovery!!! They just showed up one day and offered to perform!!! Dig those weird instruments they play!! Each one has a freaky wound-up string! The sounds are new — but great!" Superman mutters, "I-I guess –" Terry then dives in for the kill. "Come on, Superman!" she urges, taking his hands in an attempt to drag him on the dance floor. "Don't cop out on your reputation as an activist! Follow the music's beat — and me!" The Man of Steel is reluctant. "Terry, I-I think I could do a better public relations job — just sitting here!!"
Suddenly the general clamor fades to confused whispers, as a bizarre figure confronts and surprises Superman!!

Terry Dean: Hey! We've got a "U.F.O." on the guest list! Far out! Who is he??

Superman: Galloping Krypton!! Dubbilex!!!

Bystander: Man! This guy is weirder than moon rocks!
Dubbilex, the Superman's favorite D.N.Alien, has arrived and he informs Superman of a nearby mystery. "Train your X-ray vision on the floor at your feet!!! … Your X-ray vision will reveal how I got here, Superman!" Superman replies, "I see it, Dubbilex!" Terry is startled, telling them, "B-but that floor is solid! We have no basement!!" Superman corrects his new friend. "Not a basement, Terry!! — A tunnel! It's been shored up! But it still exists!" The Sand Diego Five String Mob," sensing their cover is blown, call forth their "sixth string," Barriboy, and their instruments become weapons that make a shambles out of the Cosmic Carousel!
In the next issue, Terry and Superman cautiously walking down the secret tunnel. "Superman!!" exclaims Terry, "Do you see what I see??" Her friend concurs, "Yes, Terry!! I sure do!" Dubbilex has captured the San Diego Five String Mob, who are now levitating in the air. "Like wow, Mister Dubbilex!! How did you get them up there — and keep them up!??" Dubbilex answers, "Well, I-I don't know — yet!! But it did give me a slight jolt!!" Superman thinks, "Terry doesn't know Dubbilex is a D.N.Alien!" The horned friend suddenly frees the captives with a burst of telepathic energy, knocking Dubbilex to the floor. Helping him up, Terry notes (in an endearing exchange), "Mister Dubbilex!! You're weird!!" Dubbilex responds, "It seems you're correct, Miss Dean!" The Apokolips gang escape via Boom Tube which elicits this response from Terry: "Far out!! That big tube is fading! — and that rock group's fading with it!!! Talk about wild doings!!!" Thinks Superman to himself, "I'd be as flabbergasted as Terry — if I hadn't met the young Forever People — and learned about the Boom Tube — and the war with Apokolips!!!" A few moments later, Dubbliex asks, "Who — What — were those kids!!?" Terry shares the D.N.Alien's puzzlement. "Yes, I'd like to know, too!! I hired them to play in my discotheque!" Superman replies, "That's not important! I want to know why they came here!! And why they sought this tunnel beneath your club, Terry!"
When next we see the trio, Dubbliex is using his telekinetic powers to levitate Terry Dean in the air. "It's amazing, Dubbilex!!" marvels Superman. "Your developing powers are beginning to actively manifest themselves!" Dubbilex answers, "With a beautiful volunteer like Miss Terry Dean — who knows what wonders I could perform?!" Terry is astonished, exclaiming, "I-I'm rising into the air — lifted by some unseen force!!" She is turned upside down and says, "Oh, wow!! This experience has some scary angles!" Dubbilex replies, "Be calm, Miss Dean!! I'll let you down as easily as I can!!" Superman urges caution, saying, "Careful! Careful — Here she comes! good work, Dubbilex!! You're able to control a most interesting faculty!!" Terry lands on her feat, gushing, "Gosh! That was exciting!! If I told my friends about it, they'd laugh me out of town!! Mister Dubbilex, you're weird and wonderful!!!" But Dubbilex is concerned. " "By your standards, Miss Dean!! But what are mine? What is emerging from this brain of mine??"
The final appearance of Terry Dean — and of The Guardian, for that matter — is in the panel where the resurrected Golden Age super-hero notes that the tunnel goes on for miles."Gosh! Who built it?? Why??" We'll learn that a Boom Tube frequents that tunnel and the Man of Steel is soon off to visit Supertown, leaving his new friends behind… forever…
Terry Dean is an eminently pleasant and attractive character in the series, and you can almost imagine a burgeoning relationship developing between her and Dubbilex given their mutual admiration society and the D.N.Alien's comment — "who knows what wonders I could perform" on or with Terry — can be taken as a bit risque, don'tcha think? Whatever. She was a fun addition…