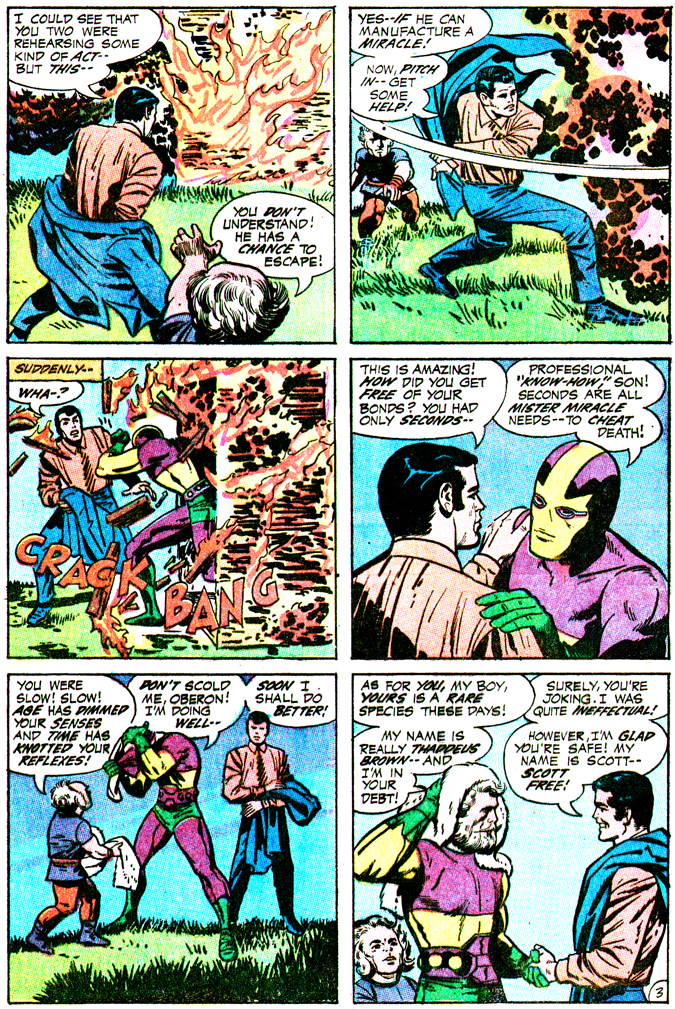 Scott Free, the son of Highfather and whose escape from the dominion of Darkseid was catalyst for the Super-War now raging, is arguably the focal point of the entire Fourth World saga. Born on the pastoral paradise of New Genesis and raised in the urban chamber of horrors called Apokolips, Scott has fled his adopted hellhole of a planet and assumed the identity of Mister Miracle, super escape artist, and calls Earth home. He is, it seems, a happy masochist, perpetually placing himself in exceedingly deadly situations, engaging with the most sadistic of villains and always — always — playing by the rules, whether earthly, celestial or deviant, no matter the odds stacked against him. He is indeed a man of miracles, quite possibly the ultimate savior of the two worlds of the new gods and, by saving his own skin innumerable times and defeating world-threatening foes and devices, a protector of Earth itself.
The story of Scott Free begins in the court of Darkseid, undisputed ruler of Apokolips. After years of conflict with neighboring New Genesis in the war called "The Great Clash," the granite-face monarch needs a cease-fire to rebuild his world and set in motion a plan to not only rule Highfather's planet, but to have dominion over all life in the universe. To that end, a bargain is struck between the two leaders — The Pact — an agreement that they would trade sons who were to live out their days in the other's realm. If a son was to leave their new home, traveling to their native world or Earth, that would be a breach and war could likely renew. "Good!" exclaims Darkseid, looking at the rubble of his kingdom. "This exchange of heirs will seal the Pact!!" Referring to Highfather's former name, the Master of the Holocaust continues, "Izaya wants peace! I — want — time!! — Time to re-define power!! — To make this 'bombed-out' waste a meaningful pursuit!!"
At that moment, Granny Goodness, one of Darkseid's elite and head of the regime's military academies, carries a bundle. "Hail, great Darkseid!" says Granny. "See what I hold!! See what was so gently nudged through the dimension threshold — from New Genesis!!" Wrapped in a blanket it is a young boy. "Izaya's whelp, eh?" Darkseid observes. "This will hurt him!! He's surrendered his prize lamb — for a tiger!!" For, in return, Highfather will become guardian to the feral, fierce son of Darkseid and Tigra, Orion, who would grow to be the greatest of all warriors on New Genesis.
(During his brief trip to Supertown, the satellite city of New Genesis, Superman unknowingly sits with Highfather and laments, "To be frank, I'm a new arrival to New Genesis! And by every rule I should belong here! — Yet, I-I'm finding it difficult to adjust." The formerly-named Izaya the Inheritor looks over to the troubled Man of Steel and tells him, "There was a fierce young one with your problem! But we found a need for him here!! And it helped him mightily!!")
Granny shows Darkseid the beautiful, sleeping child in her arms. "He's been given some mild sedative, I think!!" Granny says. "There is a serene and fragile quality to his features!!"
Darkseid scoffs, "We'll stamp that out, won't we, Granny!!? We'll jam him into that clanking mechanism you call an orphanage!! All the rigors and trials heaped upon the training warrior shall be doubled for him!! His spirit will flag and his bones will ache!! — Until –"
"Until — sire??" asks Granny.
Darkseid confides the plan to begin a new age, one that will suit his galactic ambition: "He may conveniently decide to escape from Apokolips, Granny! Of course, on that day — The Pact I agreed to — will be broken!!"
"That fine day will be dear to your heart, sire!" she says. "Therefore, in its honor, I shall name the lad — Scott Free!!! Ha ha hah –"
We only learn of this, when young Scott Free is first handed over to Apokolips, over a year after the debut of Mister Miracle and, to boot, in another title, The New Gods. But this arrival of Izaya the Inheritor's scion is the first of two key, pivotal moments which serve to illustrate the dual core conflicts of the entire Fourth World saga (the second being the other side of the same bargain, the transfer of Orion to New Genesis). For it is Scott Free's destiny, by machination or fate, to physically — and psychologically — escape the torment of his upbringing and live a life of peace and contentment (albeit fearlessly facing death on a constant basis). For Orion, the son of the most malevolent power in the universe, his raison d'etre is to somehow to resolve the curse of his birthright by rejecting evil and serving good. He, too, has a date with destiny, in the streets of Armagetto, to confront his father…
In the story unfolding in the comic book series, we learn of Scott's background somewhat obliquely, first when The Great Thaddeus chuckles at first hearing Scott's full name. "It has a past, sir!" the young man explains. "I was raised in an orphanage, and many of the foundlings were given such names to sort of — well — make them feel as individuals!"
(An aside on the name: The American Heritage Dictionary defines scot-free, adj., 1. Without having to pay; free from obligation. 2. Without incurring any penalty; unpunished. [from Middle English scot, tax. See scot and lot.])
Soon thereafter we hear from she who named him and catch another glimpse of his background. Ranting to an underling, the old battle-ax bellows (in the third person, befitting her conceit), "She has lost her patience with rebellious boys! Granny Goodness wants to kill Scott Free! He was the first to run away from her institution!"
(Granny's use of the word "first" might be a hint that Jack had in mind the inclusion of Big Barda, another escapee of Happiness Home, from the very start of the series.)
Oberon, Scott's diminutive assistant, incessantly quizzes the young man about his past, giving readers the opportunity to learn more: "You claim to come from an orphanage, Scott — but it must be an incredible place!" The super escape-artist replies, "I came here — through the Boom Tube! … It can be a way of escape! — And I took it! I had to survive as an individual — as myself!"
Doctor Bedlam, another Apokolips villain (about whom Oberon coyly asks, "Another visitor from this mysterious home town of yours, Scott?"), begins to reveal the planetary vendetta against the runaway: "And now, to my task! — To subjugate and break the spirit of the young rebel who dared to reject the powers that rule his world — and the master I serve! The great Darkseid, himself!"
While preparing a Civil War cannon act in "Doctor Vundabar and His Murder Machine," Scott and Oberon engage in an informative exchange:
Oberon: "What is it like — where you come from, Scott –? You said it was a sort of orphanage — run by this old harpy — Granny Goodness!"

Scott: "You saw her, Oberon… I'm certain you found her quite impressive! Well, she's in charge of one of many institutions where the young of Apokolips are raised and trained to develop their inherent powers!! … You'd find the orphanage a nightmarish place!! Barda and I were raised there! When I had enough, it was she who helped me escape! I suppose that's what I've been doing ever since!"
Issues #4 through 8 of Mister Miracle had larger page counts than the rest of the run and they accommodated a particularly fine treat for avid readers who wanted to find out more about this enigmatic super-hero with a mysterious past. Short vignettes titled "Young Scott Free" gave us glimpses into the boy's military training and how one god from New Genesis took a special interest in the future Mister Miracle.
The first four-pager shows us Scott being punished by Granny and his fellow cadets. She barks at the boy, "Report, Scott!" Standing rigid at full attention, he replies, "I was derelict in duty and a traitor to the tradition! When I was given living specimens for my lesson in prisoner interrogation, I allowed them to overcome me and escape!!" Granny berates him as spineless and, beating him with her baton, she teaches him a lesson about whom Jack would later call "The Hunger Dogs": "Those living specimens populate Apokolips to Breed for Darkseid — To work for Darkseid! To be killed for Darkseid!!" Still Scott speaks from his empathetic heart, "B-but they look like us! They're weaponless!! They cry under torment!" Scott is further beaten and thrown into a "Contemplation Cell," where "a visitor who conquers barriers" — Metron, the Seeker and Wielder of Cosmic Knowledge — introduces himself and begins to prompt Scott toward escaping his life of violence and despair…
The second installment, two pages, is of Scott joining his zombie-like fellow inmates in the dining hall and features this great opening blurb: "Mister Miracles are not made overnight!! Sometimes they are in places where they must be jolted and wrenched and brought to the crossroads of destiny!! For reasons of his own, Metron, the enigmatic knowledge-seeker, began this process — in the realm of Darkseid!! In the iron institution run by Granny Goodness!! — And in another small segment of the early life of — Young Scott Free!" In the bit, Metron urges Scott to not eat the drugged grub ("saturated with 'brain-drain' chemical!") and to stay keen. "Your mind must be clear, boy!! It must be at its sharpest!! You see — it belongs to you!!" Metron (appearing only to Scott, with the others in the crowded mess completely oblivious) continues, pointing his finger at the youngster, "Scott Free owns your mind!! Who is Scott Free?? Would you die for idols before you discovered Scott Free???"
Scott's burgeoning competence as an escape-artist is center of the last, four-page scenario, which has him training on his Aero-Discs, which comprise a pair of a metallic cylinders on which the user places his feet, giving the ability of flight (Scott would use these as Mister Miracle) and engaging in a mock battle with para-demons.
The introduction of Big Barda of the Special Powers Force (and head of the Female Fury battle unit) gave us a bit more background, right from the get-go of their fateful reunion. Here's Scott and Barda's first exchange in the series, when Barda responds to Scott's remark about her full-dress battle uniform:
Barda: Yes, this is a far cry from our days as pupils of Granny Goodness!

Scott: You should have gone with me — when I escaped from her institution, Barda!

Barda: Yes — perhaps I should have — but I stayed! Stayed — to become… what I am!
A little while later, during a relaxing moment in Scott's home:
Barda: How about your welcome for Big Barda?

Scott: Maximum is the word for you, Barda! I could never think of you without deep and genuine fondness!

Barda: I helped you in your first great escape!

Scott: Yep, Oberon! If not for Barda, I might have turned out to be a grim, tough product in the Granny Goodness tradition!

Barda: I risked severe punishment to help you bolt Granny's institution!
From then on, the pair are inseparable, first as comrades, later in a more intimate capacity.
Early on, it's obvious that Scott's escape from Apokolips, though details have yet to be revealed to us, has somehow besmirched the honor of Darkseid and his elite. Granny Goodness and her pet Overlord, Doctor Bedlam and his "Paranoid Pill," Virman Vundabar and his "Murder Machine" — all are sent to Earth in a pathological group-obsession to kill Scott Free for his audacious disobedience of the King of Evil, each setting typically complex, inescapable traps only to be foiled time and again by Mister Miracle's tenacity, cleverness and seemingly bottomless bag of tricks. And time and again Scott Free takes on all comers. But the edges begin to fray…
By the end of the Vundabar affair, their relationship begins to grow more meaningful after Barda apologizes for having been daunted about Scott's safety (Barda says, "Scott–!! Scott — forgive me!! I-I was afraid! — for us! I — a warrior–" And Scott replies, "You're better than that, Barda!! You're a woman!!" as he flies atop his Aero-Discs, carrying Barda in his arms), the couple becomes closer, more caring, and a deeper bond develops. And as their lives are an endless defense against Apokolips interlopers, Scott begins to contemplate another escape plan, this one far away from home base, apparently ground zero for Apokolips hierarchy and each one with the same beef against Scott.
Enter Funky Flashman, a con man looking for a pigeon, and the Female Furies, Barda's former command now ordered to kill her and Scott. Funky tries to sell himself as an able business manager to Scott, who despite knowing the scoundrel is a "transparent second-rater," see the promise of touring as a way to get away from the Apokoliptian hordes. Scott tells his assistant, "Touring means constantly on the move, Oberon!! That's what's important! We must become mobile!" And the onslaught of Stompa, Lashina, Mad Harriet and Bernadeth only add to the itch to hit the road.
Scott: Will the hunting dogs never stop coming!?! … Earth isn't small! Perhaps we can lose ourselves in hamlets, cities — continents –!! Perhaps, in time — the forces of Apokolips will give up the hunt!!

Barda: It's a delusion, Scott! Only I'll buy it!
But the attack of the Female Furies and their defeat by Big Barda fatigue the woman warrior and Scott has a change of heart, not to flee but to confront. "This has got to stop! I won't stand for others being harmed on my account!! It's time I stopped running!! It's time I stood my ground!!" And, at the finale of "Funky Flashman":
Scott: Our battle is with the forces of Apokolips! — and with ourselves!! We had the courage to break free of them! — Do we dare to return — and face them down?!

Barda: If we dare — We die!! Well, I'm a soldier, Scott!! I'm trained to die!! But, you — you're beautiful inside!! They never got to you!! And now they'll do things to you —

Scott: Enough Barda! There is NO freedom in running!! I'm going BACK and win it THEIR way!! — in TRIAL BY COMBAT!!
This is a crucial moment in Mister Miracle's development as a character and Scott Free's ascension to maturity, as well as a delightful indication how the Fourth World was evolving beyond the usual static-world confines of American adventure comics. Scott is changing, facing his apprehensions and wanting to move on, and not succumbing to the greatest of Darkseid's powers, fear itself. Whatever his fate on Apokolips, his decision to stop risking others' safety and to stand his ground for his devotion to freedom and individuality proves a great victory for Scott Free — even if it is an incredible gamble. The introductory blurb in "The Apokolips Trap" nicely spells it out: "Would Scott Free be so foolhardy as to return to the nightmare world from which he escaped?? Yes, good friends! It still has roots that must be cut! Roots that reach to Earth and destroy all that Scott has learned to love — His friends! — His craft! — His new life!! — And besides — Death has the same face — wherever he strikes at Mister Miracle!"
And, with that thunderous declaration by a newly invigorated hero, the constant companions prepare a return to the nightmare world of their childhood. First, in a poignant scene, Scott must say goodbye to his faithful Oberon, explaining the situation to the dwarf as would father tenderly explain the complexities of life to a son:
Scott: We must leave, Oberon!!

Oberon: Why must you leave!? Why!? You escaped from Apokolips once! Do you think that Granny Goodness and her creepy pets will let you do an encore??

Scott: No!! But strangely enough — like all organized societies, Apokolips exists by rules!! — Made by Darkseid — and kept by his subjects!! This time I must escape from Apokolips — within those rules!!
(We'll get to our hero's sense of honor and fair play in our next entry, part two of the life and times of Scott Free, Mister Miracle, but do take note of his preoccupation with rules.)
"The Apokolips Trap" and "The Battle of the Id," the remarkable homecoming issues, show us just how much all-consuming fear the elite of Darkseid's world have of this unassuming young man and to what lengths they go to in their attempts to destroy him. Only Kanto, Darkseid's personal assassin, gives Scott proper respect. The others, Granny most of all, yearn to be first to tell Darkseid that Scott Free is dead.
After surviving a veritable gauntlet traveling through Apokolips, Scott and Barda arrive at Happiness Home, the notorious orphanage where they once lived. "Tell Granny that I'm back!!" orders Scott to one of the maven's underlings. "Tell Granny I claim freedom — by Right of Combat!!"
Now Scott is speaking the same language as his enemies! Dressed in her Victorian jammies, Granny revels in the return of the young man. "Granny's been waiting for this day, Scott Free!!" though actually speaking this to herself. "The day you would march back here and flaunt your impudence!! Well, you forget, sir!! — a trap made by Granny — is a trap of the gods!!!"
That trap, a psychological war, of sorts, with The Lump, is unsuccessful, though at one point Granny believes Scott has been killed. She tells the marauding Barda, who has arrived to save Mister Miracle, "I should've known you'd break the rules again! — for him! Well — you're too late this time, Barda! Scott Free is dead! Unlike yourself, he understands the rules laid down by Granny — and died an honorable death!! As for you, traitor –" (A sliding scale of honor, Granny has!)
After the dust has settled, Scott, in a sweet moment between the increasingly intimate couple, tenderly soothes a tearfully distraught but now relieved Barda after "The Battle of the Id"… There's a growing attachment here between these two.
Then comes the true origin tale of Young Scott Free and certainly one of the most important stories in the tapestry we call the Fourth World. Now, with "Himon," we get the complete story of Young Scott Free's escape from Apokolips, certainly one of the best single stories in American comics. It is everything we love about Kirby's work: it's kinetic, passionate, visceral and unabashedly afire with pure, primal rage… It is dark, hopeful, vicious and profoundly sweet. It is, my friend, not to be missed.
The introduction copy to "Himon" sets the stage: "Thus we are witness to a bizarre incident — the story of it is old! It reaches back to the days of the 'Great Clash' between New Genesis and Apokolips! The battles were fought for total creeds, with total tools — and there were victims of it who survived with new and total arts! This is the story of Himon, the ultimate escape-artist who fostered Mister Miracle by teaching his trade to — Young Scott Free!"
(An aside, if I may, on the Dickensian motifs that abound in Jack's depiction of Apokolips, a world not dissimilar to the London slums of the early Industrial Age (if you were to combine the locale with a Fascist power structure promulgating a society completely dedicated to perpetual war!). As a matter of fact, Jack is rather explicit about the work of English novelist Charles Dickens having an influence on Darkseid's planet! Early on, Oberon prods Scott for information about this sinister other world:
Oberon: [Speaking of Virman Vundubar] His name is even goofier than yours!! Did all you orphans get tagged that way?

Scott: I'm sure you've read Dickens' 'Oliver Twist!' The kids in that situation had such names — 'Artful Dodger!' — Oliver himself!

Oberon: Sure! I get it! There is a similarity!! But it ends right there!! Your orphans are hardly the wide-eyed, helpless type!

Scott: True! The products of Apokolips — wield the power of Apokolips!!
And, in his descriptive captions, Jack references the British author: Prefacing the first "Young Scott Free" vignette with "In the tradition of Oliver Twist and David Copperfield" and, in another, "Given these very same circumstances, in another context, Oliver Twist may well have become — Young Scott Free!!" In the "coming next issue" blurb in Mister Miracle #9: "If you remember Fagin in Oliver Twist — you'll never forget Himon!" Apparently it's not unusual for the new gods to read Earth literature, as we learn in The Forever People adventure, "The Power," both Vykin and Big Bear are familiar with George Orwell's dystopian vision of Earth's future, 1984.)
The Scott Free we first meet in "Himon" is rather brash and arrogant, instilled with a militarist's sense of superiority. When he initially encounters the legendary Himon, thorn in the side of the Apokolips elite and a rebel leader (if you will), never mind all-around genius (who developed the two most significant technological advances in the history of the two worlds, Mother Box and the Boom Tube), Scott sneers, "I was a fool to seek you out! I don't know what prompted me to come to your filthy den!" Himon replies, "To learn about this Mother Box — to discover Scott Free — to escape!!"
A meeting of the two greatest minds of either world in this issue features this discussion of the future Mister Miracle's destiny:
Metron: Scott Free will play no part in [the Orion/Darkseid showdown in Armagetto]! His destiny is to escape from Apokolips! Darkseid plans to kill him for that and begin a new war! You must help Scott escape unhurt!

Himon: You showed Scott the way to me — and I can teach him to escape Apokolips! But I can't give him the resolve! Only Scott can renounce what he was here! But a destructive revelation is not a father! — And a slaughterhouse is not a home! — For one born on New Genesis!
Perhaps the most significant catalyst for Scott's — and, later, Barda's — breakout from the hellworld is the treatment young Female Fury Auralie receives at the hands of District Protector Wonderful Willik. Auralie is one of Himon's young prodigies that Scott Free meets during his first meeting with Himon. As the great escape-artist and inventor introduces Scott to his troupe of "heroes," the future Mister Miracle looks down his nose at a quiet young girl gazing into images of dancers within a transluscent cube. "Show me the value of this female, Himon! She does nothing but stare into that Mind-Video!" Himon gives the girl an affectionate look and retorts, "Auralie's thoughts are beautiful! She creates beauty! Imagine — doing this on a world like Apokolips! Poor, brave Auralie! — Trying to survive with her inner beauty — in that grim house of horrors Granny calls an 'orphanage!!' You're free to dance here, Auralie — Just like your images in the Mind-Video! You won't be punished — we'd like to watch you –!"
Just as she is about to perform, Auralie is accosted by young Lieutenant Barda who is hunting with her fellow Furies for the AWOL cadet. (It is here Barda first meets Scott Free.) Later, when Scott and Barda are called before Wonderful Willik, he lectures Barda and says, "You Female Furies are quick to bare your claws! But you did have one among you — a fragile, little failure –" Barda demands, "Auralie! Where's Auralie? S-she's — been — missing –!" A smug smile cracking across his face, Willik opens a chamber door, revealing lifeless, thin young legs bound in a sinister, smoldering apparatus looking like mechanized footwear. "We found her!" says Willik. "Dancing like a pretty little doll! — For which we gave her a pair of high-voltage shock boots!" Auralie was tortured to death…
Then, ever closer to his resolve to escape the nightmare planet, Scott is comforted by his new mentor, revealing perhaps why the hierarchy of Apokolips is so singularly obsessed with him after his journey to Earth:
Himon: Yes, Scott! Darkseid fears you, too! Because, you, too, can dream of things beyond Darkseid! What is the dream released inside Scott Free?

Scott: I-I don't know –! I — think — it's serenity — embodied in the voice of a woman — I-I cannot see! Always she says — 'You know, Izaya, — I've never heard you sing –' I cannot see the woman but I'm filled with the serenity she brings!

Himon: That dream is yours, Scott! Yours!!

Barda: To dream beyond Darkseid!! — On Apokolips, it seems unthinkable!!
Soon Scott Free makes a run for it. "Then, escape finally comes! Scott is stripped of his rank! His mechanisms taken! — All but his Aero-Discs! He bolts!" And young Lieutenant Barda helps him in the breakout.
Scott: Barda! What you're doing is unheard of here! Why are you helping me?

Barda: Because I like to help fools! — Because I couldn't save Auralie! I don't know!
The only way to depict the climax of this poignant, astounding story is to simply transcribe the dialogue. It's no better way to end an entry on the subject, too, for after jumping into the Boom Tube and traveling to Earth, Scott Free becomes something different, someone grander and more resonant — a man of miracles, escaping an inescapable world completely devoted to fear and the adoration of death. With this he is hope personified, proof as he will later say, that Darkseid's world can fall:
Scott: I-I won't be stopped! I-I — I'll crawl to freedom — come — with — me —

Barda: Not — yet — Scott! I-I'm not ready — perhaps — someday — keep going!

And protected by their own mysterious powers against the forces that bind Scott, two allies await!

Scott: Himon! Metron! You've created a Boom-Tube! It's denied to all but Darkseid's hierarchy!

Himon: It's open to you, Scott! An open door to — Earth!

Darkseid: HE CAN TAKE IT! I'LL NOT STOP HIM NOW! IF COURAGE AND BRAVERY TOOK HIM HERE! — SOME OF IT WAS MINE! STAY, WARRIOR! LET ME COMPLETE THE DESTRUCTION OF SCOTT FREE — SO YOU MAY LIVE WITH THE MAJESTY THAT IS THE POWER OF DARKSEID!

Darkseid: The young fool goes on! He struggles to rise! If he leaves Darkseid, he'll still find Death!

Himon: If he leaves Apokolips, he'll find the universe!!!

Scott: LET ME BE SCOTT FREE — AND FIND MYSELF!
Next entry: Life After Apokolips: The Life and Times of Mister Miracle, Super Escape-Artist!