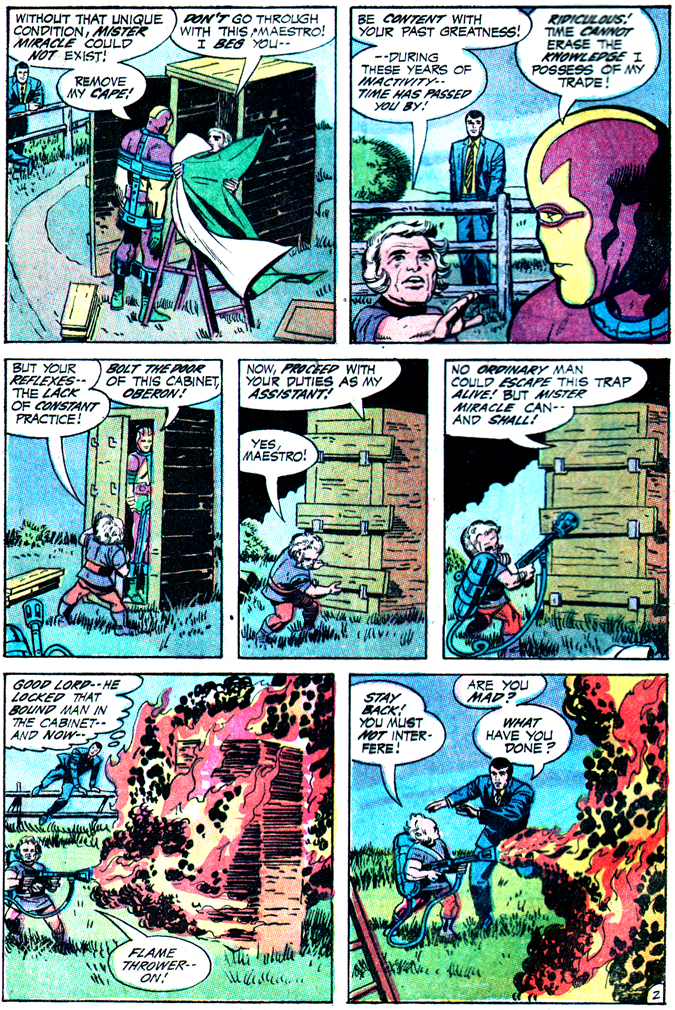 Oberon was the longtime personal assistant of the Great Thaddeus (a.k.a. the original Mister Miracle) until the showman's tragic demise and the curmudgeonly dwarf thereafter attended to the "new" Mister Miracle, Scott Free. Little is known of his background other than Oberon's decades-long dedication to Thaddeus Brown but he remains a constant and useful companion for Scott, always a voice of caution (often exceedingly so) and his loyalty and devotion are important components of the acclimation to Earth culture by Scott — and later Big Barda.
It is with Barda Oberon has a salty though affectionate relationship, bantering mild insults back and forth, and providing a nice comic relief to all the death-defying doings happening with the growing team. Upon the female warrior telling Scott, "I risked severe punishment to help you bolt Granny's institution!" Oberon snidely suggests to his employer as he turns his back on the pair, "If you ask me, it would have done you a world of improvement if she'd left with you, Scott!" At this, Barda raises her mighty Mega-Rod to strike the dwarf, only to be stayed by Scott, who tells her to steady herself: "Easy –." And Barda hisses through her teeth, "The little rat — he needs a disciplined tongue!"
Perhaps the most stirring moment in the entire series occurs when Scott and Barda are appearing to return to Darkseid's planet in the homecoming and a distraught Oberon desperately urges them to reconsider. The Female Fury, in full-dress uniform, sneers at the diminutive assistant:
Barda: Don't fill this room with sentimental slop! Just say goodbye — and blow!

Oberon: Listen to Big Barda! Look at yourself, Scott!! It's like that demon's place, Apokolips, has taken hold of you both!! — and claimed you forever!!!

Scott: We must leave, Oberon!

Oberon: Why must you leave!? Wny!? You escaped from Apokolips once! Do you think that Granny Goodness and her creepy pets will let you do an encore??

Scott: No!! But strangely enough — like all organized societies, Apokolips exists by rules!! — Made by Darkseid — and kept by his subjects!! This time I must escape from Apokolips — within those rules!! [With that, Scott hands Oberon his carpetbag.] Here! My bag of tricks! I leave it in your care, Oberon!! It must never be opened!

Oberon: I-I'll see to that!!! It'll be in this closet when — you — get — back!!! Who would want it, anyway!!? It's a fool's bag!! — waiting here — for a young fool!!!

Barda: Get out! Get out! — You little sawed-off drip!

Oberon: I'm going!! For just a little while, I-I thought you were really a big, beautiful warm-hearted girl!!
Here, both in tears, Barda crouches down to the floor to embrace the little man.
Oberon: — Instead of a loudmouthed, military, man-killing harpy turned out by those terrible Darkseiders!!

Barda: Oh, shut up! — or I'll — I'll — Oh, take-off!! When we get back, I'll really blister you!! Now march!!

Oberon: I'll be here! I'll — always be here!!

Barda: Good old Oberon! There's a lot of person in that small package!! Oh well!
Oberon is not only attached to Barda, he's also a little prudish about a single girl living in the same house with two bachelor men, as he tells Scott, "That female 'Attila the Hun' has really taken over here, Scott! If she decides to stay — it may seem very improper –" though Scott tells him not to worry about it.
As a literary device, Oberon provides an audience for Scott's exposition about the larger forces lurking, whether about his upbringing on Apokolips or the various players in Darkseid's cadre of evildoers who plague the two. As Jack ever so slowly unravels the background story — it took nine issues of the title to get to Scott Free's origin — the writer/artist expertly weaves in hints and shadows of a greater epic in play, and Oberon is the perfect human character to help the reader process the fantastic developments and make a earthly response.
As cranky and complaining a sidekick can be, Oberon is also very lovable — and not because he's the size of a large Teddy bear, but because his affections for Scott and Barda (and later Ted Brown) are always near the surface of his crusty demeanor. He also keeps a lookout for business opportunities for the Mister Miracle team and often participates in the show (sometimes with chip firmly placed on shoulder as he is forced to dress in costume — here as a tiny Civil War soldier; there with complementary super-hero get-up, complete with flowing cape!). When helping Scott with the cannon gag, Oberon says, "But look at me!! How do you think I feel in this Civil War 'get-up!' Besides, if I get laughs from your audience — it could 'upstage' your performance!" Mister Miracle answers, "We're both stars in this act! It needs all the color we can give it!"
When Oberon was forced, at Ted Brown's insistence (as Ted had become, for a time, the act's manager), to don a virtual super-hero costume, he complains to himself as he looks into a mirror, "The Great Thaddeus would certainly have frowned on the shenanigans his son has dreamed up! And that flashy uniform and cape I must wear in the act! — Ugh! It's really something else –! [at the reflection of himself in a mirror] Ahh! There y'are! — The humble, but talented Oberon! — And I must say you look mighty relaxed without the fancy trappings and the frozen grin!"
(I can't resist mention of one of the truly memorable bits of Kirby humor cartooning is when Funky Flashman, who calls the assistant "Little Pixy," prepares to kick Oberon behind the little guy's back — great stuff! And then there's this exchange when they first meet, when Funky stoops so low as to pinch the dwarf's cheek!:
Funky: And this fantastic elfin creature can be none other than Oberon, mentioned briefly in your letter!

Oberon: Easy there, buster!…

Scott: It's Oberon's coffee that's fantastic!)
As vital and necessary as the character is to the Mister Miracle saga, Oberon is, well, a delightful addition to the mythos and it's always a joy when he is part of the action. And the assistant is also a catalyst to give us readers a sense of Scott Free's depth of compassion and love for others, as Mister Miracle is always ready with words of encouragement and terms of endearment for his tiny friend. I mean, the Super Escape Artist is just about the nicest super-hero as ever there was! And Oberon returns the sentiment, telling his boss, "I'm proud to be your assistant, Mister Miracle! You're the greatest!" Another time, Scott gives his friend an "attaboy" by telling him, "Good work, Oberon! Keep practicing and you'll be a star performer one day!"
Tears again flow as Scott and Barda do leave Oberon, this time for good immediately after the wedding ceremony. While hoping that he and Oberon (as well as Shilo) will meet again — "Our paths part here. But they may merge again" — Mister MIracle says goodbye to his faithful companion:
Scott: I'll miss you, old friend. In the face of peril, I'll always remember that you cared!

Oberon: By daring death, you taught me the value of life. Scott — Scott —
And by both embracing life so fully, Mister Miracle and Oberon instructed us on the importance of friendship!