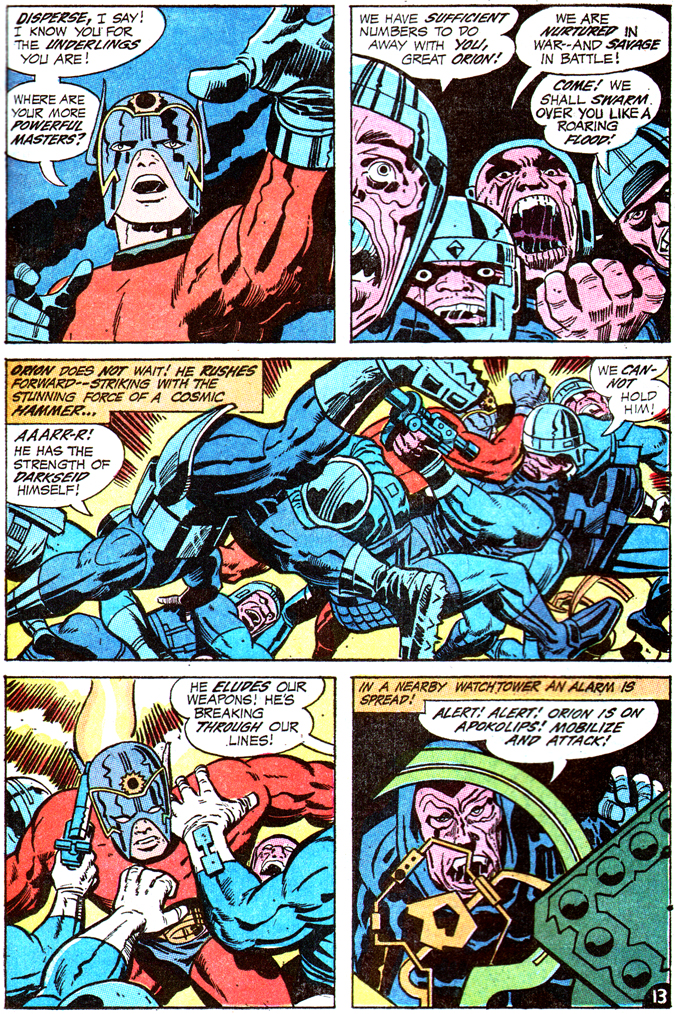 At the risk of repeating a Himon quote I've already used in this blog, I can't resist the succinct and graphic definition of service on Planet Darkseid by that "lovable old rascal who taught Scott Free his trade":
"You're a nothing! You're an object! Your body is a weapon! — And your mind is its trigger! You're given a world of conflict to test and improve your ability to kill! And you kill! — For Darkseid! — It's the driving purpose of Apokolips!!"
As apt a description as any for the inhabitants of the holocaust world, especially so for the soldiers and specialists who serve as minions for the supreme ruler and his elites, those just above the slave labor "lowlies" and below the officers and "aristocracy" in the rigid caste system of Apokolips. Allow yours truly to delineate some specific groups of different corps:
Gravi-Guards: Possibly the subterranean contingent of Darkseid's shock troops are some of the earliest Earth invaders. These magenta-colored, oversize creatures are endowed with the power to "transmit gravity waves from heavy mass galaxies," and are able to apply crushing weight to even the mighty Superman.
Darkseid's personal guards are audacious enough to abuse even the Tiger-Force's elites, as a couple manhandle and berate Mantis.
Unnamed uniformed "Underlings" who attack Orion en masse when he first arrives on Apokolips during the opening volleys of the Super-War. Apparently without superior officers, they seize the initiative and rush the new god: "We have sufficient numbers to do away with you, great Orion!" Another exclaims, "We are nurtured in war — and savage in battle!" And yet another: "Come! We shall swarm over you like a roaring flood!"
(I suspect the aforementioned unidentified platoon is related to an earlier encounter with Orion, when as a boy he is forced into the dimension chamber after flattening a good number of the soldiers in resistance.)
Glorious Godfrey's Justifiers: While certainly a good number of the zealots are earth-born, others seem to be Apokolips natives, as one exclaims, "Anti-Life works! We're justified in ridding the city of this human trash!" Godfrey's immediate lieutenants look like Madison Avenue types, well-coiffed and one bespectacled; whether they are of Darkseid's world is debatable.
Inter-Gang goons: While some seem to speak in an American vernacular (two of 'em tell Thaddeus Brown, the original Mister Miracle, "Yeah! We think you smell, too!" and "Your gimmicks are rusty! They drag, man!"), 1970s' slang is not unknown on Apokolips, as indicated by the seductive talk of Section Zero's guard post sentry who woos a Female Fury: "It's your hands I dig, Gilotina!" I tend to think the ones appearing in trademark Kirby uniforms typically as recruits from Apokolips, though they can also be of mixed origin. These thugs include:
• Steel Hand's henchmen, one a sniper who assassinates the Great Thaddeus
• Pilot/gunmen of the Inter-Gang helicopter who fire at Superman with a Sigma-Gun (though the gunner does sound like an Earthling with his Dracula banter)
• Ugly Mannheim's shock gun-wielding Assault Troops, who attack and kidnap Jimmy Olsen, the Guardian and Goody Rickels
Back to the Apokoliptian hordes, Steppenwolf's Demon Raiders appear in the hunting party sequence where Izaya's wife is murdered (and likely a designation that becomes become Darkseid's Raiders later in the saga). Certainly, the Para-Demons, both present and pre-Great Clash, qualify for minion status but are unique enough, methinks, along with the Dog Calvary [coming tomorrow!], to warrant their own entry.
We also have the "Soldier Boys" of Granny Goodness (a.k.a. Granny's Raiders), with their bug-like, pointed helmets, doubtless trained in her notorious "Finishing School." They appear on Earth during the Overlord sequence, spouting their affection for the old battle-ax: "She'll sing our praises and give us gifts! I can't wait to get back!" (And the schoolmistress returns the love — "My soldier boys never fail their Granny! My solider boys are the best!" even given her tendency to open a can of whoop-ass on the grunts.)
Back on Apokolips, one of Granny's military escorts is abused into submission by Big Barda upon her return to the barracks of the Female Fury Battalion.
Virman Vundabar's troops appear similar in appearance to Goodness's crew and might be from the same company/division. In their Earthly encounter with Barda bathing in a stream, we even catch a glimpse of a couple of fancily-clad superior officers, who order her to be shocked by an Energy Disperser. Vundabar's subordinate Klepp gives us another look at an upper-level officer of Apokolips.
The Harrassers of Night-Time are "brutal, relentless, and efficient" in beating obedience into the young and fearful new recruits to Granny's Happiness Home. We learn that Hoogin, the presiding Harrasser, had been demoted when Scott Free first escaped Apokolips.
Additionally:
• There's also Doctor Bedlam's chrome-skinned Animates, servitors of the evil possessor of the Mind-Force
• Border Guards, one an "arrogant dog" who dares to fire upon Big Barda of the Special Powers Force
• Kanto the Assassin's Jet-Bow Squad, executioners attempting to pierce Mister Miracle on his return to the nightmare world
• Aero-Cycle Patrol, guardians riding levitating speedsters in the neighborhood of Longshadow
• Section Zero guards, including those escorting combatants of The Lump and "Non Being" prisoner guards, who openly berate the captive wife of Darkseid, Tigra, the disfavored mother of Orion
• Wonderful Willik and his District Protectors, a troop which brazenly massacres Lowlies in ruthless pursuit of Himon, the man "hounded by an army of Darkseid's murderers — He's the only free mind on Apokolips!"
Though it's definitely fear that keeps the subordinates of Apokolips in line, it is worth noting that in a "Young Scott Free" sequence we see the cadets dining mess and ascertain the food they eat, their "Energy Blocks," are "saturated with 'Brain Drain' chemical," as phantom Metron informs the future Mister Miracle.
The bottom-most caste in Darkseid's cruel, merciless society? They are the Lowlies and, in the climax of this epic adventure, we will call them the Hunger Dogs…