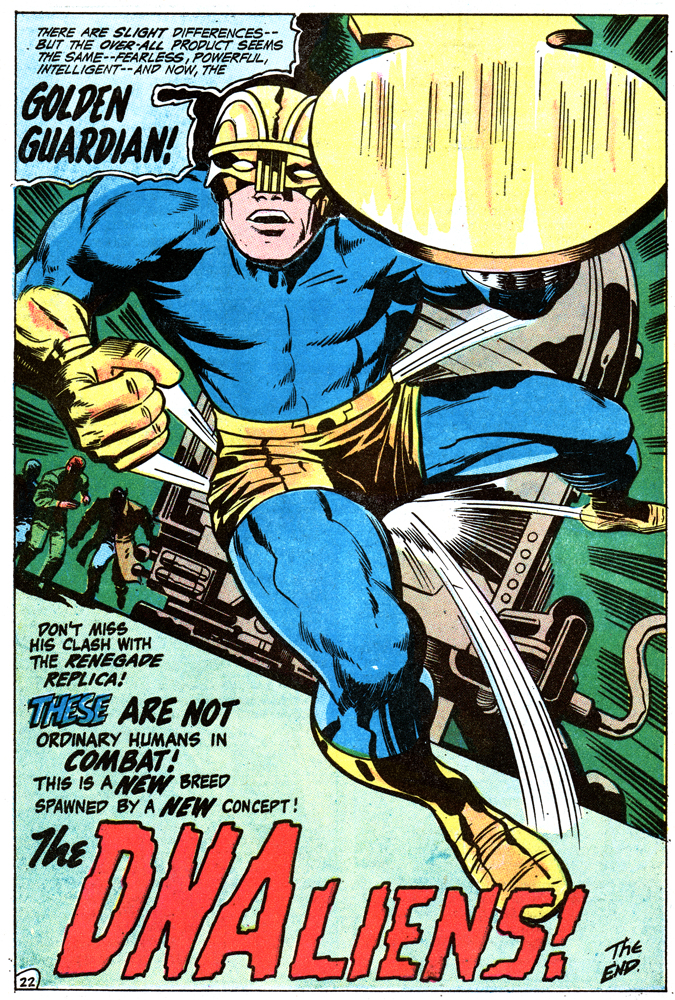 Talk about an in-your-face ending to this ish! Here, comin' rightacha, is the return of one of Jack and Joe Simon's great 1940s super-hero creations (the last costumed hero the pair initiated for DC during the WWII era), The Guardian! Originated as a guardian angel of a group of paperboys, in 1942's Star Spangled Comics, the adventurer is actually Suicide Slum beat cop Jim Harper, who apparently can justify his nightime vigilantism. The group headlined SSC until their disappearance after the war.
To be frank, The Guardian was a bald-faced swipe of S&K's greatest creation, Captain America, right down to the shield (though the DC character's accessory was in the shape of a police badge), only without the "Old Glory" color scheme and Harper didn't have just one kid sidekick — the rookie-by-day had four: Scrappy, Gabby, Tommy and Big Words!
Admittedly, The Guardian, with his great cyan-&-gold ensemble (was the helmet gold-leafed?), served as permanent guest-star within the breathless exploits headlined by The Newsboy Legion, but the audacity of S&K of virtually transplanting Timely's "Sentinel of Liberty" and making a home for him at their new publisher, The House of Superman, was exhilarating and apropos of the creative team's tenacity and chutzpah. (The duo suspected they were being cheated out of royalties by Timely publisher — hence their move — and they only produced ten issues of Captain America Comics… but, boy oh boy, what star-making issues they were!). Here was a S&K action hero smashing, punching, flying, exploding from the page… Yowza!
I'll confess, too, that though I had zero prior knowledge of the character, upon first seeing this very same final page of Superman's Pal, Jimmy Olsen #135, The Guardian instantly became one of my favorite super-heroes (a very short list). Why he's never caught on in the "DC Universe" to much of a degree is a shame; maybe because he's a Cap rip-off? But that's one of the main reasons I dig the hero — it's S&K stealing from… S&K!!!
But, wait, this isn't the original Guardian. This one has been grown from the dead cop's DNA in The Project from a test tube by Harper's former wards. And, there is something even more different about Guardian 2.0… The clone complains of feeling out-of-sorts… Doc Big Words worries that the resurrected Harper has "some strange unidentifiable activity in the brain area," and later agrees that though, "He's physically perfect and well-adjusted mentally! But in his brain is something common to all of the living products of our genetic labs! Something still elusive!"
Alas, Jack never expanded on these tantalizing hints of storylines to come, and while the hero only guest-starred in a small handful of JO stories during the Kirby run, The Guardian of Metropolis was a joy to behold!
Coming Soon: After tomorrow's JO #135 round-up, we finally advance to the second title in Jack's Fourth World opus, The Forever People, so grab your Mother Boxes, buckos, cuz the Super-War heats up Big Time! (Remember, we're dissecting the 4W chronologically, looking at each issue in the order they were published.)