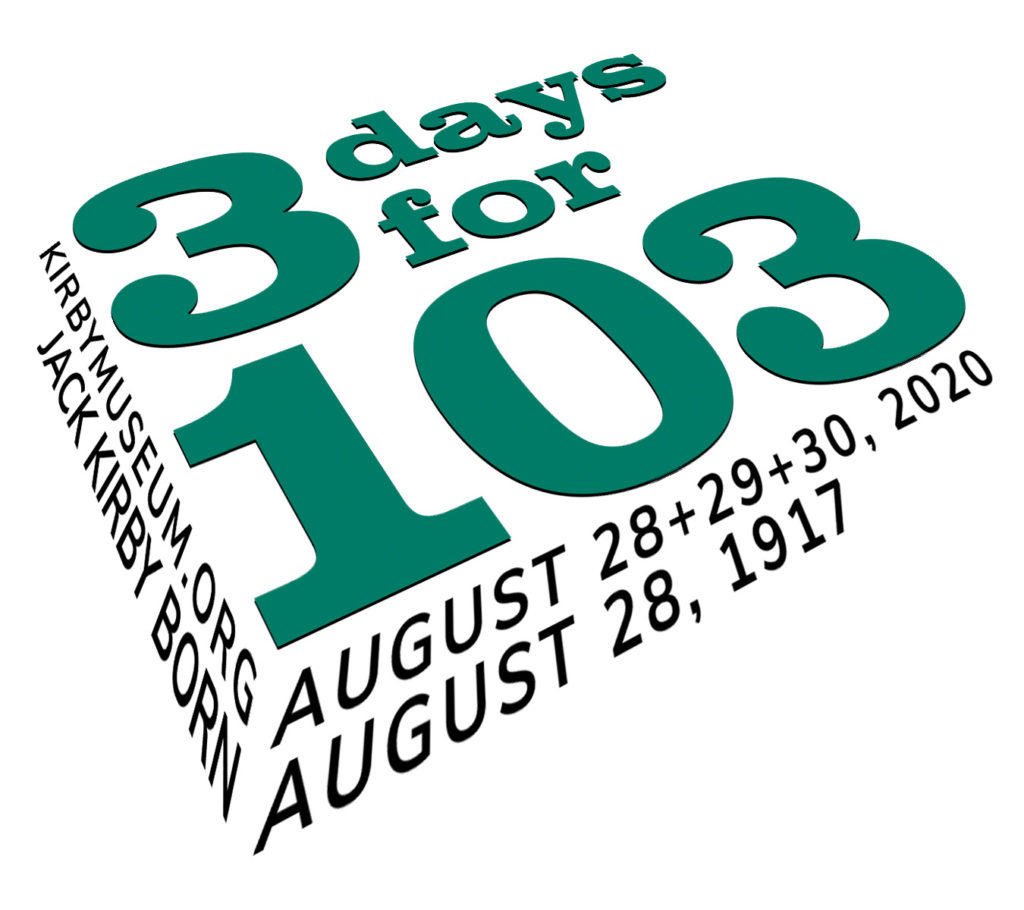 To mark the 103rd anniversary of Jack Kirby's birth, the Jack Kirby Museum and Research Center will host a three day virtual pop-up event, celebrating the life, legacy, and boundless creativity of the King of Comics on August 28, 26 & 30, from 11 AM until 7 PM.
"3 Days for 103" will be streamed live to Facebook and YouTube. If you follow s there, and have chosen to receive notifications or alerts, you should be informed when the events are happening. We're also including individual events links below. The events will also stream to Twitter (Periscope), but there are no individual links to share – you should see them if you follow @JackKirbyMuseum
Keep an eye out on social media for the #Kirby103 hastag!
Our schedule, Friday August 28th
All times are Eastern US
11 AM – Introduction and welcome,
12 Noon – Tom Scioli
1 PM – Steve Sherman, Mark Badger and Bruce Simon
2 PM – Rob Liefeld
3 PM – James Romberger
4 PM – Mike Royer
5 PM – Tracy Kirby
6 PM – Jeremy Kirby
7 PM – Virtual Party
Our schedule, Saturday August 29th
All times are Eastern US
11 AM – Cartoons & Cereal
12 Noon – Jean Depelley
1 PM – Bechara Maalouf
2 PM – Erik Larsen
3 PM – Kate Willaert
4 PM – Charles Hatfield
5 PM – Barry Ira Geller
6 PM – David Russell
7 PM – Auction
Our schedule, Sunday August 30th
All times are Eastern US
11 AM – Ray Wyman, Jr.
12 Noon – Adam McGovern
1 PM – Elana Levin
2 PM – Jamal Igle
3 PM – Different! – A reading of a classic Simon & Kirby Romance
4 PM – Sydney Heifler
5 PM – Abe Riesman
6 PM – A Tour of our Digital Archive & Final Thoughts