T-Shirts | Pins, Prints & Posters | Books
Shipping/handling is set to be $6 per order to the US, and $20 international. If you order many items, we may ask you for more $ to help with shipping. We are currently shipping out approximately once a week, so please keep that in mind.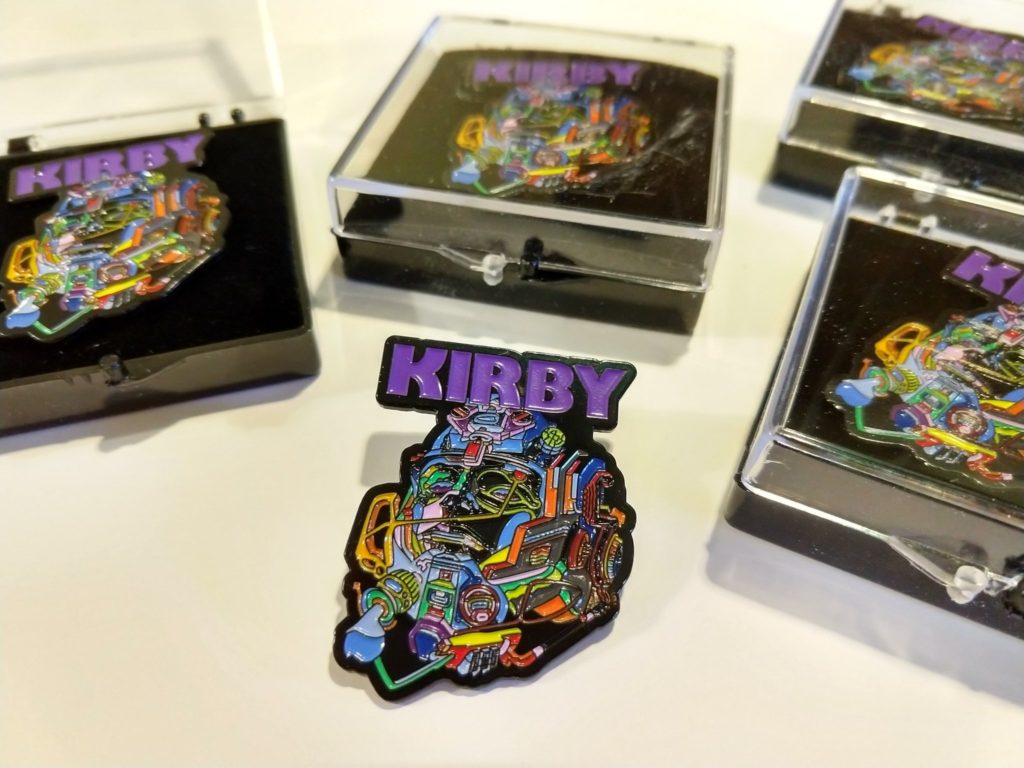 Galactic Head pin
Who doesn't want a 1 3/4″ Kirby Galactic Head soft enamel pin? C'mon! It comes in an acrylic case and has a black rubber clutch.
$10 plus $6 shipping/handling in the USA, $20 elsewhere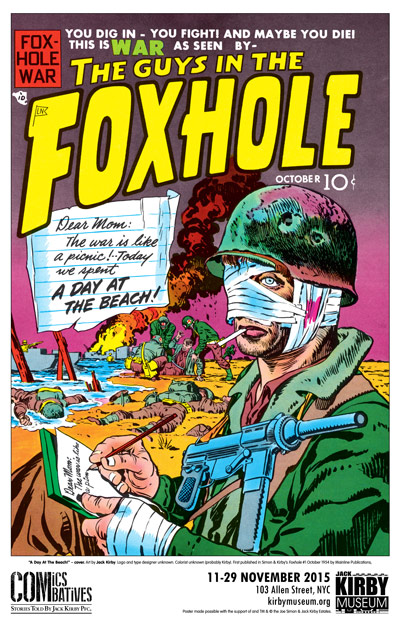 Comics Combatives Foxhole poster
Thanks to the support of the Joe Simon Estate & the Jack Kirby Estate, we produced this poster to commemorate our November 2015 Comics Combatives pop-up. Using original four-color separation stats for the Foxhole #1 cover from Joe Simon's files, we printed a beautiful 11″ by 17″ poster.
$10 plus $6 shipping/handling in the USA, $20 elsewhere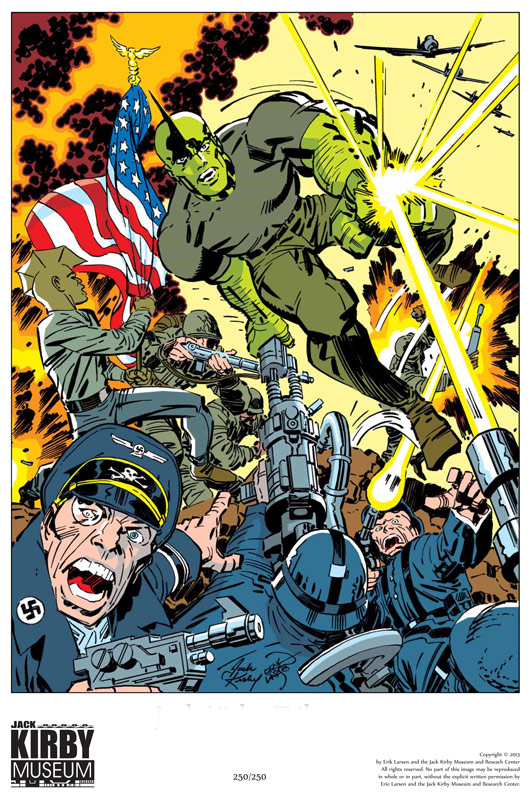 Erik Larsen's Savage Kirby Dragon print
Created as an exclusive for Erik Larsen's appearance with the Kirby Museum at the 2013 Calgary Comics and Entertainment Expo, we've got a few signed extras of this 12″ by 18 " Savage Dragon/Jack Kirby mash-up print.
$25 plus $6 shipping/handling in the USA, $20 elsewhere
Tribes Trilogy
The Tribes Trilogy series are digitally remastered and restored from scans of the original art drawn, inked and colored by Jack Kirby. This first set is limited to an edition of 50 with the first 10 numbers held in reserve
Each print has the Kirby 100 logo and an embossed Kirby Museum logo. Prints are 18 x 24 inches. Printed as high resolution Giclée using Epson UltraChrome HD pigment inks. Paper is Epson Hot Press Natural, Smooth Fine Art heavy weight (16mm) paper and is archival, acid-free, 100% cotton fiber.
For all our orders, our store includes $6 for US and $20 for international shipping/handling, so we will add an extra $5 to the individual prints to cover the special needs of these prints. If you place a large order, we might have to ask you for more $ to help with the shipping.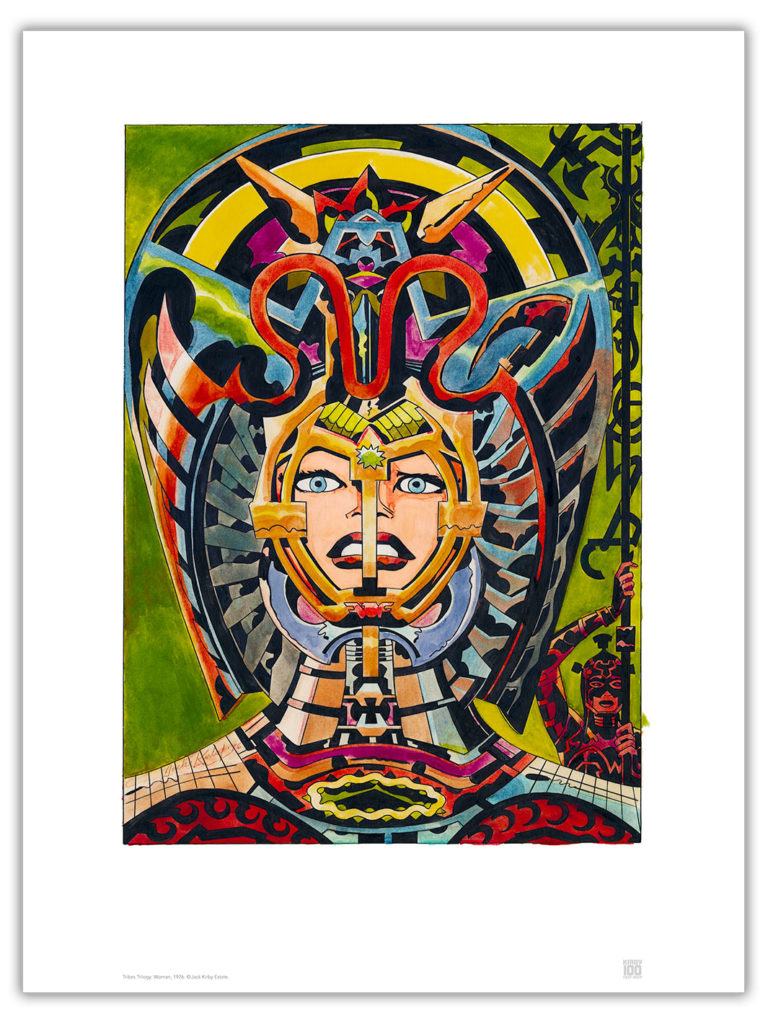 Tribes Trilogy: Woman
$65 plus $6 shipping/handling in the USA, $20 elsewhere
Woman print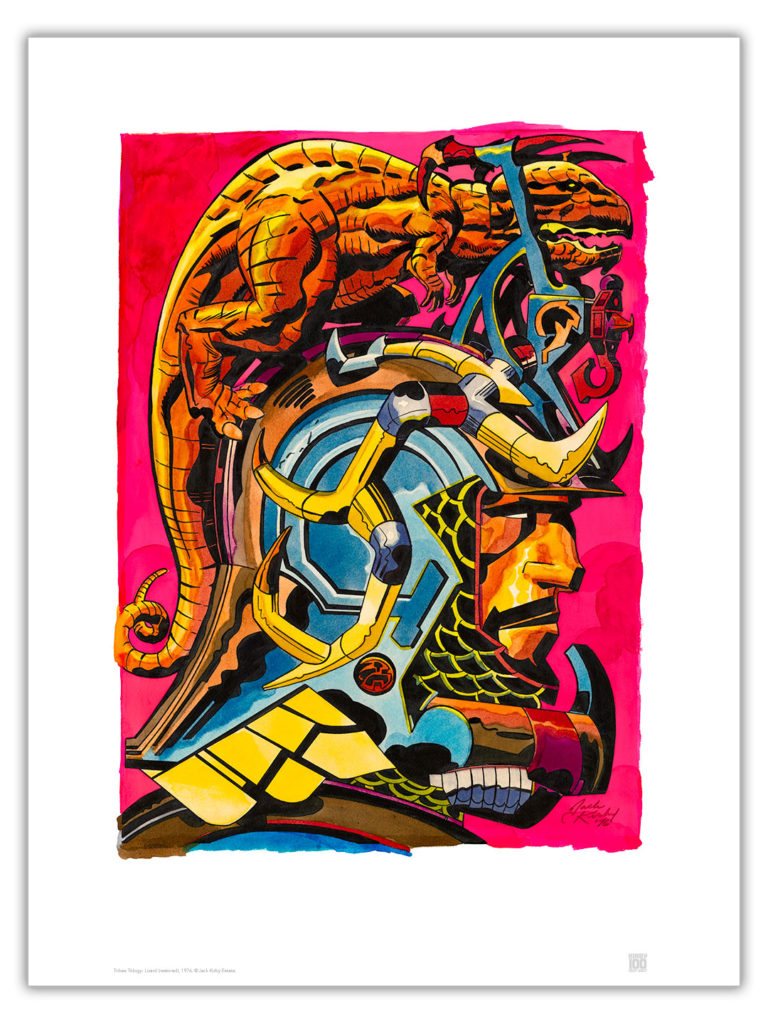 Tribes Trilogy: Lizard
$65 plus $6 shipping/handling in the USA, $20 elsewhere
Lizard print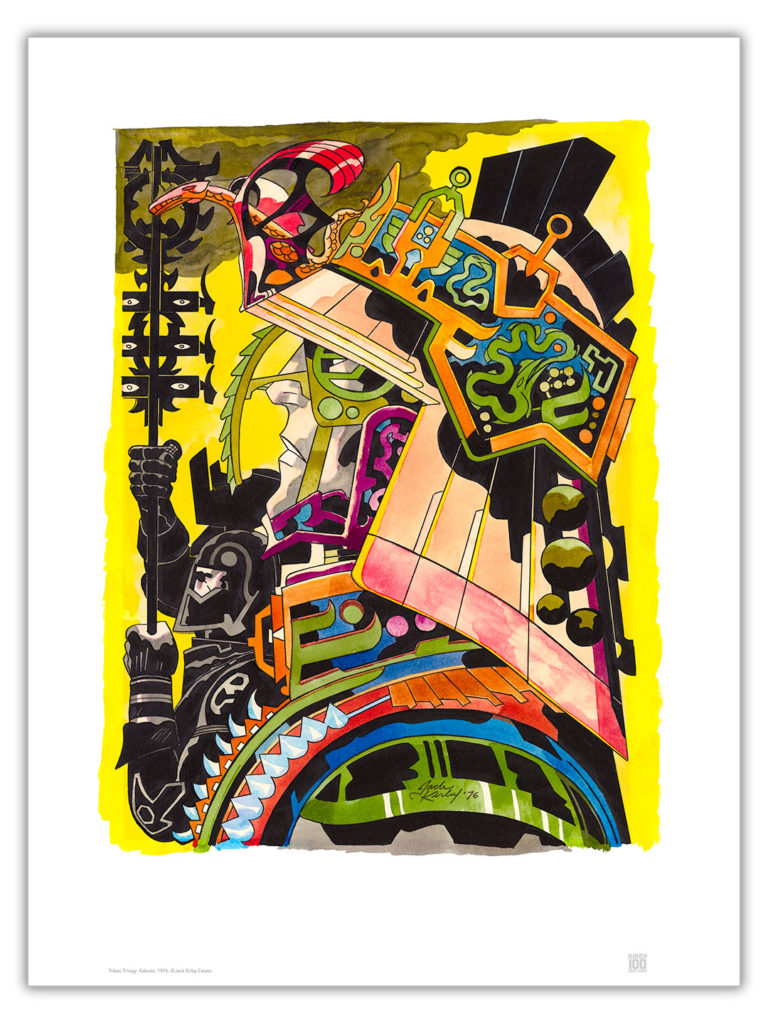 Tribes Trilogy: Kabuto
$65 plus $6 shipping/handling in the USA, $20 elsewhere
Kabuto print