---
If you would just like to donate another amount:
For the Jack Kirby Museum to become the vital institution it can be, it needs the support of an active membership. Our members are our most vital resource; they form our pool of volunteers and help get the word out. In addition to the costs of developing educational programs and exhibits, the Museum's bank account needs to cover operating expenses such as professional services, web servers, insurance, shipping and postage, among other things.
So, like most educational arts institutions, we offer Annual Memberships. Other than knowing the Museum is being helped to pay its bills and develop its educational programs and exhibits, Annual Membership has in the past provided Members access to a greater library of images in our database. Our image library is currently being re-developed. We also offer incentives for Membership in the form of premiums donated for this purpose by supporters like the Kirby Estate,
TwoMorrows Publishing
, and
Fumetto
.
The Jack Kirby Museum is a 501c3 charitable organization. Memberships and donations are tax-deductible to the full extent allowed by the IRS.
PayPal
Of course, any organization like ours can't overemphasize how helpful annual support commitments can be to our efforts. So, in order to help us with the maintenance of annual membership dues, we've set up
PayPal's subscription management service
.
However, because we don't want those of you who opt for the upper-tier posters and/or need
international shipping
for their posters to be charged more than $50 next year, we've had to customize PayPal to meet our needs. What we're doing is charging the non-dues amount as an additional
one day trial fee
. This was the best solution that PayPal could currently provide for our needs – it works, but it does appear odd if its unexpected. So don't fret, if you're having your poster shipped outside of the U.S. or want one of the "nicer" posters, that's what is covered in the
Amount Charged Today.
Your $50 Annual Membership will be charged separately "tomorrow".
That said, if you'd rather not get involved in an ongoing annual PayPal charge – and we'll repeat that we can't overemphasize how helpful that kind of annual support can be to our efforts – you can simply use the
Make A Donation
button to send us a one-time amount of your choosing. Use the
Note to Kirby Museum
field that's provided to let us know what poster you'd like. We'll be happy to work out any login/password details afterwards. Checks and money orders can be made out and mailed to Jack Kirby Museum & Research Center, Inc.. Please include your email address, phone number and poster choice in your correspondence or on the memo line of your check. Our mailing address is at the bottom of the left column of this web page. We offer an Academic Membership at 1/2 price, too – please
contact us
if you're a student, teacher or scholar and would like to take advantage of that discount.
Annual Membership – $50 donation (receive one of the vintage posters in the section below!)
Annual Membership – $50 donation with the premium below for an additional $20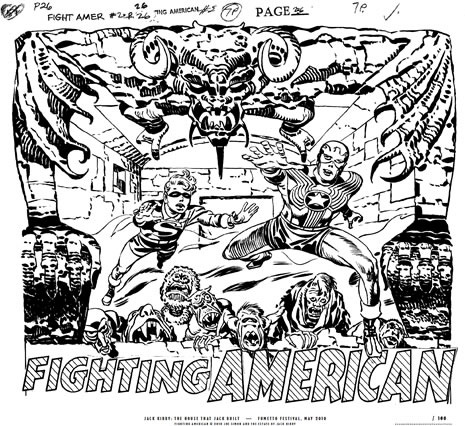 The premiums are offered "as-is" – please do not expect yours to be in absolutely perfect mint condition.
–>