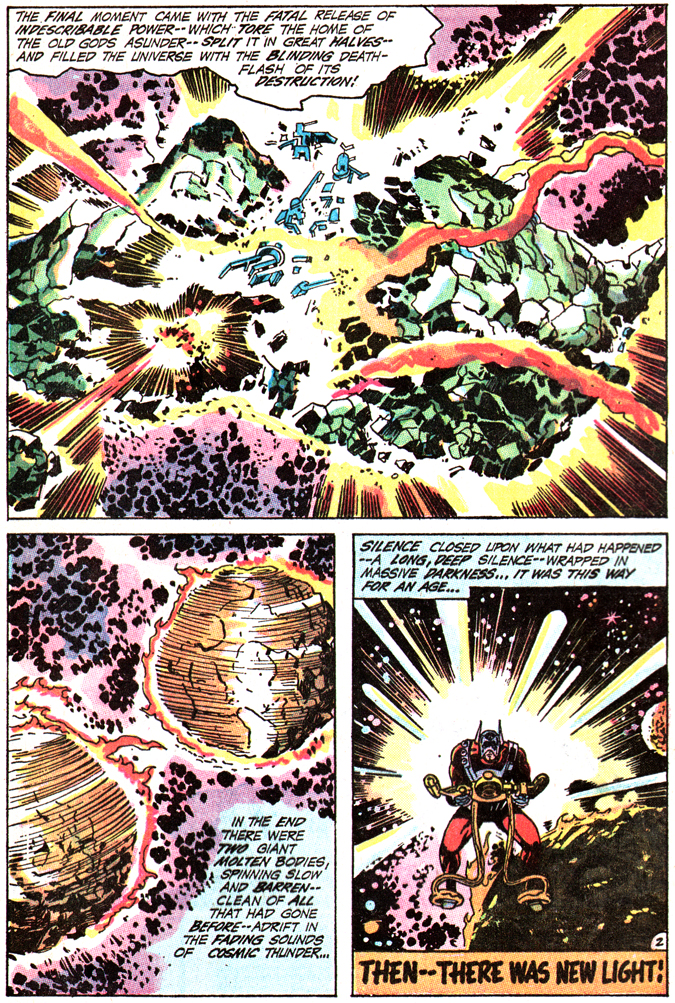 Their world torn apart in an orgy of self-destruction, the old celestials pass onto Valhalla and make way for the new eternals, as the globe's violent rendering form two spinning, molten spheres, worlds that will cool to become planets named New Genesis and Apokolips, one a Eden-like paradise, the other consumed with fire and brimstone.
And so Jack Kirby sets the good-and-evil duality of his saga, as these worlds are the respective homes of Darkseid and Highfather, worlds about to be engulfed in a Super-War.
These planets are the homes of the New Gods, and they are the stage where we will learn of the many fascinating and engrossing characters that will be cast in the Fourth World epic. We will meet Orion, son of Darkseid and hero supreme of New Genesis; Scott Free, the soon-to-be Mister Miracle; Kalibak the Cruel, Orion's half-brother; Metron; Himon; Desaad; the Female Furies; Esak; Granny Goodness; Fastbak; Steppenwolf… Oh, you get the idea! We are in for a fantastic journey, a multi-layered saga of Shakespearean proportions, chock full of Dickensian touches, Faustian lessons and Faulkneresque family drama.
We, my friends, are about to go cosmic…