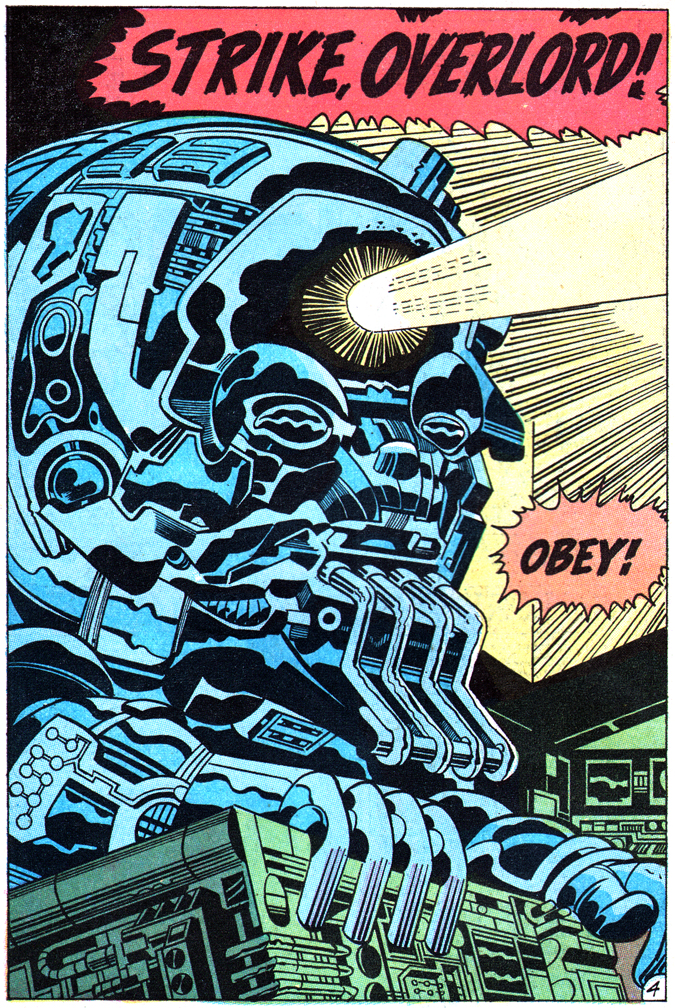 Like a high-tech ticker-tape we see Overlord's communication with its mistress when the "X-Pit" adventure begins. "–I–AM– OVERLORD — I–CREATE–I DESTROY — NOW — I — DESTROY–! — SCOTT–FREE–DIES! OVERLORD–IN–READINESS–TO KILL! CLOSING-ON-VICTIM — ADJUSTING–SIGHTS RANGE–OF–FIRE–UNLIMITED — OVERLORD AWAITS COMMAND!!! –" Overlord looks mighty big on page four of Mister Miracle #2 after tracking Scott Free as the super escape artist assembles a follower with assistant Oberon. Thank Highfather the bizarre robot-looking device mistakenly targets the Follower in place of the real Mister Miracle (after receiving orders to "Strike, Overlord! Obey!") and that "stand-in" takes the brunt of a destructive ray shooting from Overlord's forehead. Scott and Oberon survive the "Explosion! Shock! Flame!" and his Mother Box takes a beating in the attack, prompting Scott to pour out his love and belief to revive the beloved protective device.
We see that at the control of Overlord is a new Fourth World villain, Granny "to know her is to hate her" Goodness, who purrs sweet compliments to her underlings while meting out discipline on their pointed helmets with her truncheon. "Granny communicates with Overlord, boys! Granny must read his words." Overlord appears on a vidi-screen before her and the read-out reports: "RESULT: NEGATIVE! — VICTIM – LIVES —" One of her boys eagerly asks, "Overlord couldn't kill Scott Free, Granny! Will you punish Overlord?" Standing up, she begins to unbutton her housecoat. "No! Because Overlord has made up for his failure! He has special gifts." One of her henchmen notes, "Overlord is Granny's pet! She keeps him in a warm, safe vault!" Granny throws off her robe to reveal her steel and mail uniform, complete with baton weapon, barking, "Yes, and we talk by vidi-screen! He's too precious to be exposed to the world!" Whacking the Darkseid out of her boys, she continues to praise Overlord, "He needs no discipline, like my pouting, jealous soldier boys! Overlord is also creative! He makes things for Granny Goodness!"
Granny then tells us about Overlord's creation of the X-Pit trap and her hatred of Scott Free, ordering her soldiers to kidnap the Happiness Home escapee. Her boys snatch Oberon and the Mister Miracle-adorned Follower, and arriving to rescue his assistant, Scott and Oberon plunge into the X-Pit, where Granny believes the two are destroyed. Granny orders a small box delivered from the vault and it appears to be connected to Overlord, who can grant her wishes. "Granny has earned her rewards too! She's worked hard! Done all the right things! That's why great Darkseid gave her this wonderful gift! It reacts to Granny's every wish!" Suddenly a gemstone suddenly appears from the ether. "I ask it to create a valuable jewel — and behold!" Suddenly the box explodes and before her appear Mister Miracle and his erstwhile companion. Scott reminds her of a gift she once received, "a gift for your old age — A gift named Overlord! — The gift that creates and destroys!"
In alternating moods of despair and rage, Granny is beside herself. "You vicious, young savage!" she screams at Scott. "Look! See what you've done! Oh — my heart — I'll kill you with my bare hands! How did you do this? How?" As is his habit, Scott then explains, "Once I knew that Overlord created the X-Pit, I knew the make-up of its structure! Every atom of the X-Pit was linked to Overlord himself!" and, after torturing the pair with one trap, the device would transform "its atoms into another form of torment!" In the flashback episode we see an exhausted Oberon imploring, "W-what next, Scott? What next?" Revealing his shoulder-holstered Mother Box, Scott exclaims, "Mother Box signals — radiation! And that makes her strong! Strong!" Then, jamming his shoulder into the X-Pit control studs, our hero orders, "Strike at the enemy, Mother Box!" Continuing his explanation before Granny, Scott relates, "I jammed Mother Box into the torment-circuits — felt he power race with vengeance toward their insidious source!" The visual becomes a screaming, agonized Overlord. "Somewhere, I could feel the power strike Overlord! Somewhere, I could hear his silent scream — somewhere, I felt him — die!"
Distraught, Granny tells Scott, "You killed Overlord! You had him killed by a damnable Mother Box!" As Scott opens a smoking box on Granny's table, she continues, "Granny is hurt! Granny is ruined! Overlord is gone –" Mister Miracle scoffs, "He was an evil fraud! — like you, Granny Goodness!" And, in a startling moment, we see the contents of the smoldering box: a teeny, tiny ashen shell of Overlord. "Little worms can look like sea serpents when cast on a vidi-screen!" Scott says, "This is Overlord! — shorn of power and life!"
It's interesting to view the life and death of Overlord as a deadly competition with Mother Box — "her power race with vengeance" — revenge for being almost fried at the beginning of this story. Curious, too, how Overlord resembles an infant robot — giant head and all… this is Granny's baby? Or is Overlord to grow…? A particularly creepy and effective villain, I say!