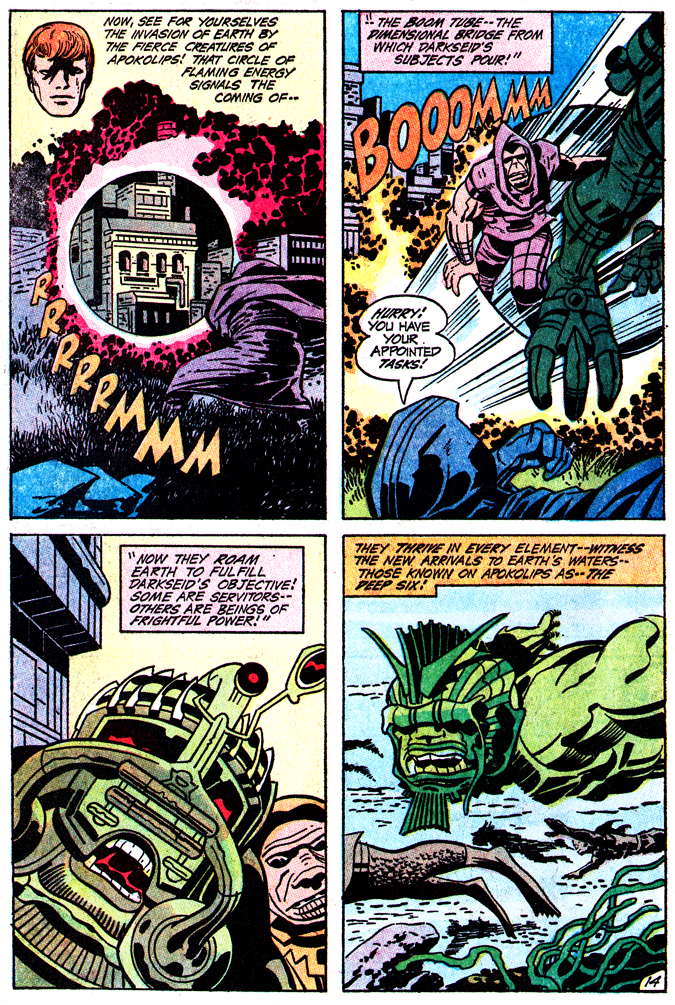 In contrast to the "Great Clash" of an era past, the ongoing conflict between the two worlds of New Genesis and Apokolips is now an inter-dimensional struggle as it involves our very planet. First dubbed a Super War by Earth's guardian, Superman, when he harbors doubts while traveling through the Boom Tube on his aborted trip to Supertown. Mused the Man of Steel, "Is Earth the battleground for some strange Super-War?" The introductory caption to The Forever People #2 states, "Although their background is shrouded in mystery, they are already embattled on Earth against emerging forces of awesome and terrifying nature! And are we in this, too? We may be friend or foe of the Forever People! — Bystanders or participants in an ominous and perhaps final Super War!"
Certainly this setting of a war as backdrop for Jack Kirby's Fourth World opus is what sets it apart from other interconnected super-hero titles. Marvel's common connection is the tales are primarily based in New York City — or on Earth — and the characters have some interaction with one another, sometimes joining up as teams, usually to thwart an enemy, who would change from issue to issue. But generally no matter the threat to our planet, conflicts are resolved and everything goes back to normal, all nicely wrapped-up, by the story's end.
Jack's vision was decidedly different and innovative. The Fourth World has as backdrop a huge, multifaceted fight of intergalactic proportions, with dozens of characters — those of the "good" worlds of New Genesis and Earth — in battle with a single enemy, Darkseid, and his minions of the "bad" world of Apokolips. And though we're all aware the overall series was aborted very early in its intended run, readers all knew everything was careening to an ultimate climax — an ending — something quite unheard of in comic book "universes."
And the enemy and his goal was also startlingly inventive and resonate. Unlike the usual funnybook bad guys who simply want money or power or revenge, Darkseid, the all-powerful and unquestioned ruler of Apokolips, seeks the Anti-Life Equation which would give him the ability to snuff out all life in the entire universe with a single word! This takes villainy to an entirely new level! Why he wants this ultimate lethal force, we're never made privy, but it's likely something simple that motivates this malevolent creature… the sin of pride. (And to think Darkseid's search is no secret to his servitors! They hardily and enthusiastically strive to do his bidding, which is to exterminate all life everywhere! These are some very not-nice people!)
We see in the superb "flashback" story, "The Pact," how the "Great Conflict" — that previous war between the two planets — completely engulfed New Genesis and Apokolips to horrific degrees, rendering both worlds to ruins in a general, all-out war. But the Super War, using Earth as the battleground, is so far a less conventional process, as Darkseid and his agents have established underground network of tunnels, covertly working in shadows, under our radar so to speak.
Thus, to convince his Earth allies — Victor Lanza, Claudia Shane, Harvey Lockman and Dave Lincoln — of the threat posed by sinister Apokolips, Orion employs the assist of his special device, upon which they all lay a hand. "Mother Box will help you see through my eyes — to see the images my words evoke!" Suddenly horrendous visions are transmitted. First a hunched-over, cloaked figure stands in a city park as a Boom Tube appears. "Now," Orion says, "see for yourselves the invasion of Earth by the fierce creatures of Apokolips! That circle of flaming energy signals the coming of — The Boom Tube — the dimensional bridge from which Darkseid's subjects pour!" We hear the hooded welcomer bark to strange creatures emerging from the portal, "Hurry! You have your appointed tasks!" And then the foursome listens to Orion as they view some very scary characters, "Now they roam Earth to fulfill Darkseid's objective! Some are servitors — others are beings of frightful power!" The scene shifts to underwater monsters, humanoid but scaled and ferocious. "They thrive in every element — witness the new arrivals to Earth's waters — those known on Apokolips as — The Deep Six!"
The visual, in a nod to ongoing events in The Forever People, changes to Mantis, the "awesome digger," who rants, "I shall take my share of booty here! Let mankind serve the victor!" And, the virtual reality tour winding down, there's a glimpse of the goings-on over in the Jimmy Olsen book, with a full-page scene of Outsiders dancing in a procession through Habitat: "These monsters prowl and seek in Darkseid's cause, not only in the known domains — but also in stranger places — like the Wild Area — where a bizarre dropout society may hold the secret which Darkseid yearns to possess!"
(One captivating aspect that endeared many a reader to the Marvel Comics Group was the use of captions to reference past issues and current titles (and it was smart marketing, to boot!), and it's something I fear Jack didn't use enough of in his interlocking titles, though he obviously did in this case. Mark Evanier and Steve Sherman, in the "To and From the Source" essay in this same issue of The New Gods strongly urged readers to keep an eye on all of the titles — "Other new characters have yet to be introduced — which is why we stress the importance of following the entire continuity of the series. Important elements appear in all of the books and with The New Gods, The Forever People and Mr. [sic] Miracle scheduled to be released three weeks apart; it's almost like having one long novel, with one-and-a-half chapters per month on the average." — and the addition of "The Fourth World of…" onto the fourth issue covers of his titles (and Jimmy O #139) helped clue readers in that a larger tapestry was being woven here…)