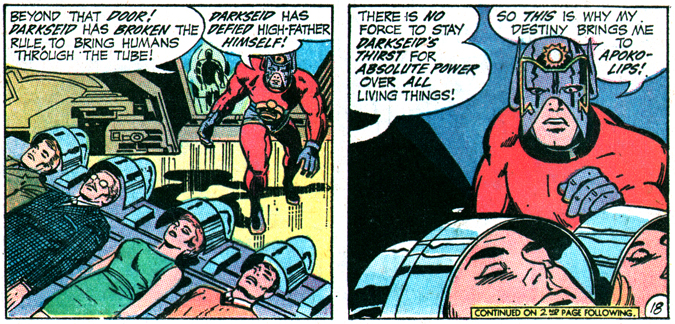 "On Earth, the home of mortal man, Orion the Hunter moves among strange allies and fearful enemies! Man is only dimly aware of the forces maneuvering, lunging for alignment on his world — for somewhere in man himself is the key to victory for the warring factions of the New Gods."
Orion, during his Source-directed foray to the sinister world of Apokolips, was fortunate to encounter and rescue four brave Earth humans, who will become, to varying degree, his trusted allies as the Super-War reveals itself on our home planet. Upon Metron temporarily disabling Kalibak and his describing to Orion the stakes in this war anew between New Genesis and Darkseid's realm, we see that the Master of the Holocaust has breached another solemn agreement with Highfather. Metron tells his comrade, "Darkseid has broken the rule, to bring humans through the [Boom] Tube!" Four Earthings lie recumbent, unconscious and the tops of their heads ensconced in brain-scanning devices. For Darkseid has been, as Metron tells us, "Probing the minds of test humans before he left [for Earth]!"
The king of evil is, you guessed it, searching for the Anti-Life Equation, a secret locked inside the mind of one or more unsuspecting humans, and as Metron transports our hero's Astro-Harness to Orion's feet, the Tiger of New Genesis releases the four kidnap victims from Darkseid's vile contraption. "Proper use of my Astro-Force will dissolve the mechanisms that spellbind the humans!" Orion says to no one in particular. "They awaken unharmed!"
And the now-conscious quartet rise to meet their new friend. Who are these three men and one woman? Allow me a description of their participation in the coming battle. In general, it's safe to take for granted they are all from Metropolis or surrounding environs, given none of the four expresses any distress at being far from home upon their return. There's no indication any of them knew one another before being awakened and the smart bet is to assume (as Dave Lincoln tells Orion of his abduction) they were individually snatched off the streets and alleyways of Superman's city by Inter-Gang, "a division of Earth criminals" organized to serve Apokolips, possibly by Badger and his henchmen.
Here's a look at each of the four Earth allies:
Harvey Lockman is definitely the youngest of the crew ("My parents are probably getting anxious," he states on his exit), as well as the most irreverent and, apparently, self-important. Doubtless his greatest claim to fame in the series is the lad's description of himself: "Me, young but cool, Harvey Lockman!" He is also the least-seen of the compatriots, as he disappears from the series shortly after the "O'Ryan's Mob" affair. While we don't know Harve's vocation (probably a student, I should think), we do know he's snappy with the always-ready apt comparison, a master of metaphor, if you will. Among his sometimes sarcastic quips, oft peppered contemporary slang: "It should be simple — like minnows turning into a shark!" and "[The Mother Box] feels strangely warm — and makes a sort of electronic sound — like a computer!" and "A movie without film! That's wild! Roll, man, roll!" and "[Orion is] tougher than granite!" and, finally, "Groovy! He looks like he plays pro football!"
The young ally is also a mite… ummm… flamboyant, given Harvey's fashionable ascot and apparent predisposition at being a bit disrespectful to his elders. During his next-to-last appearance with his friends, the young man calls Claudia "Doll" and addresses Dave by his last name only, never mind referring to the most malevolent personage in the universe as "old granite-puss"! Perhaps he's compensating for his quaking fear displayed early in the saga — certainly an understandable reaction as this is a war between gods and monsters, after all! — despite his declaration at one point, "Scared — I'm not so scared — with you on our side, Orion!" (Youthful Lockman is quite courageous when fortitude is needed, rushing headlong into the Inter-Gang infested old mansion on that "little-used seacoast road" during the "O'Ryan Gang and the Deep Six" episode.) Despite his limited appearance, the kid is still a memorable character and leads one to wonder if Jack, an admirer of enthusiastic youth, had a plan to return to Harvey Lockman, as he did do with the three remaining allies.
Claudia Shane — who describes herself as "I'm a secretary — not a pawn in some spy game!" — is candid about her fear ("I'm terribly frightened by all that's happened!") and loyal to the new god ("Whatever I can do — consider it done!"), if not a bit infatuated, sounding like she has the hots for Orion, as Claudia boldly admires the Tiger of New Genesis out loud: "I must admit he'll put those fashion ads to shame" and "He's positively beautiful! Like a living statue modelled [sic] by the ancient Greeks!" She breathlessly holds her opened palm to her heart in admiration and she also exhibits deep concern for the god's welfare. Orion is an immortal with no time for romance and there's an intimation in the series that Claudia and Dave Lincoln pair up as, at the least, close friends who may share apartment keys, as the young lady enters Dave's abode without knocking. In the last half of the series, they are very often in each other's company.
Claudia is herself beautiful, as well as fashionable and full of derring-do. She appears to be in her mid-twenties and despite confessions of being simple and afraid, this lady has moxie, revealed especially during the O'Ryan's Mob masquerade. Claudia's exclamation of "Shades of Bonnie and Clyde!" is spot-on as she and her Earth cohorts disguise themselves as members of a rival criminal organization threatening to move in on Inter-Gang territory. Wearing the requisite beret (this being only three or four years from the release of the Warren Beatty/Faye Dunaway gangster flick), she drives right up to armed gangsters and creates a diversion.
(It's worth noting she is compassionate, especially when attentive to middle-aged Victor Lanza's state of mind throughout the "O'Ryan's Mob" story. "Do you feel all right, Mister Lanza?" and "You were just marvelous, Mister Lanza!" Kind person, that Claudia.)
It's notable the gang has the guts to place their hands collectively on Mother Box when Orion seeks her assist on hunting down the Inter-Gang "Jammer" threat, given their earlier experience doing the exact same thing by Orion's order. Yeah, it's a coincidence that Desaad's "Sonic-Stimuli" beams induced mind-numbing fear throughout Metropolis at the moment the threat of Apokolips is being described by Orion, aided by vivid audio-visuals courtesy of Mother Box, but you'd think they'd at least hesitate the second time! Still, the occasions must have been awesome. Claudia says, "It's a wild experience! Like watching a movie with your mind!" Jack describes the "trip": "As Mother Box loudly activates, the entire city outside seems to rush into the room! — Into the mind! — A whirling maze of buildings — streets — lights — cars –"
(Probably not worth noting is her changing looks, but I will anyway! Apparently Claudia has time between arriving back on Earth and joining the crew to meet at Dave Lincoln's apartment for a visit to the beauty salon, as she sports a whole new hair-do when they greet Darkseid. And, later on, her bobbed hair goes to shoulder-length… but does this really matter?)
Victor Lanza, insurance broker, is the oldest of the bunch but, while apparently the only married member, holds his own admirably during his tenure in the adventure.
(You have to wonder if Dave Lincoln wisely upgraded his apartment insurance with Victor, given his pad is repeatedly a battleground for grudge matches, with shattered furniture and blown-out walls.)
It's hard to know why exactly Darkseid chose these four. There appears to be a hint that might have possessed elements of the Anti-Life Equation — Victor says to Orion, "You said — I-it was something hidden in our minds!" — but the fact they are not seized again by Apokolips minions seems to indicate they did not have the power.
Though Victor is visibly upset by all the ruckus — "I'm still shaken! I've never known such fear!" he states after the effects of Desaad's "Sonic-Stimuli" beams wear off, he still stands firmly on the side of Orion and New Genesis: "I'm at your service, Orion!" But Victor does need time to screw up his courage. "We're at the mercy of immensely powerful forces!" says he.
When the team meets in Dave Lincoln's apartment to discuss the fantastic developments, the following exchange takes place:
Dave: I tell you, I saw it with my own eyes! We're in a war! It's hidden — but very real!

Victor: B-but why us? We're just ordinary people!

Harvey: Orion got us back here! We owe him that!

Dave: We owe him that, Mister Lanza! Such as we are — we may have to tackle super-beings!

Victor: But I'm Victor Lanza! An insurance executive! A family man! My wife makes me carry an umbrella in case it rains! And now, this! New Genesis! Apokolips! And things that would scare John Wayne!
But when called to duty, the insurance broker stands with his comrades. During their scheme to destroy the "Jammer" in the possession of Inter-Gang, Victor is assigned to play the role of money man of a gangster named O'Ryan, looking to make a deal with Inter-Gang. Though he complains to Claudia that "Playing Indians in the woods at night is scarcely my cup of tea, Miss Shane!" Victor takes his direction from de facto leader Dave Lincoln: "Your job is up there, Lanza!" Dave says, referring to the Inter-Gang office on the second floor of the "seaside base," an otherwise deserted mansion. "You don't have to play Little Caesar — just his smart business manager! Okay?" (Though later, Dave does confess he too was antsy about the caper, as he tells the other three in their final meeting, "Helping [Orion] crack the Inter-Gang complex was flirting with death!")
And Victor plays his role with gusto, puffing up a cigar and confidently telling Inter-Gangster Country Boy, "I'm Lanza — I make O'Ryan's deals! We know about Inter-Gang! But not enough! Frankly, what I've seen so far, I wouldn't spend a penny on!" With his entry, the O'Ryan Mob (spearheaded by Orion on his Astro-Harness) destroy the Jammer and break Country Boy's criminal division.
But the masquerade takes a toll on Victor and despite the accolades of Harvey on the gentleman's performance — "Your part in it was a gas, Mister Lanza!" — Victor knows it's time to go home and get back to his day job. "Sure! Sure! — Playing games with gangsters is a great hobby for an insurance man like myself!" With that, Victor bids adieu, handing Dave his business card to share with Orion. The Tiger-Force remembers the address and he and Lightray visit with the bespectacled business executive during "The Death Wish of Terrible Turpin." Here we get a glimpse of Victor's home life, meeting his lovely wife and learning of their son in law school, Robert. Mrs. Lanza is obviously smitten by Lightray's considerable charm and exquisite manner. This is the last time the saga features the Lanzas.
Finally, of "Orion's little helpers," we look at the foursome's most active participant in these stories, Special Investigator Dave Lincoln. Though he cowers in terror by the effects of the Fear Machine, the private eye is certainly the bravest of the group, taking on, at one point, Kalibak the Cruel (though the cop may have been more a little perturbed at, yet again, the destruction of his habitat by another alien god!). Early on, Dave pledges to Orion his loyalty (even if the stepson of Highfather randomly destroys one of Dave's college athletic trophies!): "But I've taken enough! I'm ready to help fight Darkseid!"
And Dave proves the most useful in Orion's secret war for he is an experienced associate of the city's police force. Assuming the identity of O'Ryan, the new god joins the pipe-smoking officer as they investigate Inter-Gang on the mean streets of Metropolis, Dave sometimes wielding a .45 automatic or .38 Special, other times using his pipe handle as a faux pistol when sticking-up Inter-Gang thug Snaky Doyle. He also resists Detective Sergeant "Terrible" Turpin's grilling for information on the emerging Super-War and pressure (as "the private eye, ambassador to our city's super-guests!") from District Attorney Hartwell.
Dave knows what he and his cohorts have sacrificed in their alliance with Orion. "Claudia — our private lives were probably the first Earth casualties in this war of the gods! We have no choice but to share Orion's risks!" Maybe, too, they risk their dwellings as, yet again, Dave's apartment is the site of another super-fight, when Kalibak trashes the place and gives Dave a thrashing himself. At one point, Dave, frustrated by the gods' "Combat Code," says, "You New Genesis people sure have hang-ups about fair play! I wouldn't mind ganging up on Kalibak!" This, even after his fanny is whooped by the Tormentor! Whatta man!
To the very end, Dave stands by his New Genesis friend, wielding a new type of rifle and facing down, yet again, Kalibak, even as it seems Orion is dead. The greatest Earth ally of New Genesis is even there, in the penultimate panel of the last issue of The New Gods regular series, as Orion the Fierce's comrade-in-arms.
Are these four the only Earth humans to have tread the dark corridors of Darkseid's nightmare world? Claudia, the "simple but worried secretary," wonders, "How many just plain folks have been abducted to a weird world like Apokolips!" But this quartet does have an awesome responsibility given them by Orion: "Since Darkseid chose you as his first victims," says the warrior to his newfound friends, "You must be the first of Earth to stand against him!" And they tenaciously stand with the new god, following the directive he gives them in his very first words to the four: "Have no fear! There is no time to explain! You must trust me!" (Well, the fear they can't control, but Dave, Claudia, Victor and Harvey do trust Orion throughout the adventure, and what more can you ask of an ally?)
This entry must end where it begins, when Orion and the earthlings jump off the Boom Tube onto Earth soil. Asking Orion what this is all about, the Wielder of the Astro-Force replies, "This 'game,' as you call it, is bigger than you think! As large as the universe! — And a battle looms which binds us all! There is a being abroad here with powers beyond your wildest dreams! Darkseid is here!"
Then, gazing into the darkening horizon, the sky flashing and rumbling "with the angry voice of an unseen giant," Orion beckons, "Darkseid! I have come! The battle begins!" And his sinister foe answers the taunt: "I hear you, Orion! The battle begins!" And this, the first installment of Jack's superlative New Gods title, which cleverly begins with an epilogue, leaves us with: "Prologue — As it was in the time of the old gods — the titanic struggle for the fate of mankind is to rage once again!! The New Gods wield greater power — for in our day, it's we who live in the dark shadow of the outcome!"
In postcript, it is important to note that there were a good number of other earth people, besides these four, who stood with New Genesis in the war against Apokolips, however unwitting they might have been to the larger conflict at play. The roll call includes Jimmy Olsen, the Newsboy Legion, Oberon, "Terrible" Turpin, the Sheridan family, Dubbilex, Sonny Sumo, Scrapper Trooper, and the laudable efforts of the Metropolis Police Department, often going above and beyond the call of duty fighting back the "super-weirdos" from Apokolips!