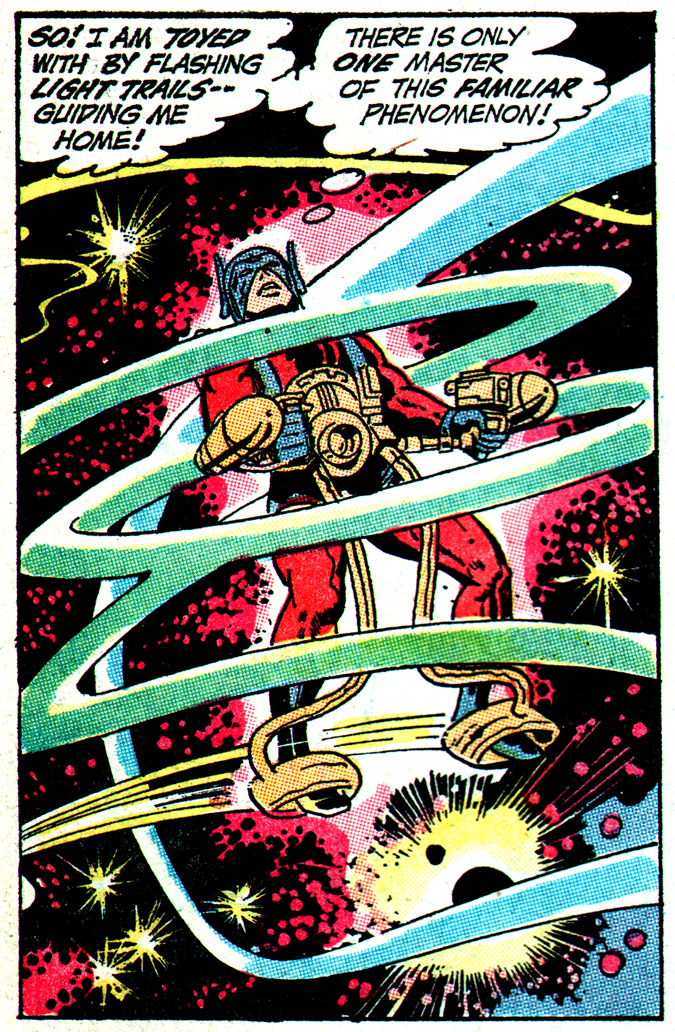 When we first meet Orion the Fierce, he is traveling the spaceways upon his Astro-Harness, a sort of cosmic glider. Fellow new god Metron calls the device Power Rods and it is named the Astro-Glider by The New Gods #4 and Astro-Harness in #6. (Since Astro-Harness is used more than once, we'll stick with that nomenclature.)
More important than a mode of transport, the Astro-Harness houses the awesome power possessed only by Orion, the Astro-Force. "I wield the mighty power of the Astro-Force!" the New Genesis warrior exclaims. "It is a grim and fearful responsibility!" (And apparently a danger also to the wielder, as at one point Orion warns himself, "The Astro-Force — I must use it — though I myself may be caught in its unleashed power!")
But the most vital aspect is that the harness itself houses Orion's Mother Box because she protects him on the outside from becoming the raging monster within.
Orion tells Slig before the "Glory Boat" epic, "Yes, you croaking frog! [The rumors are] true!! Orion is flawed!!" because his true Apokoliptian face is revealed, and the Deep Sixer responds, "More than that! You're a mad, tormented animal, Orion!!"
"I would be, Slig!! I would be! — If it were not for the Mother Box!! Mother Box protects me! She calms and restructures and keeps me part of New Genesis!!" (Apparently not very soothing, as he proceeds to brutally kill Slig and, in an especially chilling scene, delight in destroying Slig's Mother Box, all because the Deep Sixer was witness to Orion's true face.)
An interesting sequence with his unique mode of transport takes place when Orion goes into a closet while describing Inter-Gang to his Earth allies, he starts putting together the Astro-Harness and disengaging his Mother Box from the thingamagig.
A few other Astro-Harness and Astro-Force factoids:
• Orion can summon Astro-Force through his wrist circuits
• "On Orion's harness, a small but powerful 'element-transmitter' emits a strong magna-beam, which locks on the raft below!!" (in "The Glory Boat," NG #6)
• A unit on the Astro-Harness houses the dreaded Astro-Force (or did I say that already?)
• The Astro-Harness creates "a shield of air molecules around him" for Orion to travel underwater
• The emissions from the Astro-Force weapon are called both "Astro-Blasts" and "Cosmi-Force"
• It can be programmed for others to use, as Lynn Sheridan is flown to safety onshore in the "Glory Boat" story
Besides his rage, Orion's Astro-Force is his greatest weapon: Amongst the wreckage of its wielding: Used against Kalibak; destroys Darkseid's Fear Generator; utilized to slow a rapid descent; shatters the Inter-Gang "Mother Box Jammer"; antagonizes a giant clam mutated by Slig of the Deep Six; zaps said Slig; unravels a "mummified" Lightray; and, "like lethal lightning," completely destroys Jaffar, Slig's brethren.
Me, I say, the Astro-Harness is the absolute coolest super-hero accoutrement ever! I mean, look at this, the Orion concept drawing by Jack!
"ZZZZSSHHH!" Indeed!