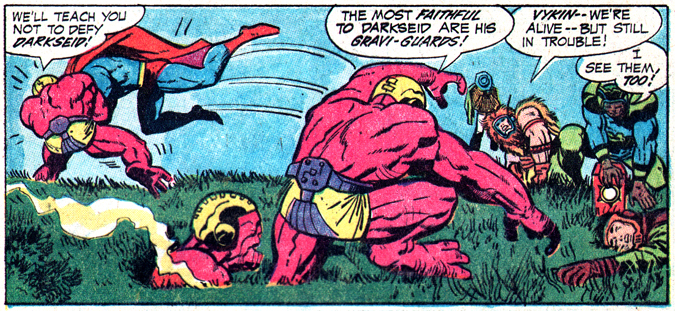 For, I believe, their singular appearance in the Fourth World opus, up from the underground come the magenta-colored Gravi-Guards, those who "transmit gravity waves from heavy mass galaxies" strong enough to "hold any super-being!" And the particular super-being enduring their crushing weight and obnoxious boasts? Why, Superman, of course!
Our tale thus far: Upon seeing evidence of Supertown and listening to Jimmy Olsen's description (heard from Bobby the shutterbug) of The Forever People, Clark Kent steers the cub reporter out the door, changes into the Man of Steel and takes to Metropolis skies "…to find those kids!" Inter-Gang agents in a helicopter spot Supes and, sensing a threat to their mission, contact Darkseid, who orders them to attack with their Sigma-Gun.
Just as the super-hero lands to introduce himself to Big Bear & Co., Sigma-blasts zzzaps and zzzaarraaps him and he flings a telephone pole that destroys the chopper. The youngsters think Supes is a fellow Supertownie and explain their intent on rescuing Beautiful Dreamer, and he ponders, "I must gain the confidence of these super-kids — if I ever hope to achieve what I came for!" The Last Son of Krypton senses a trap but the Forever People rush in and poison gas envelopes all. Superman creates a mini-twister, dispersing the vapor, and suddenly the yellow-helmeted Gravi-Guards (clad in fetching gold-and-purple trunks) lunge from out of the ground!
Superman being crushed, Gravi-Guards descending on them, The Forever People call upon a maternal device to unite them as one…