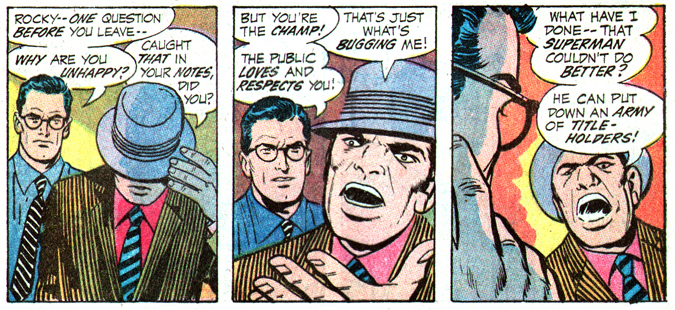 Yikes, it's been a little over a week covering the characters, concepts and contraptions of The Forever People #1 and we've hardly alluded to the actual plot of the comic book. Allow me to play catch-up for those anxiously awaiting an opening synopsis:
The four male members of The Forever People arrive on Earth via Boom Tube aboard their Super-Cycle, in search of the fifth member, Beautiful Dreamer, who has been kidnapped from Supertown by Darkseid's minions.
A young motoring couple, Bobby and Laurie, swerve to avoid the team, crash through a guard rail and off a cliff, only to be saved by the miraculous technology of Vykin the Black's Mother Box. Reassured by the New Genesis kids of their peaceful mission, Bobby grabs his camera and takes a picture of The Forever People. Bobby notices an eerie light in the distance, which Vykin identifies as an oncoming Boom Tube, and he and Laurie, sensing a scoop, rush off to investigate, the latter mentioning that their pal "Jimmy Olsen will eat this up!"
Suddenly Serifan, making telepathic contact with Beautiful Dreamer, collapses in an open-eyed coma, as the unwitting crew is in the gunsights of Inter-Gang agents. The henchmen connect with Darkseid, who orders them to follow — and not kill — the kids.
Meanwhile, back in Metropolis, Clark Kent (alter-ego of Superman) is interviewing Rocky the Champ, a stereotypical boxer, one who laments he can never be the best "with Superman in the picture…" and, while we never again see the pugilist in the series, he serves as an important catalyst for the Man of Steel to ruminate about the loneliness being a super human in a non-super world.