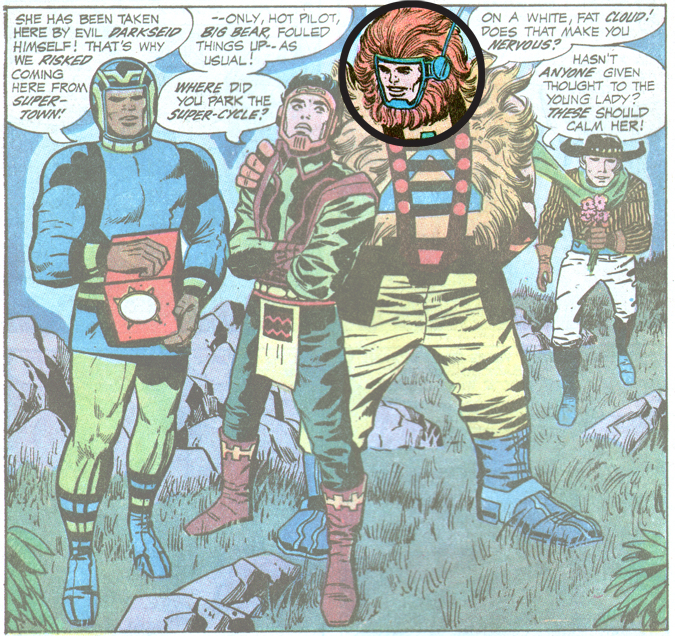 Many a Kirby group has a tough macho and/or intimidatingly big man, either a Rocky from The Challengers of the Unknown or the Howling Commandos' Dum-Dum Dugan, but none are quite like the jovial, happy, rock-em sock-em, red-headed giant of The Forever People, Big Bear. Think Alan Hale (junior, senior — doesn't matter) only without a whiff of grouchiness and you've got the group's Super-Cycle pilot to a tee. Picture a good-looking Thing but always in a good mood and never in self-pity mode.
I know, I know: I said the group is non-violent, a statement seemingly at odds when we see Big Bear taking on a Justifier, cordially telling the hapless villain, "Big Bear is my name, sir! — and power is my game!! That's my bag, sir!! I store an excess of free atoms and send them where they're needed!!" (Yup, he can concentrate his atoms to any area of his body, giving him, for all practical purposes, super-powers.)
Still, he does fret over his rough behavior, lamenting Highfather's words of "Violence breeds violence," and, moments later, telling his fellow Forever Peeps, "Well! I thought you'd never get here!! I'm getting involved in all kinds of violence!!"
Big Bear's head device, framed by a lion's mane-like flaming red hair, is equipped with head gear, with what appears to be a paper-thin glass mask and ear circuits capable of "instantaneous translation," which aids in his time-traveling trip to ancient Briton, where the self-described history buff helps a future King Arthur begin his legendary deeds. Cheerful throughout his visit, he later tells the kids, "Darkseid sent me to a place of violence but I had a nice time!!"
One of the most memorable moments of the series is when Darkseid calls the group to attention, berating them as would a drill sergeant, and in a classic scene, tweaks Big Bear's nose while urging the "baboon" and "clown" to learn discipline. It remains one of Jack's most humorous panels.
Finally, I just gotta mention Big Bear's manner of speech, which, at times, is downright incomprehensible. Take this opening dialogue line in FP #2, when the team is looking over an inner-city neighborhood: ""Dig this place! It's got the ingredients of the cake — but it needs more baking!"
Pray tell, anyone got "instantaneous translation" for that pearl???