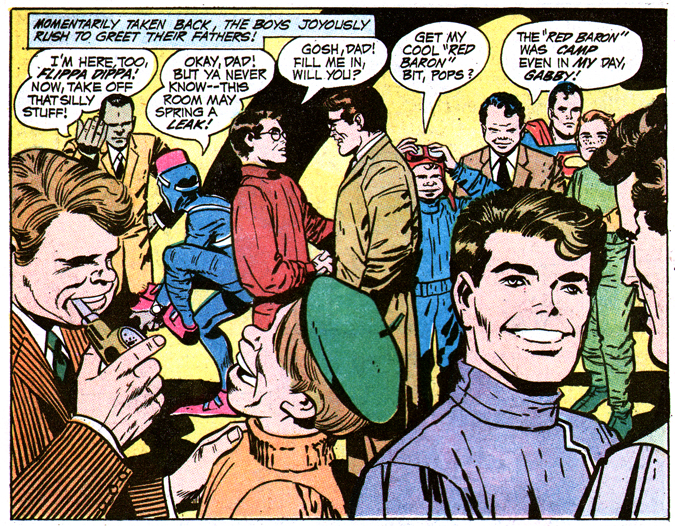 A marvelous moment, calm and joyfilled, as the two Newsboy Legions, the old and new, greet one another with affection and delight. Even Flippa-Dippa's father (this, as is obvious, is a meeting of fathers and sons) is there, who was not a member of the original Suicide Slum gang, but apparently pals around with the guys.
We soon learn that the fathers have been at work at The Project, on their own secret enterprise, one that involves an old ally of the grown-up Legion. We're also informed about the adult occupations of the men in this issue:
Gabby, Sr., is now a teacher; "Big Words," Sr. (still no first name given) is appropriately a geneticist; Scrapper, Sr., is now, natch, a social worker; and Tommy, Sr., is currently a medical doctor. Flippa's dad? Not so sure…
Linking the Golden Age kid gang to the present was a splendid touch in not only adding some continuity and relevance to the concept, but it also gave readers a sense of Jack's own history as a comic book creator through the decades. Always a forward-looking guy, it's remarkable the artist/writer resurrected characters of a bygone era, so it reveals an affection he held for the boys and their erstwhile protector (whom we will soon learn much more about, Kirby fans!).
Enjoy the friendly moment, fathers and sons, 'cuz things are about to heat up!