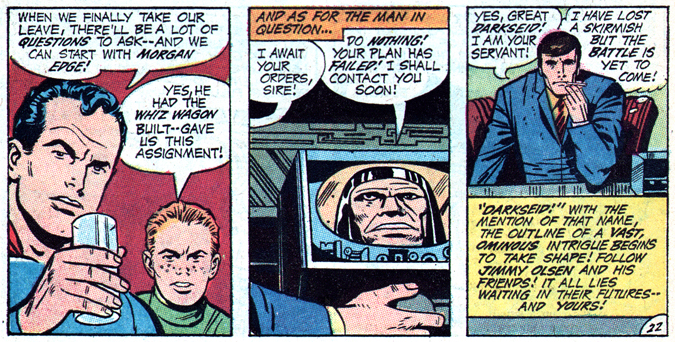 Such a low-key introduction for the most important figure in Jack's Fourth World mythos, the Master of the Holocaust, leader of Apokolips, the Revelation and all-round Tiger-Force of All Things… ladies and gentlemen, I give you: DARKSEID!
Jack's closing caption in the last panel of JO #134 (that's right, Kirbyheads: 19 entries and already two issues down, 53 to go!), doesn't begin to allude to the cosmic epic to come: "'Darkseid!' With the mention of that name, the outline of a vast, ominous intrigue begins to take shape!…"
Darkseid (pronounced "Dark-SIDE"), breaking the Pact with New Genesis, has surreptitiously arrived on Earth seeking nameless earthlings who unwittingly retain in their minds the secret to the Anti-Life Equation. Once decoded, the equation will make the malevolent ruler master of the entire universe, with the hellworld called Apokolips reigning supreme. His agents on our planet assigned to do his bidding include corporate snake Morgan Edge and Inter-Gang, an worldwide network of mobsters…
Here, in the early stages of the Super-War to come, Darkseid hopes to destroy the threat of Superman and, in the process, the Man of Steel's allies, Jimmy O. and the New Newsboy Legion (as well as The Hairies, The Project, The Outsiders and Habitat, and whoever else is in the Dark Lord's way or has something he wishes to possess)…
Darkseid just might be the greatest comic-book villain of them all. Galactus is a superb candidate, except there is an ambivalence, a melancholy about that "God" stand-in which allows for a modicum of sympathy. Not so with the ashen-faced, stoic, helmeted nemesis of all that is good… Empathy? Not a chance! But respect? You betchum, Red Ryder! Ol' Darkseid doesn't have to scream and stamp his feet (though he's known to bellow a little at times), he just stands there, cold as stone, and that's enough to scare the poop out of anyone in his presence. An inspired and resonant creation, created by an artist seeking answers to deeply profound questions — The Meaning of It All — in the pages of that much-maligned art form, the comic book. Who'da thunk it?