With your indulgence, I'd like to prattle on a bit about an aspect of this wacky field of… what is it? Comic book scholarship?… that's becoming increasingly important to me, as I slowly and surely begin a return (of sorts) to a realm I had some participation some years back. It's about, like the header states, the comic book in context.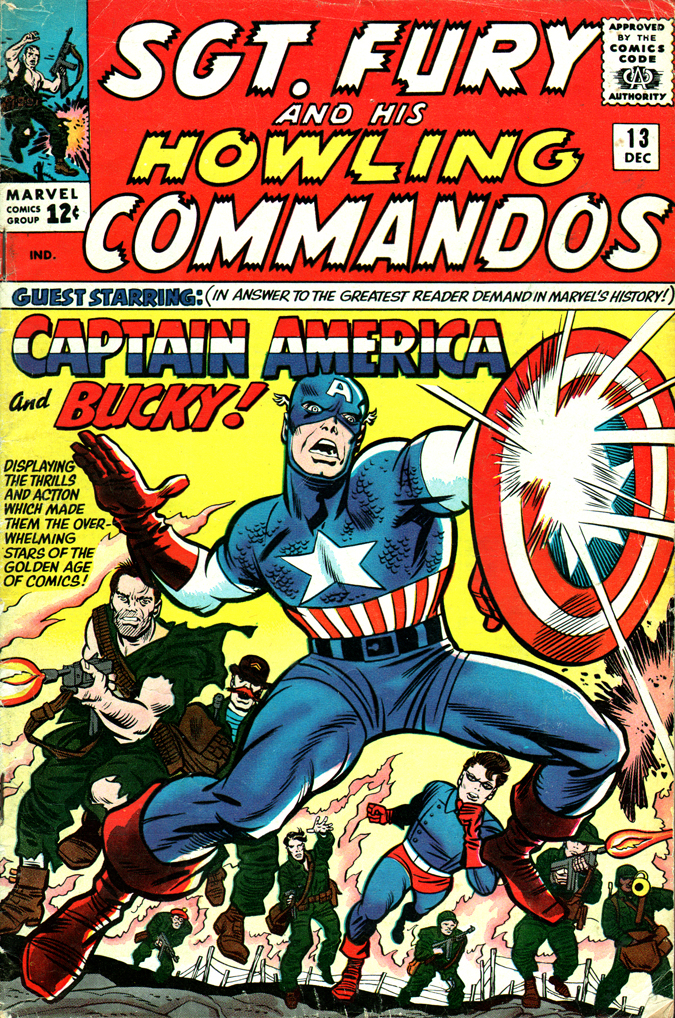 My primary passions as a kid were history and comic books. Like I've previously mentioned, our mom did us a wonderful favor by taking her two youngest children, that's Andy and myself, on a year-long sojourn to Europe. We stayed for varying lengths of time in Ireland, England and France. I was 11 and 12 during the trip; ADC, two years younger than me, and we didn't go to school per se. But we were educated constantly as we were taken on, for instance, a nationwide tour of the cathedrals of Great Britain. My brother and I got a taste of European history, one that spans thousands of years, and were exposed to a sense of time and space very different than we have in the States. It was a fascinating experience and one that changed our lives, making us, I'm convinced, into creative people.
Though it was 1970-71, World War Two, in particular, was still very much in evidence, such as when we visited the bombed-out Coventry Cathedral or walked past plaques mounted along the Seine dedicated to the fallen of the French Resistance. So history became a living thing in my consciousness. And so much of great interest was taking place during those times, as well — the moon missions (I avidly followed the near-tragedy of Apollo 13 while in London), the Vietnam War, the re-emerging "troubles" in Ireland, and (of extreme importance) the rise of the counter-culture, which suggested there might be other ways of looking at things.
And, of course, we found comics. Or rather, we embraced them as Our Own. Was it because, as a preteen, I look at American comics — and comix — as something profound because I was seeking profundities at that tender, curious age? Or did, in fact, comics have more to say during that tumultuous era?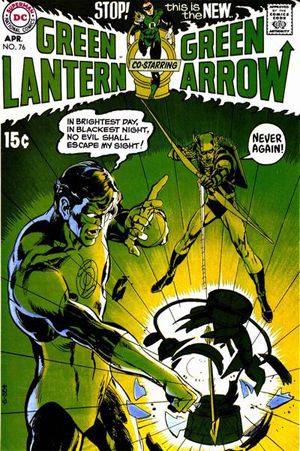 Though much maligned as a sub-genre of American funnybooks, I confess I loved the era of "Relevancy in Comics," the more tied to present-day issues, the better. I reveled in underground comix, even if I didn't understand everything I was reading. Dennis O'Neil and Neal Adams's Green Lantern/Green Arrow spoke directly to me, as did the "Radical Chic" parody by Roy Thomas in The Incredible Hulk, R. Crumb's work, Dan O'Neill, The Liberators in The Avengers (whatever happened to them? Those (ahem) chicks were cool!), even some Corben stories were allegories of Vietnam, for instance… anyway, it was a fertile period for injecting reality into the fantasy of comics, whether folly or not. And I particularly loved it because connections were being made that I could relate to…
The moment I remember best about melding history and comics was reading the Tales of Suspense "Origin of Captain America" story by Jack Kirby — reprinted in Captain America Annual #1 — when it all started to click for me. Most other heroes were disconnected from precise years and eras. Heck, the reinvention of Golden Age heroes was hardly a novelty by the early '70s and they had, in the revivals, lost any context, any linking to their times… We can look at the Superman of 1938 and surmise he was very much a product of the Great Depression, that he represented the sense of "otherness" and a need for acceptance by mid-western American Jews, that he represented the gathering strength of a nation as war neared on the horizon. But the Superman of 1945, the context shifted, as American self-identity shifted, and he became a different (and far less interesting) character, like the Mickey Mouse of 1950 compared to '35.
But I recall a lightning bolt hitting me upon realizing that Captain America, Jack Kirby's Captain America, would always be linked to the fight against Hitler. Inseparable. In my understanding, character and context could not be separated. It was that aspect, along with my firm conviction that Steve Rogers, drawn as Aryan as could be envisioned, was in fact Jewish, a stand-in for Jack himself.
So, here I am delving in minute detail the characters and concepts Jack created in The Fourth World, and the closer I look, the more I find. (As the Vulcan would say, "Fascinating.") And, thinking about the upcoming court battle between the Kirby Estate and monolithic Disney, I'm reading The Forever People # 4, and I open up to the double-page spread on pgs.2-3: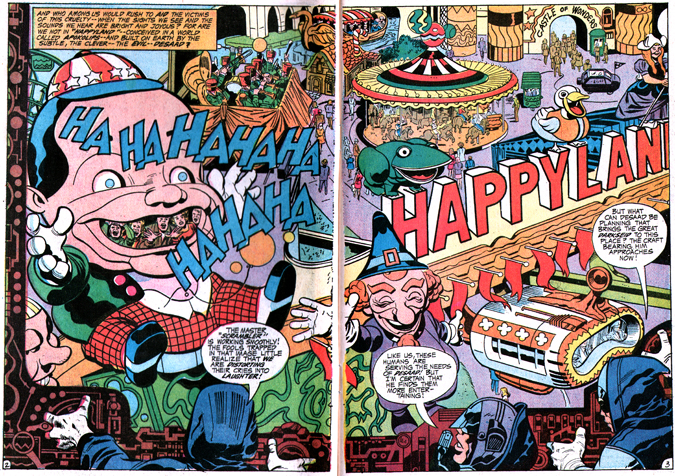 Kids, was Jack prescient or what??? I don't know if he was making an oblique, specific reference to The House That Walt Built, but it is hard not to look at it any other way in light of what is transpiring today…
As this blog starts looking into Jack's take on the then-revolutionary DNA predictions in the pages of Jimmy Olsen, and then into what, perhaps, Apokolips and Darkseid represent in the "real world," among many other subjects, I'd like to continue examining the context of his magnum opus… and I hope y'all will join in.
[Mea culpa for the disjointedness of this chat — this was supposed to be yesterday's "Sunday Bonus," but funny how life gets in the way sometimes. I'll try to polish this up at a later date…]