Cooke Look: "Jimmy Olsen Brings Back The Newsboy Legion!"
[As a bonus, it makes sense to include a synopsis and brief (yeah, right) discussion of the issues as I go along, thus at the end of distilling all the wacky Kirby Kharacters 'n' Koncepts, we'll do just that! — JBC]
The word that might best describe Superman's Pal, Jimmy Olsen #133 is inventive. In a mere 22 pages, in his debut comic book during his 1970s tenure at DC Comics, Jack "The King" Kirby let loose his creative energies and hurled one new idea after another at our tender, unprepared noggins, and those of us who "got" it, those of us who didn't compare this wild new material to his Marvel stuff with Stan Lee, those of us who were amused by his oft-corny interpretation of the youth culture… well, we were changed for good.
Would I feel the same way if the Kirby saga in Jimmy O was a stand-alone epic and not prelude to the cosmic mythology we now call Kirby's Fourth World? I dunno, but as I mentioned in my introductory post, I distinctly recall picking up the orange-colored "first" issue and being just floored by the sheer inventiveness, and I do believe I would hold that book in the highest regard of, at least, the entire JO run (and don't forget: Edmund Hamilton's superb Nightwing and Firebird saga partially took place in the pages of that title, with that luscious Curt Swan and George Klein artwork, so it ain't all "Jimmy as giant turtle-man" kitsch…).
But JO #133 was prelude to the greatest super-hero adventure of them all. (Alan Moore's "Marvelman/Miracleman" epic might be the singular contender, though "Born Again" in Dardevil by Frank Miller and David Mazzucchelli also comes darn close, in my less-than-humble opinion.) Not only do we get the first inklings of the encroachment of Darkseid and his hordes of Apokolips, but we also get the reintroduction of a bona fide Kirby Kid Gang, The Newsboy Legion. Only now the group has left the gritty despair of Suicide Slum, and instead lives in an amazing futuristic new world of Kirby's imagination… the best kind of nostalgia and yet not looking back. And, anyway, as we would subsequently learn, their presence would lead us to a revitalized golden avenger, a character I would grow to love.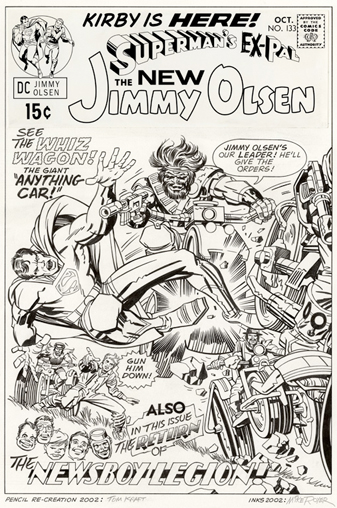 I'll admit that I have always been mildly annoyed with the other-dimensional quality to the myths Kirby embraced and/or created. Like, for instance, just exactly where was Asgard, home to the Mighty Thor and his brethren? And where precisely is the earth-side entrance to the Rainbow Bridge? Hell, I can buy the "fact" a Norse god flies earthly skies courtesy of a hammer only he could hoist (I mean, the physics alone boggle the mind!), or that a scrawny 4F 90-pound-weakling is injected with a serum to become a super-soldier, but I guess I yearn for some exactitude in the fantasies I love. And I'm not alluding to the exact "where" of Apokolips and New Genesis here (I'll get to that conundrum in a post to come, you betchum!); what I wanna know, desperately, longitude and latitude, is the location of the Wild Area, okay? It seems far from Metropolis and yet is still within thermonuclear-explosion range… Boy, ain't I pathetic and petty!
What I need to realize is it's best just to be swept away by Jack's uncharted creativity. Not worry about whether he drew Lightray's mask correctly or how Scott Free just happened to be outside Thaddeus Brown's house at a pivotal moment… I need to let go, let Kirby be Kirby, and be grateful to join the ride and not worry about unimportant matters like continuity and exact location…
What is important is that Kirby arrived at DC Comics with guns a'blazin', his imagination unleashed as never before. If we thought his mid-Fantastic Four run was fertile — and it was one of the most creatively productive eras in comics history — we were still unprepared for the awe that was yet to come… Darkseid, Super-War, the Anti-Life Equation, Infinity Man, Scott Free, Glorious Godfrey, Granny Goodness, the Pact, Himon, Bug, Kalibak, Glory Boat…
So, as you can see, I hold JO #133 in the highest esteem. As introduction to Jack's epic, with all its unabashed exuberance and unapologetic "gee whiz" approach, it counts as chapter one to a story arc I deem the finest of fantasy literature, as important as The Lord of the Rings or The Elric Saga, the 55-issue mammoth-sized tale we call the Fourth World…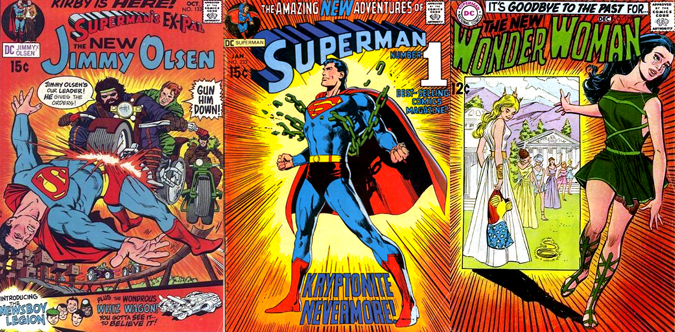 (Before I end-rant, I just gotta comment about the trio of legendary "orange covers" DC published between 1968 and '71, and their super-groovy contents: Wonder Woman #179 [Nov.-Dec. 1968], where Mike Sekowsky began a spectacular run re-inventing Diana Prince as a comic-book Emma Peel; and Superman #233 [Jan. 1971], with Denny O'Neil's great reboot of the Supes mythos, aided by superb "Swanderson" art (and one of Neal Adams's finest covers); along with JO #133… well, not comment exactly, just sigh over them one more time!)
Now, back to our story: just what is this "Mountain of Judgment" Yango keeps yammering about…?
X-Numbers:
Cover: X-111
Story: No visible #
Text Page: "Jack Kirby — Continued," X-112
On Sale Date: Aug. 25, 1970