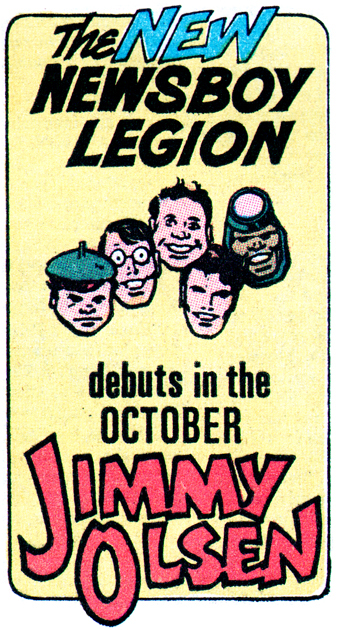 Just wanted to chat with the faithful that this site is a delight for Ye Blogger and I thank all youse guys for participating. As a longtime producer of magazines, it's a revelation to be able to constantly and consistently update these postings — talk about living documents! They're actually evolving!!! — when folks like you note errors and subjects to expand upon after my initial posting. (Thanks, Pat, Mike and Tommy!). With Comic Book Artist magazine (not dead just yet, folks!), I particularly enjoyed the "carpet bombing" approach of subjects, whether it was two(!) issues devoted to Charlton Comics or an examination of Tod Holton, Super Green Beret, and this takes it a step farther. I guess, being online for 15 years or so, I should have realized this innovation but, well, there ya go!
I sat down last night and, using a spreadsheet, started cataloging the characters and concepts of the Fourth World, getting as far as Jimmy Olsen #133-135, and the first issues of The Forever People, New Gods and Mister Miracle, and I've so far compiled 89 separate entries (admittingly, I did break down members of the Newboy Legions, both old and new, into individual categories, stuff like that, but still… !), leading me to think rather than not have enough to fill a full year, my cup runneth over! Note that I am delving into seemingly minor details, like devices and weapons, but as they are bona fide Kirby Kreations, why skip 'em?
Again, this is an evolving entity so please, if you're interested, come back and check entries that caught your attention when first posted, as they just might have been edited, corrected and/or expanded on. Some postings will pretty likely be short and snarky… some of this stuff is hard to expound upon as they are often just ephemeral sparks flying off of Jack's lightning bolt of creativity, so they might be short, and (knowing how long-winded I can be) some might just never appear to end.
Note, too, that in the short run, as I have to attend some serious domestic matters over the coming weekend (sorry, sports fans, no NYCC for me, but brother Andy WILL be there, selling copies of our documentary on Will Eisner — buy early and buy often!), so I might miss a day or two (or have sparse descriptions), but I am intent on pre-posting, in a manner of speaking, so we'll see. I will catch up. The Sunday Bonus? Well, if I can sneak it in tonight, I'll have it load on the weekend.
Oh, and you might note that I am finessing the formatting of the replies received, adding line breaks for aesthetics, popping in links here and there, correcting spelling. If anyone objects, give me a holler and I'll keep hands-off on that score. (I will be approving the messages still, as I'm loathe to be host to firefights… I am totally through with that exhausting shit, lemme tell ya! This is about the JOY of Kirby, my friends!)
Before I go: The First 365JK4W Fearless Scrapper Trooper Award goes to… Rand Hoppe, curator of the "mother" site here and proprietor of the Kirby Museum, for suggesting I come on over from Facebook. Look for Rand at NYCC as he will be sharing a table with my widdle bruvver, Andrew D.! And if Lisa H. and Patty W. are there, give 'em both a hug from Ye Blogger!