The Jack Kirby Museum Presents
A Special Four Day Event Celebrating the Life and Legacy of Jack Kirby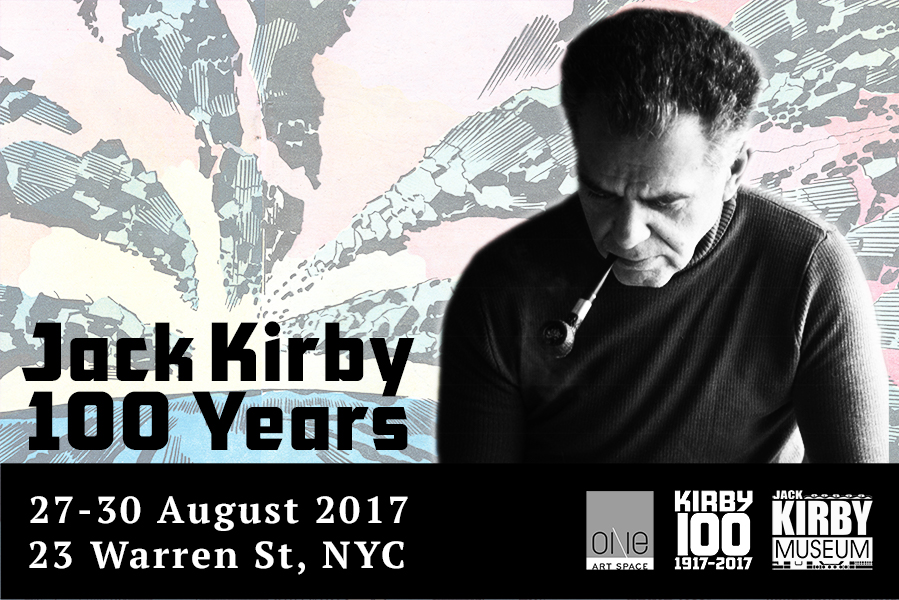 NEW YORK, NY (August 15, 2017) – Jack Kirby, the co-creator of Captain America, The Avengers, X-Men, Fantastic Four, The Incredible Hulk, and many other pop culture icons, played an indispensable role in the emergence of comics as an art form. Kirby is to comics what Hitchcock or Spielberg are to movies, Babe Ruth is to baseball, or The Beatles are to rock n' roll. Not only was Kirby incredibly prolific and influential, but he was an innovator whose work has come to define fantastic storytelling in comics and beyond.
To mark the 100th anniversary of Jack Kirby's birth, the Jack Kirby Museum and Research Center will open a special, limited-engagement event, celebrating the life, legacy, and boundless creativity of the King of Comics. "Jack Kirby – 100 Years" will take place at One Art Space, located at 23 Warren Street in New York City, from August 27-30.
Jack Kirby 100 Years Highlights Include:
Oversized reproductions of some of Kirby's most famous work.
Opening reception and birthday party
A peek into the Museum's digital archive, allowing fans access to thousands of pages of scanned art.
A gift shop featuring limited edition prints of Kirby artwork, books, t-shirts, and more.
A Kirby 100 Years talk by Founding Trustee Rand Hoppe
An introduction to the Kirby Museum by Trustees Tom Kraft and Rand Hoppe
More to be announced as we get closer to the date.
About Us
The Jack Kirby Museum and Research Center is organized exclusively for educational purposes; more specifically, to promote and encourage the study, understanding, preservation and appreciation of the work of Jack Kirby. Kirby 100 marks our third pop-up event in New York City and we regularly travel the US and Europe putting on and assisting exhibitions and lectures about Mr. Kirby's life and art.