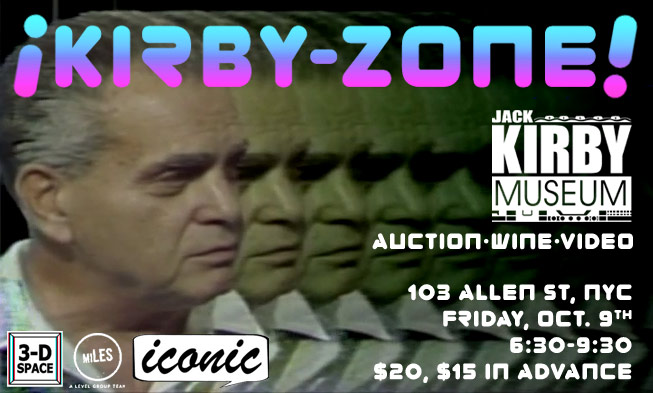 We're hosting our first fund-raising event "¡Kirby-Zone!" this Friday night smack dab on New York City's Lower East Side at 103 Allen Street. You know, the neighborhood Jack Kirby worked so hard to move his family OUT of. Nevertheless, we'll have some wine, appetizers, a small silent auction, and a screening of Kirby's 1984 appearance on "The Zone Show".
The recently uncovered video interview was a hit at San Diego this past July, with Kirby's comments juxtaposing hilariously with 1980s video SFX. The video will be projected at 8:30.
"I finally got the Kirby "thing." I love his art but didn't understand the devotion until I saw this fascinating recently discovered interview" – NIcky Wheeler-Nicholson
The Kirby Museum will share our plans for our next Pop-Up on the Lower East Side that opens on Veterans' Day, and some activities planned to celebrate Kirby's 100th biirthday in 2017.
The silent auction will contain some items (not original art, nor anything signed by Kirby) we've obtained in recent years.
Along with the show, free booze! We will be joined by author and winemaker Birk O'Halloran, the owner of Iconic Wine. In addition to the wines being poured at some of the top restaurants in the country, the labels feature art by such great comic artists as Ming Doyle and Cliff Chiang. Birk will be featuring a line of his wines that retail from $18 to $60 a bottle! Guess which ones will go first? So get here early!
Advance tickets are $15, $20 at the door.
Thanks to Johnny Zone and Eric Kurland. The video was digitized and provided to the Kirby Museum by 3-D Space: The Center For Stereoscopic Photography, Art, Cinema, and Education in Los Angeles, and on the web at www.3-DSPACE.org
Are you attending NYCC, but can't come to ¡Kirby-Zone!? Be sure to stop by our booth #1040 and say hi. We'll be offering our prints  and even some new t-shirts  for sale,