The July convention blast continues with 5 days in San Diego – visit us at booth 5520 (up front, just inside the doors of Hall B near the Golden & Silver Age Pavilion. Right near the TwoMorrows Booth #1301).
We'll have some new prints, t-shirts, and publications. Here's the new shirt: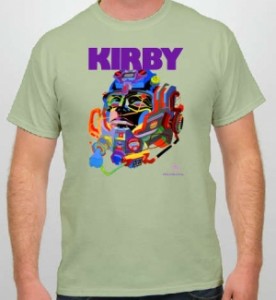 Will post here if we have some of these shirts available after the convention.
We're also going to have 17″ by 22″ prints of Kirby's spread from Street Code as well as a new 5″ by 7″ Street Code mini-comic.
Mark Badger will be debuting two of his Jack Kirby Tribute books, his self-published "Kirby Abstract", and, published by the Museum, his adaptation of Act One of Shakespeare's Julius Caesar (inspired by, but not using, Kirby's Julius Caesar costume designs). It's awesome!
A last minute addition, Charles Hatfield will be signing "Hand of Fire" at our booth again this year. Schedule to be posted asap!
We'll also have available Erik Larsen's Kirby Dragon tribute poster, Arlen Schumer's "The Auteur Theory of Comics" and "Kirby Silver", some "Angel" prints and posters from "Lord of Light/Argo", stickers, membership premiums and more!
Stay tuned – we may have even more Lord of Light Kirby awesomeness available at the show!