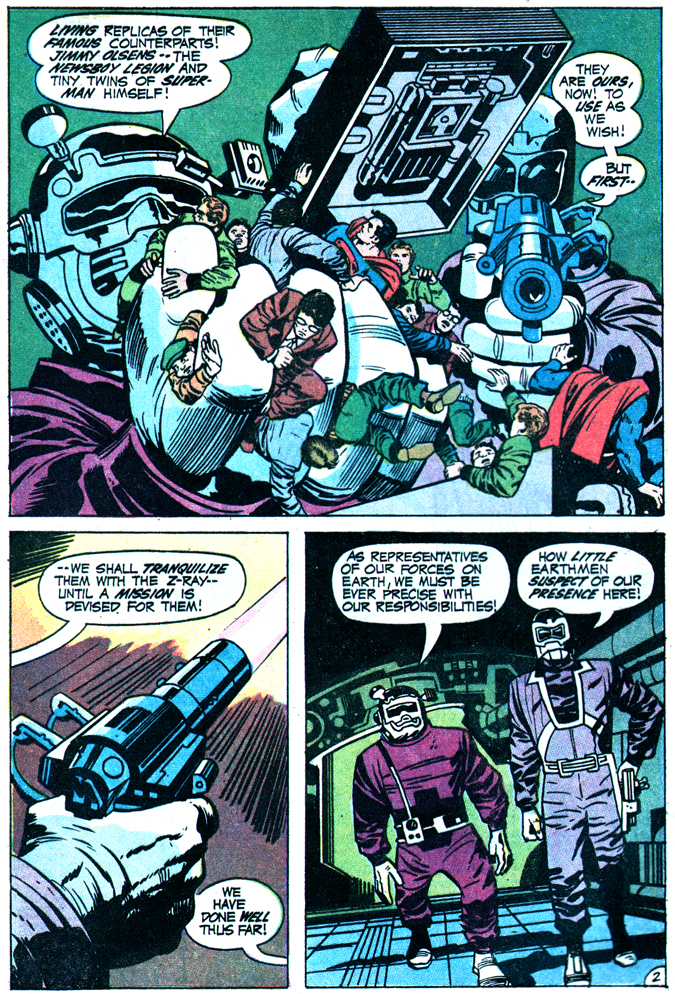 Like kids grabbing a handful of candy while trick-or-treating Apokoliptian agent Simyan snags a fistful of mini-clones while his partner Mokkari zaps the tiny human replicas with the tranquilizing Z-Ray, which they hope will be as effective with (ahem) larger, more aggressive duplicates.
Yeah, Jack used just about every letter of the alphabet — English and Greek! — to name his myriad devices, whether weapons or whatnot. No doubt his criteria was: As long as it sounds cool and futuristic, it works!
If I may make an aside here, I need to confess I pondered over whether to include such apparently superfluous items as the Z-Ray in this ongoing chronological catalogue of Kirby Fourth World creations. First I considered (self-servingly) I might need to get pretty darn minute to fill 365 daily entries… I mean, c'mon, three hundred and sixty-five!… but then it occurred to me, it's only proper and respectful of Jack's creative output to put it all down, to begin to establish an encyclopedia, if you will, down to the nitty-gritty details of his imagination. You may say, "Really, Cooke: A 'Green K Paralysis Ray'?" But I contend it speaks not only of his ceaseless fertile mind, but also to the actual value of his work. Super-hero accessories are potential merchandising; just ask George "The Source, I mean, Force" Lucas. So maybe, by being exact and as precise as can be, this can be a resource for multiple use — as scholarship, as testament, as inventory — all fit for a King.