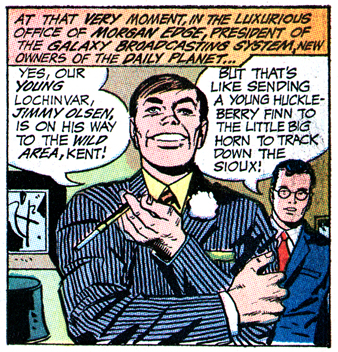 An inspired updating of the Superman mythos took place when the Man of Steel's über-editor Mort Weisinger was stepping down at DC in the early 1970s and newly-arrived artist/writer/editor Jack Kirby introduced sinister corporate takeover mogul Morgan Edge as now-TV reporter Clark Kent's boss. (Technically, Murray Boltinoff was listed as JO editor, but that wouldn't last too long.) Edge is a slick, devious, urbane and, we soon learn secretly (in JO #134), agent of the most malignant force in the universe, Darkseid, relentless seeker of the Anti-Life Equation, to boot!
Edge, who was a clothes horse, always dressed to the nines in snappy, pin-stripped business suits, would appear as foil in all the Superman family books, particularly in Superman's Girl Friend, Lois Lane, but, when DC was losing confidence on the Fourth World titles, the duplicitous CEO would fade from the comics line. But while he was with us, sporting a perennial cigarette holder and decked in a shyster's pin-striped suit, Edge kept the entire cast perpetually on… edge!
In the New York Times Magazine article on the relevancy in Marvel and DC comic books ("Shazam! Here Comes Captain Relevant," by Saul Braun, May 2, 1971), the writer describes the Earthling allies of Apokolips: "…[I]n support of Darkseid are middle managers and technocrats of the Establishment, like Morgan Edge, a media baron who treats his new employee Clark Kent — now a TV newscaster — abominably."
On the FB community page, Gary Leach mentions Edge wasn't just a minion of the Evil One: "In spite of being an agent of Darkseid, [Edge] did seem genuinely interested in the Earthly fortunes of GBS (which we learn later to be a prime example of the acorn not falling very far from the tree)."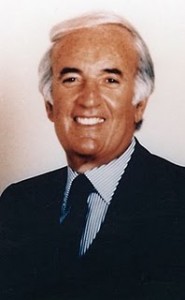 I've sometimes wondered, not too seriously, if Jack had based Edge on a real-life media tycoon, particularly the remarkable Steve Ross, the entrepreneurial wheeler-dealer who would eventually head the Time Warner Inc. communications empire. Just because I'm crazy like that, indulge me with this side-talk on Ross and his relationship to DC Comics, and maybe (just maybe) why there are similarities between Steve and Morgan:
In the mid-'60s, National Periodical Publications, a.k.a. DC Comics, consisted of three divisions: comics publishing, magazine distribution (Independent News Co.) and the recently acquired licensing arm (Licensing Corporation of America), which licensed DC characters to Hollywood, television producers, toy manufacturers… anyone, basically. The cultural explosion of the Batman TV show, a phenomenally successful, if shortlived series, made NPP a very attractive possible acquisition. The rapidly growing Kinney National Services (parking lots, limos, cleaning services, and other ventures, including funeral homes) was a company interested in merging with companies which catered to the leisure time of Americans. (Economists believed, during that era, we'd have to work only four days a week and have pah-lenty of idle time (right!).) Magazine distribution (IND, the most lucrative aspect of NPP) fit right into that prediction. So, for a cool $60 million, Kinney snapped up the House That Superman Built, in 1968.
The head of Kinney was Steve Ross, a bon vivant as colorful as any comic-book character and, in some ways, not unlike King Kirby. Born into poverty in Brooklyn's tough Flatbush neighborhood, when Ross (birth name: Steven Jay Rechnitz) was a teen, quoting his 1992 New York Times obituary: "[H]e was summoned to his father's deathbed to learn that his sole inheritance consisted of this advice: There are those who work all day; those who dream all day, and those who spend an hour dreaming before setting to work to fulfill those dreams. 'Go into the third category,' his father said, 'because there's virtually no competition.'"
Ross took the advice and, starting out as a particularly charming undertaker at his father-in-law's funeral home, went on to create and head the largest communications conglomerate in the world, Time Warner, which remains the parent company of DC Comics. His achievements are amazing, his personality larger than life…
(There is no evidence, per se, that Ross was like Morgan Edge in being an agent for a great malevolent force, but it's interesting to learn he was dogged to the end of his days of being, to again quote the NYT obit, "the subject of persistent innuendo involving a case in which two senior Warner executives, close friends of Mr. Ross, were convicted for their part in a racketeering scheme involving a mob-connected theater in Tarrytown, N.Y., a suburb of New York City." Kirbyophiles may want to know that one of those "senior Warner executives" was onetime LCA head Jay Emmett, nephew of Jack Lebowitz, the former owner of National Periodical Publications… T'is a fascinating story…)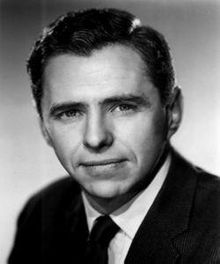 (Tom Stewart, in the reply section, suggests the real-life Edge prototype just might be early '60s Columbia Broadcasting System president James Aubrey, who shared with GBS President Edge the nickname "The Smiling Cobra"! Judging by the info on the Wikipedia page, our friend just might be correct! Nice catch, T.S.!)
But I digress…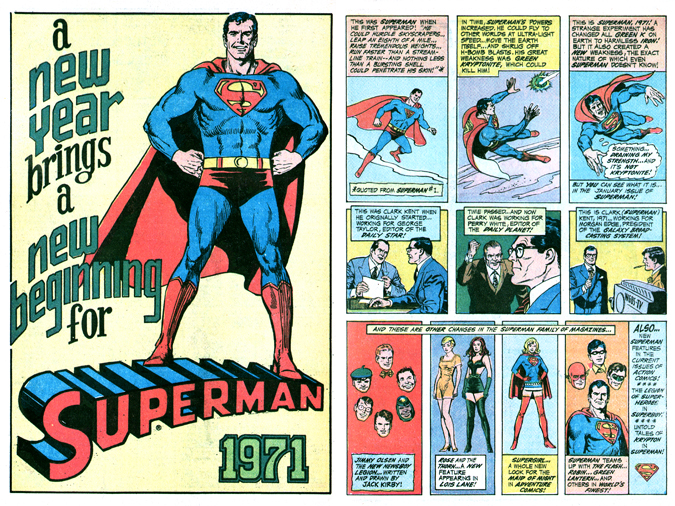 Galaxy Broadcasting System (GBS), the conglomerate headed by Edge, was a perfect updating as a relevant place for Supe's alter ego, reporter Clark Kent, to hang his hat. It was, after all, the Age of TeeVee, and broadcast news was king. Is this a linking of the merger mania of that time with the ruler of Apokolips? Stay tuned!